Thick and Warm Sound Trumpet and Horns
Sonore (adj.): resonant; with rich tone. When you see "sonore" written in a musical score, the composer is simply asking the musicians to play with the maximum resonance, body and tone of which they are capable. It is the opposite concept of brashness and blasting - "sonore" is a thick and warm sound. We set out to recapture trumpet and horn sections in which we maximized tone and body rather than concentrating solely on loud dynamics. You'll notice a wider, more open sound that takes up more room in the in the mix at a mezzo forte dynamic. We selected articulations specifically for the creation of melodies. Our greatest influence and inspiration was the organic processes employed by the great film composers of orchestral music. Recorded at the MGM Scoring Stage at Sony Pictures Studios in Los Angeles, these ensembles also come with vastly improved legato.
That Classic Sound
Over time, many subtle things have changed for trumpets and horns. The combined result of these changes yielded more powerful, weightier, and forward-sounding modern sections. Only a few decades ago, the sound was less brassy, more streamlined, cantabile, and quieter in general. Different tonguing and blending philosophies were favored. The sections play with great agility or force, then and now. They just sound different.
It's shocking that the 1990's are now considered a long time ago. Many titans of the session playing world of this period have retired. As they are replaced by their younger colleagues, certain principles of pedagogy and musicality have been retired as well.
In the control room, while many of the central philosophies have remained the same, modern recording seems to have evolved to use cleaner, higher bandwidth and less colored gear. It's now a slightly different sound, which some favor, some disdain, and most simply don't notice.
Last year, while recording something unrelated, the original pencil marked Jurassic Park session recall sheets popped up out of the filing cabinet for some nerdy ogling. Right there on this aging paper was the actual recipe used to record the orchestra for these landmark sessions. Our vision was clear - replicate this sound. We went to great lengths to do this while always referencing the recall sheet and using the memories of some of the MGM Scoring crew who were actually there.
Here are the steps we took to recapture the classic sound:
We rented the three exact modified Neumann M50 microphones used as the Decca Tree on the original sessions. They feature a unique hi-end crispness and transparency that is instantly recognizable. These microphones have mostly been retired since the early 2000's. We matched every other microphone on the recall sheet and set them up exactly as indicated on the recall sheet.
In the control room we patched in the exact preamp settings on the exact same preamps that still are mounted in the control room to this day. Most of these are now retired and replaced by cleaner and less colored signal paths by companies that weren't created yet at the time.
The favored Lexicon 480 hardware reverb unit was taken out of retirement and the exact reverb patch was dialed up. This was "THE" patch of the 90's for most of these recordings - it is so classic sounding and is also instantly recognizable.
One of the sonically most interesting parts of the recipe is the use of the Avalon 2055 - a delicate Class A discrete Stereo Hardware EQ that colors the high end in the most unique and hi-fi way imaginable. Also retired in favor of other mastering EQs, this box is a gem. When used correctly, it gives the most glossy sheen imaginable on the overtones, and when used incorrectly gives the harshest of harshnesses.
Compatible with Kontakt / Kontakt Player v5.7.2 and above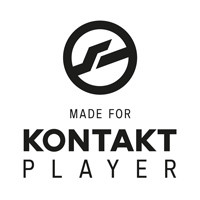 The latest NI Kontakt Player is included in this product!
Please check the product description for the required Kontakt version.
You want more?
This library qualifies for the reduced Crossgrade of full KONTAKT at Native Instruments.
The following list shows, whether the respective Kontakt version is compatible with your operating system:
Mac
Kontakt 4:
OS X 10.6 & 10.7 = until 4.2.4
OS X 10.8 and higher = no longer supported
Kontakt 5:
OS X 10.6 = until 5.0.3
OS X 10.7 = until 5.3.1
OS X 10.8 = 5.0.3 - 5.5.1
OS X 10.9 = 5.3.0 - 5.6.6
OS X 10.10 = 5.3.0 - 5.7.3
OS X 10.11 = 5.5.1 - latest
Mac OS 10.12 = 5.6.1 - latest
Mac OS 10.13 = latest
Mac OS 10.14 = latest
Mac OS 10.15 = latest
Kontakt 6:
Mac OS 10.12 - 10.15 (latest update)
Windows
Kontakt 4:
XP = until 4.2.4
Vista = until 4.2.4
Windows 7 = until 4.2.4
Windows 8 & 10 = no longer supported
Kontakt 5:
XP = until 5.2.0
Vista = until 5.2.0
Windows 7 = latest
Windows 8 & 10 = latest
Kontakt 6:
Windows 7, Windows 8, or Windows 10 (latest Service Pack)
FOR ALL SYSTEMS:
1GB free disk space

Additional hard drive space according to the library's size
SUPPORTED INTERFACES
Stand-Alone | VST | Audio Units | ASIO | CoreAudio | WASAPI | AAX Native (Pro Tools 10 or higher)
Product activation:
An internet connection is required to authorize / activate the product.