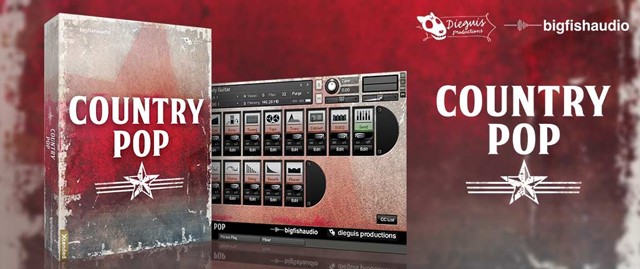 Country Pop Songwriting Styles
This massive 19 GB (11 GB of 24-bit WAV files) collection of Country Pop songwriting styles is a celebration of groups and artists like Keith Urban, Taylor Swift, Florida Georgia Line, Blake Shelton, Carrie Underwood, Jason Aldean, Hunter Hayes, Lady Antebellum, Rascal Flatts, Miranda Lambert, Kenny Chesney, and many more.
Country Pop contains 20 massive kits with instruments including banjo, mandolin, pedal steel, slide guitar, acoustic guitars, baritone, electric guitars, bass, drums (stereo and 24-bit WAV multi drums) and many more. As part of the Xtended Series, each and every kit also contains multiple song sections (verse, chorus, bridge/breakdown, turnaround and outro) allowing for virtually unlimited options; giving you everything you need to tweak to your heart's content.
Drum Elements (BONUS) is a 1.6 GB (606 MB of 24-bit WAV files) collection of grooves, loops, hits, and one-shots that give you the freedom to create amazing drum grooves quickly and easily. The Drum Elements contain individual drum kit pieces (kick, snare, hi-hat, toms, cymbals, etc) that you can use individually or mix n' match to create an unlimited variety of drum grooves and rhythmic textures. There's also an enormous selection of drums hits and one-shots.
MULTI-FORMAT
Formatted for Everything (ACID, Apple Loops, REX2, RMX, and WAV)
DAW Sessions Included (Logic, Pro Tools, Cubase, OMF)
Multi-Drums Included (24/44.1 WAV and DAW Sessions)
Country Pop has been formatted in today's most popular file types: ACID, Apple Loops, REX2, RMX, and WAV. With these formats, you can work with every major sampling/looping device on the market! Every file has been carefully edited to loop perfectly without any complications. Take advantage of the additional information and tagging using Apple Loops with Garage Band, Soundtrack, or Logic. Edit and rearrange your grooves with the REX2 file flexibility. Create flexible tracks with RMX. Stretch the ACIDized WAV files in Sony's ACID Pro. And, of course, the industry standard WAV files can be loaded into almost any digital audio or sample playback program. Country Pop also includes complete DAW Sessions for Logic, Pro Tools, Cubase, and OMF which can be imported and used by every major DAW workstation.
KONTAKT (KLI SERIES)
Create Without Limits (Song and Instrument Kits)
Arrange and Customize (Custom Kontakt Interface)
Tweak and Explore (Sliced Loops and FX Editor)
The Country Pop Kontakt version is part of our KLI Series and includes a custom user interface with various features to help make it easier to customize the included loops and sounds exactly how you want. You'll find all loops automatically sync to your host tempo. Each loop is presented in three different ways. First, with the "Kit Combos" you'll find each loop as part of a complete construction kit laid out across the keyboard for easy and quick arrangements. Second, in the "Single Instruments" you'll find the various guitars grouped together; giving you the option of having the construction kits content in just a few instruments. Third, each loop has its own patch in the "Sliced Loops" section with our custom loop editing interface. Rearrange, remix, or completely rework each loop to fit with your music exactly how you want. Finally, we have included a demo section for quick auditioning of the entire library.
XTENDED SERIES
The Textured series is a compilation of sonic layers that embody emotional elements of realism and fantasy, fused to create tracks so full of life, you'll be able to feel the soul of the music as it comes alive. This series knows no musical boundaries and enhances all musical genres its placed with. So whether you're needing a few rhythms and textures to add dimension to your existing tracks or want that one of a kind melodic hook that can jump start the creative juices.
The Full version of Kontakt 4.2 or higher is required to use the KLI version of this product. This product does not work with the free kontakt player.
This Multi Format Library (included formats listed on top) does not include any playback software for your computer. A compatible software is required to load and play the sounds of this product.
Important: "Full Kontakt" - Format can NOT be used by the free Kontakt Player!
You need to own a registered full version of Kontakt (e.g. included in Komplete or Komplete Ultimate packs!)
Product activation:
An internet connection is required to authorize / activate the product.