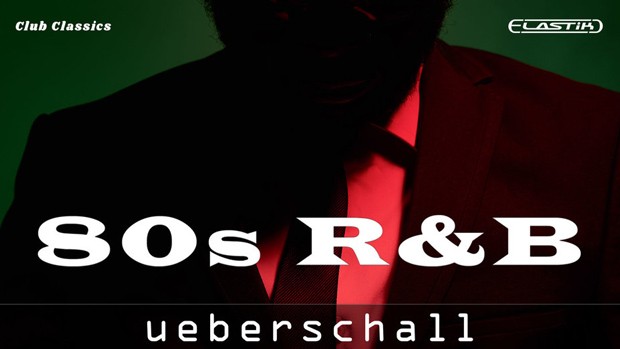 Club Classics
R&B in the 1980s had a distinctive sound. It still derived from its 1970s funk, soul and disco influences but, with synths and drum machines taking an ever-increasing role, took on a new musical character. Our 80s R&B Elastik sample library captures that sound perfectly in the period before hip-hop was added to the R&B melting pot. With super-smooth grooves, punchy synth bass lines and memorable lead synth hooks, the library provides the genuine sound of the 80s R&B and 80s Pop in an easy-to-use format.
Smooth Blend of Funk, Soul and Disco
80s R&B is built around 10 comprehensive construction kits. It contains over 800 loops and samples with over 3 GB of sample data in total. Each construction kit includes three musical sections for easy arrangement and song construction. In addition, within each music section, individual instrument loops include synth basses, pads, synth leads, electric pianos, clavinets, strings, vocoders and a range of sound effects and musical ear candy. 80s analog drum sounds include individual loops for snares, kicks, hihats, cymbals, toms and claps. A range of percussion loops are also provided.
A pre-mixed drum loop is also provided for each musical section as well as individual drum samples. You have everything you need to build the perfect mix for your project. Original recording tempos range from 98 to 124 bpm but Elastik's high-quality tempo-matching tools provide plenty of control if faster or slower tempos are required.
Classic 80s Synth Pop
The performances and instrumentation were carefully crafted to place this sample collection firmly in the 1980s. Whether you want to create a retro song project for your own vocals, or need to capture the sound and style of the era for a music-to-picture cue, 80s R&B has all the sounds – and the smooth tunes – that you will need.

Elastik Features
Elastik is the ideal tool for loop-based music production. The ReTune algorithm gives you complete control over the scale and key of any tonal loop in 80s R&B, polyphonic or monophonic. Elastik offers complete control over high quality time and pitch shifting. Further parameters can be adjusted on a slice-basis, including pitch-shifting, volume and pan, reverse, formant, filter and resample. The innovative Inspire function can create new song ideas on-the-fly.

Credits: Produced by J.Holo
Free ELASTIK 3.5 Loop-Player is included in this product.
With its intuitive Loopeye editing environment, the high-quality pitch, key, scale and tempo manipulation algorithms and the huge collection of Elastik-ready sample libraries, spanning almost every conceivable musical genre, Elastik is a powerful workstation for loop-based musicproduction. It can be used either as a standalone application or as plugin within almost any DAW on both Windows and macOS platforms.
Mac:
macOS 10.12 or higher
64 bit
Windows:
Product activation:
An internet connection is required to authorize / activate the product.