Abbey Road Studios Brilliance Pack is a highly specialized, but indispensable, tool for mix engineers of all genres. The three included equalizers focus entirely on the presence/treble frequencies, breathing air into single tracks or entire mixes.
Abbey Road Studios engineers found the presence boxes excellent for guitars, vocals and drums, especially snare and kick drum direct to tape. The units were in constant operation throughout the studios during recording and mixing, used to define the sound of instruments, brighten up the feed to the echo chambers and patch over compressors to create de-essers. They even found their way into the cutting rooms.
The original equalizers were exclusively built in-house by the Abbey Road engineers in the 1960s and quickly became a secret weapon at the studios. Before the plug-in version was released, they had never been available outside of Abbey Road Studios. Softube has faithfully modelled the passive circuitry of the three original units, component by component.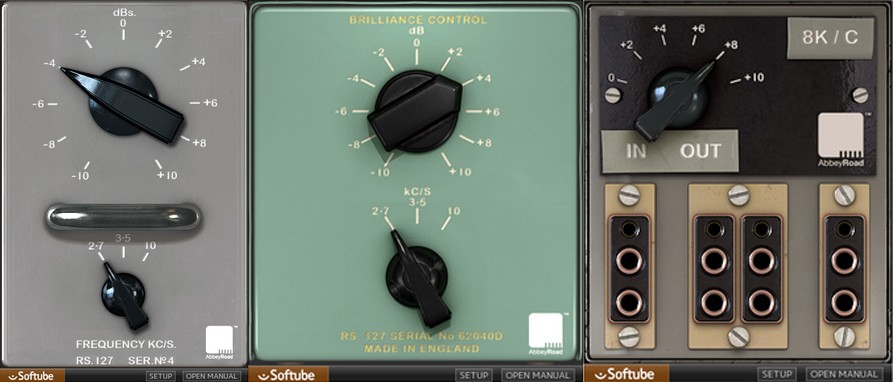 RS127 Rack
The grey RS127 Rack is the original Abbey Road Studios treble equalizer. It offers a boost or cut of up to 10 dB at 2.1, 3.5 and 10 kHz (or kilocycles per second as they used to be known).
RS127 Box
When more units were needed in the studio, the portable green RS127 Box was built. The same circuit was used as in the original RS127, but with the addition of an audio transformer. The engineers quickly discovered that the transformer dramatically altered the sound character and the operating frequencies of the RS127. The frequencies got shifted a bit higher, which is of course also holds true for the plug-in model.
RS135
Lastly, the RS135 was created to fill in the frequency gap that the RS127 units left out. It´s fixed at 8 kHz, offers boost only and is just as sweet and silky as its siblings. So there you have it—a pack of brilliant, beautiful treble equalizers, straight out of Abbey Road Studios!
Features
Adds beautiful sounding treble and presence without harshness

Three different passive treble equalizers, modeled from Abbey Road Studios´ originals

The original grey RS127, the green RS127 with added transformer and the 8 kHz only RS135

Very low CPU usage

Bonedo, 4,5 Stars

Delamar, 4,5 Points

Music Radar, 4,5 Stars
All native versions
Mac OS X 10.12 or newer
Windows 64-bit, versions 7, 8 or 10
Please Note: Softube plug-ins support 64-bit hosts only, and a 64-bit OS is required.
Intel Core 2 Duo, AMD Athlon 64 X2 or newer
Screen resolution larger than 1280x800
8 GB RAM or more is recommended
Softube account
iLok account
Internet access for downloading the plug-in (s) and managing the license(s)
iLok generation 2 and up, if you intend to use an iLok dongle for authorizing your plug-ins
Supported sample rates: 44.1, 48, 88.2, 96, 176.4 and 192 kHz, in both mono and stereo.
*Please Note: Pro Tools 10 is not officially qualified by Avid higher than OS X 10.8
AAX DSP version
For AAX DSP you need to meet the above requirements for the Native versions. You also need to have an Avid HDX processing card. For plug-ins available for AAX DSP, see Which Softube plug-ins support AAX DSP?



This product requires an activation!
You can either "soft" activate on your computer without addditional hardware or transfer the license to an iLok USB dongle which has to be purchased separately. The iLok dongle can be used to run the protected software on different computers. Your licenses can be easily manged using the iLok Licence Manager. To protect your investment against theft or loss we recommend the iLok Zero Downtime protection with TLC.
An internet connection on any computer and a free user-accout at www.ilok.com is required to authorize the product.
Please check with the software manufacturer which iLok version is required at least if you want to use a hardware iLok!