This massive 9 GB collection (3.6 GB of 24-bit WAV files) of Cinematic Soundscapes and Textures is the perfect choice for Film, TV, Documentaries, Video Games, Sound Design, Trailers, Commercials and Songwriting. Acoustic Soundscapes showcases sounds in the styles of various TV and film scores, such as True Blood, The Help, The Walking Dead, Babel, Hell on Wheels, Dexter, Deadwood, Motorcycle Diaries, Brokeback Mountain, The Road, The Assassination of Jesse James, and The Proposition.
Acoustic Soundscapes contains separate and distinct Instrument Kits that give you the freedom to simply use one layer of the instrument by itself or increase the depth, complexity and beauty by adding additional complimentary instrument parts. Acoustic Soundscapes includes Acoustic Guitars, Vocals, String Sections, Fiddle, Ukulele, Percussion (Melodic and Non-Melodic), Baritone Guitar, Banjo, Dulcimer, Bass, Dobro and so many additional instruments that provide you with today´s cinematic sound. By giving you the ability to add the amount of depth and texture needed, along with multiple variations and rhythmic figures, Acoustic Soundscapes gives you total creative freedom and allows you to tweak to your hearts content!
Acoustic Soundscapes also includes almost 1 GB of Xtras which contain Bowed, Chords (Strums and Rhythms), Feedback (Chords and Strings), Hits, Slides, SFX and many more providing you with ultra-high quality multi-sampled instruments, elements and textures to mix n match, overdub, remix and adjust anyway you like it; allowing you to create instant mood, atmospheres and dramatic textures in seconds.
Let this cinematic monster spark your creative flames and inject your projects with the raw emotion of today´s hottest Cinematic Acoustic music.
KLI SERIES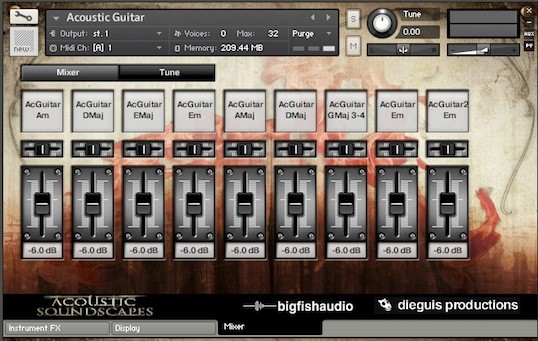 This product is part of Big Fish Audio´s KLI series which includes a custom Kontakt interface. The Kontakt format includes patches of each sample and loop. Customize each loop with the "sliced loops" patches. The Sliced Loop patches lay out each individual slice of a loop across the keyboard, making it easy to create new and original custom parts. The "Kit Combos" allow you to play through full sets of loops quickly and easily with a custom mixer and a host of included fx. Finally, a patch of drum hits have also been included. Create, arrange, tweak, and mix all within the Kontakt format.
MULTI-FORMAT VERSION
9 GB of material (3.6 GB of 24-bit WAV files)
2454 files in WAV, REX and Apple Loops (945 WAV Loops)
945 WAV Loops
945 Apple Loops
571 REX Loops
1 GB of Xtras (325 files of 24-bit WAV)
Instruments Include:
Vocals - Female and Banjo
Acoustic Guitars (Standard, Hi-Strung and 12Str Guitar)
Upright Bass
Banjo
Baritone Guitar
Bass
Dobro
Dulcimer
Fiddle
Fiddle Low
Mandolin
Flute
Resonator Guitar
Toy Piano
Nylon Guitar
Percussion - Melodic (banjo, mandolin, resonator, 12str guitar, baritone, guitar)
Percussion - Non-Melodic (shakers - multiple, washboard, rainstick)
String Section
Ukulele
Xtras and Multi-Sampled Instruments Include:
Bowed - (Mandolin)
Chords - Strums and Rhythms (12Str Guitar, Acoustic Guitar, Banjo, Baritone, Dobro, Mandolin, Ukulele)
Feedback - (12Str Guitar, Baritone, Resonator)
Hits - (Mandolin)
SFX - (12Str Guitar, Banjo, Resonator, Ukulele)
Slides (12Str Guitar, Acoustic Resonator, Resonator)
KLI VERSION
The Full version of

Kontakt 4.2 or higher is required

to use the KLI version of this product.

This product does not work with the free kontakt player

3.1 GB of content
998 Total Kontakt Patches
965 Sliced Loops
35 Single Instruments Patches
MusicTech Magazine 2013

Excerpt:
"Acoustic Soundscapes is a superb pack of unassuming, simple and highly usable riffs...an excellent resource for media composers wanting to evoke feelings of middle America and the Wild West."

MusicTech Magazine Exellence
This Multi Format Library (included formats listed on top) does not include any playback software for your computer. A compatible software is required to load and play the sounds of this product.
Important: "Full Kontakt" - Format can NOT be used by the free Kontakt Player!
You need to own a registered full version of Kontakt (e.g. included in Komplete or Komplete Ultimate packs!)
Product activation:
An internet connection is required to authorize / activate the product.