If you need big, ringing, thundering drums that stand up to your classic rock guitar tones, make sure Blue Oyster is on your short-list.
To get those glorious Led Zeppelin and John Bonham-inspired drum sounds, we went straight to the source: The Ludwig Blue Oyster kit. Our Blue Oyster kit includes production-ready presets that provide instant access to vintage and modern production techniques.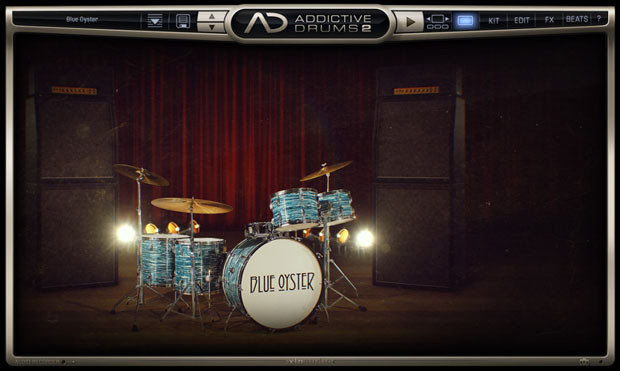 Authentic late-60s drum kit
Production-ready presets
Classic and modern sounds
THE ADDICTIVE DRUMS 2 ENGINE
Made and used by professionals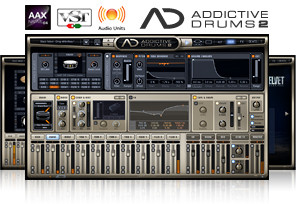 This kit is powered by the award-winning Addictive Drums sound engine. Our advanced technology lets you load and tweak drums instantly and playback breathtakingly realistic performances with very little strain on your computer. Our simple, musician-centric interface and studio-quality effects provide endless possibilities for composition and sound design.
How do you know Addictive Drums sounds great and is used by top-level professionals around the world? Well, chances are that you´ve already heard Addictive Drums on one of the countless hit songs that have been made with it! The only thing better is recording a professional drummer with a professional engineer on a perfect kit in a multi-million dollar studio!
About the Kit and Presets
Size does matter! This kit is inspired by the setup of Led Zeppelin drummer John Bonham. The big sizes, coated heads, and characteristic tuning, give you a clear and thunderous drum sound that is reminiscent of the late 60s.
The included presets provide instant access to a inspiring sounds ranging from clean and pristine to distorted and heavily processed. Use presets as-is or easily tweak them to achieve a unique sound that´s exactly right for your music.
The Blue Oyster Kit contains:
Kick:
22x16" Ludwig Blue Oyster Vintage
26x14" Ludwig Blue Oyster Vintage
Snare:
4x6.5" Ludwig Supraphonic 402
Toms:
13" Ludwig Blue Oyster Vintage
14" Ludwig Blue Oyster Vintage
16" Ludwig Blue Oyster Vintage
18" Ludwig Blue Oyster Vintage
Cymbals:
15" Paiste 2002 Hihat
15" Paiste 2002 Hihat with Ching-Ring
18" Zildian K Dark Thin Crash
19" Sabian HH Thin Crash
20" Sabian Artisan Vault Crash
24" Paiste 2002 Ride
Extras:
Meinl Single Brass Tambourine
Meinl Large Black Cowbell
This ADpak requires an installed and registered version of the Addictive Drums 2 Engine. It cannot be used stand-alone!
An internet connection on your music computer is required to install and authorize this product. After installation, an internet connection is not required but recommend to use the products.
Product activation:
An internet connection is required to authorize / activate the product.