AD2. Customized just for you.
If you're a drum geek at heart and enjoy exploring to the nitty-gritty details of every sound and rhythm, Addictive Drums 2: Custom is for you! You get the powerful Addictive Drums 2 engine and the ability to look through our extensive vault and handpick the sounds and rhythms that most appeal to you.
Select any 3 ADpaks, any 3 MIDIpaks and any 3 Kitpiece Paks to build a drum library that is just right for you! There is no need to choose all your content at once. Pick what you like now and come back for the rest when you're ready.
Full Addictive Drums 2 Engine
Your choice of sounds and rhythms
Make selections now or over time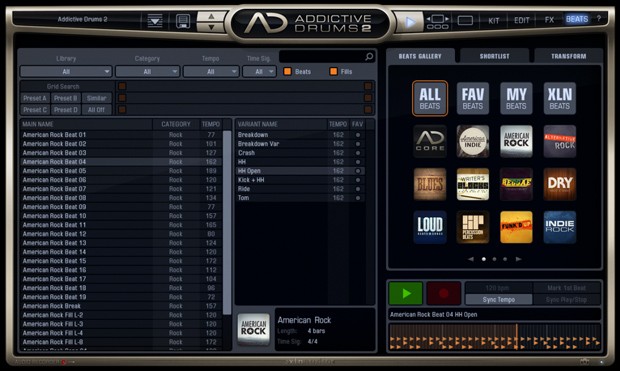 Features:
Addicitve Drums 2 Engine
3 ADpaks, 3 MIDIpaks, 3 Kitpiece Paks (frei wählbar)
18 Kit Piece Slots
Kitpiece Linking
Snapshots
Flexi Slots
2 Insert Multieffekte
2 Send-Effekte
4-Band EQ
Compressor & Distortion
2 hochwertige Reverbs
Transient Shaper
Tone Designer
Band-Sättigungseffekt
Regelbarer Raumanteil
Hoch/Tiefpassfilter
Noise Parameter inkl. Vinyl Effekt
Drag and Drop von MIDI Rhythmen
Beat Transformer
Audio Drag and Drop
Cloud Sync für Presets
Host Sync
Umfangreicher E-Drum Support
Mac:
macOS 10.9 or higher
32 bit & 64 bit
RAM: 2GB (4GB recommended)
Windows:
Windows 7-10
32 bit & 64 bit
RAM: 2GB (4GB recommended)
Product activation:
An internet connection is required to authorize / activate the product.