Extension for Addictive Drums 2 (no sample player included)
The Modern Jazz Sticks kit proves that bigger isn´t always better. Sometimes small, tight and balanced is exactly what the song needs most.
Modern jazz has a certain sound that is just not possible to attain with typical rock/pop/funk kits. Jazz needs tight, balanced drums that are tuned up slightly to sound right. This kit delivers the perfect jazz sound and its great presets let you get to work instantly.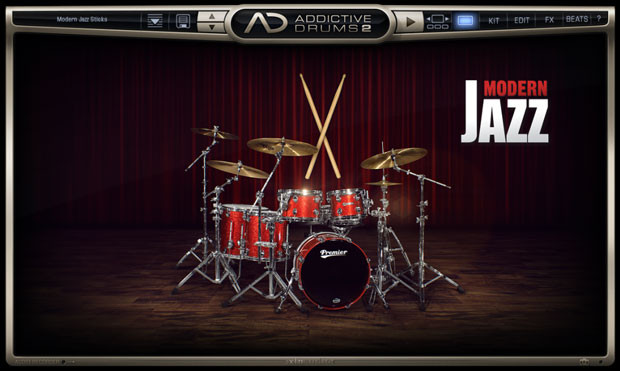 Premier kit (played with sticks)
Tuned up for modern jazz sound
Production-ready presets
About the Kit and Presets
The Modern Jazz Sticks kit features the same beautiful Premier Gen-X drum set and mint condition Ludwig Acrolite snare drum as our acclaimed Modern Jazz Brushes kit. The drums have been tuned up slightly for a modern jazz sound. With a setup of some of the finest cymbals from Meinl, Paiste and Sabian this kit gives you everything you need to make great tracks.
This kit includes professionally designed presets that help you start making great music instantly. It´s also possible to tweak any of the presets using the simple, musician-centric interface of Addictive Drums 2. If you need some inspiration, our Jazz Sticks Grooves MIDIpak features professional drumming that you can use in your productions.
The Modern Jazz Sticks kit contains:
Kick: 18x14" Premier Gen-X (played with wood beater)
Snare: 14x5" Ludwig Acrolite
Toms:
10x8" Premier Gen-X
12x8" Premier Gen-X
14x14" Premier Gen-X
16x16" Premier Gen-X
Cymbals:
14" Sabian HHX Groove Hats Hihat
18" Meinl Byzance Crash
18" Paiste Mellow Crash
19" Sabian HHXtreme Crash
21" Meinl Byzance Medium Ride
Extra: Meinl Small Black Cowbell
This ADpak requires an installed and registered version of the Addictive Drums 2 Engine. It cannot be used stand-alone!
An internet connection on your music computer is required to install and authorize this product. After installation, an internet connection is not required but recommend to use the products.
Product activation:
An internet connection is required to authorize / activate the product.