Impossible-to-find instruments recorded on analog tape? Beautiful room ambience and real plate reverb you can dial in? You might say it´s even better than the real thing!
Extension for Addictive Drums 2 (no sample player included)
Reel Machines is a collection of four mint-condition drum machines and a Simmons electronic drum kit from the eighties. All instruments were recorded on analog tape using some of the finest recording gear in the world. Each kit also includes actual plate reverb and real room ambience you can blend in for maximum sonic possibilities.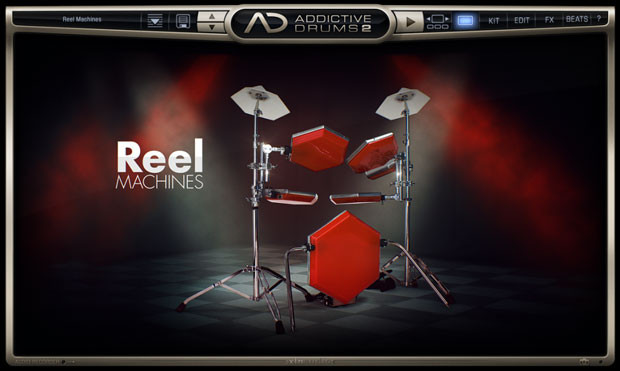 Top 5 classic 80s drum sounds
Recorded on analog tape
Real room ambience and plate reverb
THE ADDICTIVE DRUMS 2 ENGINE
About Reel Machines
Reel Machines is a collection of the most iconic electronic drum sounds of the 80s. Unlike many sample libraries that simply record a machine´s output, we recorded the instruments through a variety of analog tape machines for added warmth and punch. To make it even more special, each instrument includes real room ambience as well as with vintage plate reverb that you can blend in to fit your needs.
This kit comes with tons of presets designed by top sound designers. Each kit includes sounds ranging from classic and super-clean to modern and heavily processed. It´s also possible to tweak any of the presets to fit your exact needs—the Addictive Drums 2 engine makes it easy. Finally, if you need great drum machine rhythms, we have created the Reel Machines Beats MIDIpak to help you find your inspiration.
Reel Machines contains the following:
Drum Machines:
Linn Electronics LinnDrum
Oberheim DMX
Roland TR-808
Roland TR-909
Simmons Digital ClapTrap
Simmons SDS-V [with Kick, Snare, Tom (x3),
HiHat and Cymbal Modules
Other Notable Recording Gear:
Stocktronics RX4000 Plate Reverb
Lyrec 2" 24-track Analog Tape Machine
Otari 1/4" 2-track Tape Machine
Ampex 1/2" 2-track Tube Tape Machines
Neve 1073 Preamps
Coles 4038 Ribbon Stereo Room Microphones
Gefell UM92 Tube Mono Room Microphone
This ADpak requires an installed and registered version of the Addictive Drums 2 Engine. It cannot be used stand-alone!
An internet connection on your music computer is required to install and authorize this product. After installation, an internet connection is not required but recommend to use the products.
Product activation:
An internet connection is required to authorize / activate the product.