For hard rockers and metalheads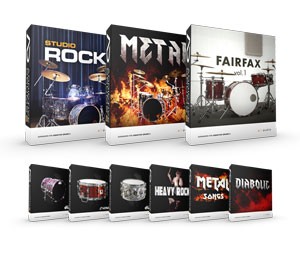 If you're a die-hard fan of rock or an unwavering metalhead, this special version of Addictive Drums 2 is just for you. It includes only our hardest hitting sounds, most diabolical rhythms and is built specifically to take your hard rocking masterpieces to the next level.
Addictive Drums 2: Rock & Metal Edition gives you our absolute best sounds and rhythms for rock and metal. The included drum kits (ADpaks), rhythms (MIDIpaks) and extra drum kit pieces (Kitpiece paks) provide limitless inspiration on your musical journey.
Get inspired while writing
Rock and Metal masterpieces always contain two things: Ridiculously awesome guitar riffs and intense, inspired drumming. Addictive Drums 2: Rock and Metal Edition has you covered when it comes to the drums. You get 78 inspiring sound presets and MIDIpaks containing some of our hardest beats and grooves right out of the box. You can use them as-is or easily tweak them to perfectly fit your needs. Just add guitar and vocals!
Practice with great drummers
Honing your guitar chops and perfecting your riffs takes time and practice. Lots and lots of practice. To help you with this, you can use the inspiring beats and grooves in Addictive Drums 2: Rock and Metal Edition to lock down your performances and timing. It's like playing alongside a world-class drummer every time you practice. Who says practice can't be fun?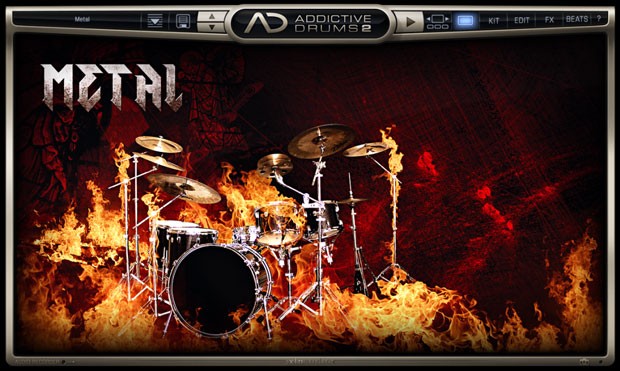 Features:
Addicitve Drums 2 Engine
Enthaltene ADpaks: Studio Rock, Metal und Fairfax Vol.1
Enthaltene MIDIpaks: Metal Songs, Diabolic, Heavy Rock
Enthaltene Kitpiece Paks: DW Solid Piccolo Snare, Sonor Designer Snare, DW Woofer BassDrum
18 Kit Piece Slots
Kitpiece Linking
Snapshots
Flexi Slots
2 Insert Multieffekte
2 Send-Effekte
4-Band EQ
Compressor & Distortion
2 hochwertige Reverbs
Transient Shaper
Tone Designer
Band-Sättigungseffekt
Regelbarer Raumanteil
Hoch/Tiefpassfilter
Noise Parameter inkl. Vinyl Effekt
Drag and Drop von MIDI Rhythmen
Beat Transformer
Audio Drag and Drop
Cloud Sync für Presets
Host Sync
Umfangreicher E-Drum Support
Mac:
macOS 10.9 or higher
32 bit & 64 bit
RAM: 2GB (4GB recommended)
Windows:
Windows 7-10
32 bit & 64 bit
RAM: 2GB (4GB recommended)
Product activation:
An internet connection is required to authorize / activate the product.