There is a huge revival of that 70s sound brought to you by chart-topping artists like Daft Punk. With Vintage Dry, you too can have those fat, dry, and deliciously authentic drum sounds in your productions.
Extension for Addictive Drums 2 (no sample player included)
The 1970s were a golden era for rock, disco, funk and just about any style that relied on a solid backbeat. The drums were dry, fat and crisp—and it was good! Today, there is a revival of that 70s sound by chart-topping artists like Daft Punk, Miike Snow and Justice. With Vintage Dry, you too can have those glorious drum sounds!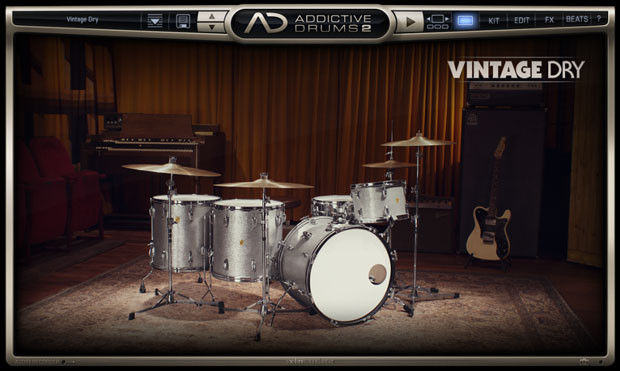 Authentic 70s kit and studio
Period-correct gear and techniques
Fat, dry, and crisp sound
About the Kit and Presets
The kick was stuffed with a pillow and a large sheet of felt. Newspaper was taped to the snare heads and more felt sheets were pinned to the toms. To ensure sonic authenticity, only microphones from the 1960-70s were used (Coles, Neumann, Sennheiser and Bang & Olufsen) through the studio's vintage API console.
Vintage Dry includes 30 mix-ready presets that give you instant access to a variety of sounds ranging from softer early 70s folk to punchy late 70s disco. The Addictive Drums 2 engine makes it easy to modify any of these presets to suit your exact musical needs. To help you find your inspiration, we´ve also created the Dry Beats and Songs MIDIpak, giving you instant access to inspired rhythms played by some outstanding session drummers.
The Vintage Dry kit contains the following:
Kicks:
20x16" Ludwig Silver Sparkle
22x16" Sonor Phonic
Snares:
14x5" Ludwig Supraphonic 400
14x6.5" Sonor Phonic
Toms:
12x8" Ludwig Silver Sparkle
13x9" Ludwig Silver Sparkle
16x16" Ludwig Silver Sparkle (low tuned)
16x16" Ludwig Silver Sparkle (high tuned)
Cymbals:
15" Zildjian K Hihat
18" Zildjian Thin Crash
19" Zildjian K Dark Medium Thin Crash
21" Sabian Signature Hot Ride
22" Sabian HH Extra Thin Crash
Extra: Hands (Clap, Snap & Lap)
This ADpak requires an installed and registered version of the Addictive Drums 2 Engine. It cannot be used stand-alone!
An internet connection on your music computer is required to install and authorize this product. After installation, an internet connection is not required but recommend to use the products.
Product activation:
An internet connection is required to authorize / activate the product.