About Studio Grand
The Studio Grand features a classic Steinway Model D concert grand piano. The first choice of many pianists, Steinways are famous for their character and unrivaled sound. The included ExploreMaps offer presets in a variety of styles ranging from open and natural to processed and strange. The variety of sounds makes Studio Grand perfect for both production and stage duties.
Steinway Model D Grand Piano
Warm tone and unique sound
Six selectable mic perspectives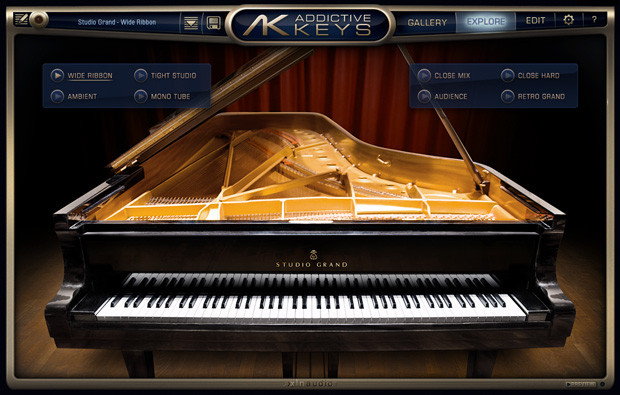 The Instrument and its Presets
Our Studio Grand features a Steinway Model D Concert Grand piano. At 8' 11 3/4" (274cm) in length, this majestic instrument is the overwhelming choice of the world's greatest pianists. More than ten Steinway Grand Pianos were auditioned before finding the one with the most desirable character: a crystal clear and open timbre with a perfectly balanced resonance.

We approached Studio Grand with production in mind. We found that fitting a grand piano in a mix can be hard and often results in a compromise of the sound quality in order to make it fit with the other instruments and vocals. By offering the exact recording setup in Addictive Keys and the option of mixing and matching microphones, Studio Grand is sure to fit nicely into any production style.
Studio Grand was recorded in a large recording studio at the Swedish Broadcasting Corporation. The studio is famous for being extremely quiet and for having a controlled acoustic ambience; for such a large room the reverberation still sounds tight and airy which is a rare combination and the perfect condition for recording a grand piano.

The recordings were done using rare vintage tube and ribbon microphones capturing the instrument at several different perspectives. From close up perspective with microphones next to the soundboard to far away perspective with natural room ambience. The end result is a warm and vibrant sound that goes from intimate to larger-than-life. The vintage microphones used were hand picked from the studios impressive collection.
We recorded using the following:
Close (Stereo XY): Neumann M269
Close (Stereo Wide): Coles 4038
Close (Mono): RCA 6203
Mid (Stereo Wide): Neumann M250
Ambient (Stereo Wide): Neumann M269
Body (Mono): Sela T25
---
Addictive Keys - Specifications
Overview
Addictive Keys brings the world's most inspiring and interesting keyboard instruments into the studios of songwriters, producers, and musicmakers.

It's unique sonic capabilities, smart workflow, fast load-times, and outstanding sound quality are designed to help you stay in the creative flow and to compose great music while you're in the zone.
Addictive Keys ships with tons of inspiring presets neatly arranged in "ExploreMaps." Each preset even comes with previews that present the preset in the perfect light. If you're in a hurry, you can use presets as-is so you don't lose inspiration. If you're in the mood to design new sounds, the powerful sound engine gives you great control over each instrument. You can even mix and match microphone setups!
To push the sound design envelope even further, the Addictive Keys engine has outstanding effects and envelopes to take your sound from clear and natural to heavily processed and other-worldly!

Finally, we include a standalone version that runs without requiring any music software. So if you just want to play, you can do so without any hassles.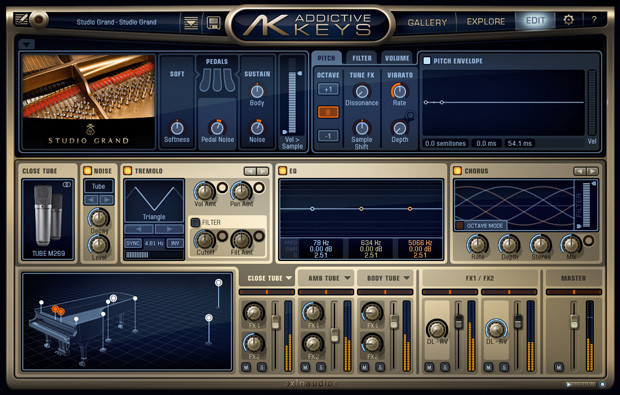 Compatibility
Hosted Mode
Addictive Keys works as a virtual instrument running inside your host music software. It supports all of the major plug-in formats: VST & AU (32 and 64-bit), RTAS (32 bit) and AAX (64 bit).
This means you can use Addictive Drums within most music applications including: Pro Tools, SONAR, Cubase, Logic, Live and many others.
Standalone Mode
Addictive Keys can also work as a standalone instrument, without requiring host music software. This makes it easy to load an instrument, find an inspiring preset, and start playing without having to launch your music software.
This is perfect when you just want to play without waiting for music software or deal with routing.
Mac:
macOS 10.9 and higher
2 GB RAM (4 GB recommended)
Internet connection (during installation)
Windows:
Windows 7, 8, 10 (32 & 64 bit)
2 GB RAM (4 GB recommended)
Internet connection (during installation)
Formats:
VST, AU, AAX (32 & 64 bit)
Standalone Application
Product activation:
An internet connection is required to authorize / activate the product.