Ample China Pipa II - a traditional Chinese instrument
Pipa is a traditional plucked instrument used in classical Chinese music. It has four steel strings (A-E-D-A) running over 24 to 30 frets. Ample Sound used a Feng Wie handcrafted by Pipa master Weidong Cao to record the library, a detailed replica of a Pipa from the Ming Dynasty.
Ample China Pipa is divided into two versions:
Master Version (traditional) - performed by Professor Yin Chen, Pipa player of the Broadcasting Chinese Orchestra

Expert Version (modern) - performed by Lisha Shang, a gifted Pipa virtuoso
The instrument was recorded using two stereo techniques: MS and AB, which allow the volume of different microphones to be adjusted to achieve a greater variety of sounds. There are 7 articulations among the features: Sustain, Natural Harmonic, Tremolo, Full Bend, Legato Slide, Hammer-On & Pull-Off & Strum as well as numerous Pipa FX samples.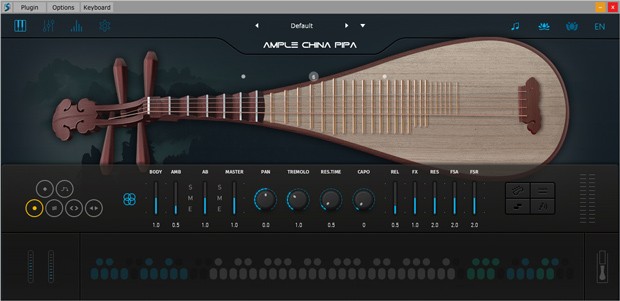 Technology:
Various Tremolo (Tremolo, Rolling Tremolo, Shaking Tremolo) Legato and Slide Tremolo features.

The recorded samples of tremolo have a long fade-in time, which can be divided into 90 different start points. They can be controlled by velocity, easily adapting to the need of different situations and styles.

Tremolo note can loop itself automatically, when the sample reaches to the end.

Tremolo Switch and Sustain Switch can make switch between articulations smooth. It is also possible to produce a realistic tail of tremolo with a fading tremolo release.

Advanced Bend, the tone of the bend notes can be changed by a Physical Modeling system.

Legato Smoother: legato of flexible length & pitch, with polyphonic support.

Resonance is an indispensable part of the expressiveness and realism of an acoustic instrument. Ample China Pipa can control the resonance time and volume, simulate more realistic resonance.

In real performance, a lot of playing noises are generated. Virtual instrument would sound unnatural without those noises. Ample China Pipa can not only generate rich Fret Noise automatically, but also simulate the subtle sound of the nails touching the string.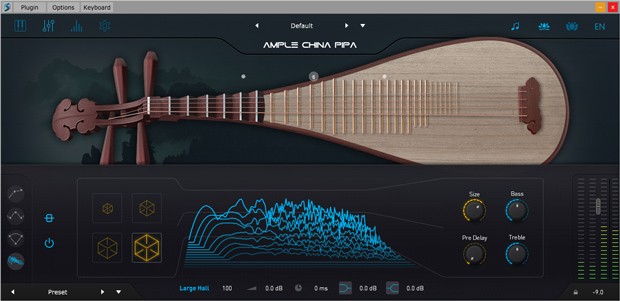 Ample Sound Engine 3.1
Higher efficiency of reading and playback samples

Brand new design of UI, with GPU acceleration

Brand new FX DSP system, high order 8-band EQ, intuitive control of frequency response, real-time visualization of input and output spectrum, support of soloing single band.

2-Line Compressor, real-time visualization of input and output signal, two detection modes RMS & Peak, support of soft knee, auto release and auto makeup.

6-Tap Echo, real-time visualization of the processing of stereo signal, can tweak the parameters of 6 echo points individually: feedback, pan, volume etc.

IR Reverb, providing four types of IR: Room, Studio, Hall, and Larger Hall. 3D visualization of IR spectrum.

Multiple Capo Logics, providing various options of automatic fingering logic to cover different performance such as solo, chorus, and so on.

A new Start + ADSR envelope system

A new preset manager
China Pipa Version 2:
Pipa Strummer:
More powerful than the guitar Strummer, with new chord detection function: Users can edit chord fingering on the virtual fretboard, and Strummer will automatically display the name of the chord.
Samples:
Expression Tremolo: In addition to the original flat tremolo, a new group of tremolo with large dynamics and vibrato has been added, with 900 MB samples in total
The Tails of Expression Tremolo: Added 520 MB tail samples for expression tremolo
Triplets: Added commonly used triplets samples, with 330 MB in total
Bend Up: Added 150 MB real up-bending samples
Bend Down: Added 160 MB real down-bending samples
Removed the keyswitch for manual HP, which can only be triggered in Auto Legato mode.
Added Features:
Added a new capo logic mode: Treble String mode. In this mode, more notes will be played on the highest string.
Polyphonic tremolo is able to be played.
Mac and Windows users can use the same library installer. Users with both system does not need to download separate library installers.
Automatically updates file list when opening the preset window.
Added octave number in virtual keyboard.
New tooltips UI.
Multiple bug fixes.
Mac:
macOS 10.9 or higher
64 bit
Intel Core i5 or higher
Windows:
Windows 8 or higher
64 bit
Intel Core i5 or higher



This product requires an activation!
You can either "soft" activate on your computer without addditional hardware or transfer the license to an iLok USB dongle which has to be purchased separately. The iLok dongle can be used to run the protected software on different computers. Your licenses can be easily manged using the iLok Licence Manager. To protect your investment against theft or loss we recommend the iLok Zero Downtime protection with TLC.
An internet connection on any computer and a free user-accout at www.ilok.com is required to authorize the product.
Please check with the software manufacturer which iLok version is required at least if you want to use a hardware iLok!