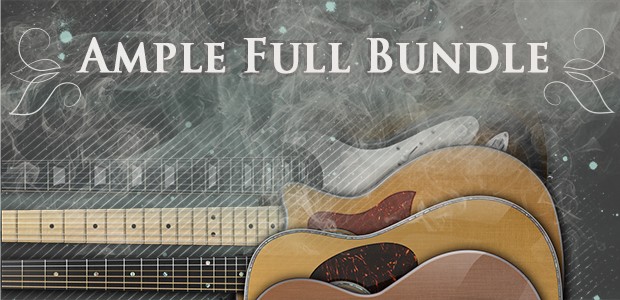 Bundle containing all Ample Sound Products
Ample Sound Complete Bundle includes all Ample Sound products (available at the time of the purchase). The bundle consists of acoustic & electric guitars, acoustic & electric basses, an Ethno Ukulele and Ample China Pipa & China Zheng - traditional Chinese instruments. You save up to 50% compared to buying all products one by one!
Included Products:
Ample China Pipa
Ample China Zheng
Ample China Qudi
Ample China Dongxiao
Acoustic Guitars:
Ample Guitar L - AGL
Ample Guitar M - AGM
Ample Guitar T - AGT
Ample Guitar 12 - AG12
Ample Guitar SJ - AGSJ
Ethno Ukulele - AEU
Ethno Banjo - AEBJ
Electric Guitars:
Ample Guitar P - AGP
Ample Guitar F - AGF
Ample Guitar G - AGG
Ample Metal E - AME
Ample Guitar TC - AGTC
Ample Guitar H - AGH
Ample Metal Hellrazer - AMH
Ample Guitar VC - AGVC
Slide Guitars:
Ample Slide - ASL
Basses:
Ample Bass JF - ABJF
Ample Bass J - ABJ
Ample Bass P - ABP
Ample Bass Metal Ray5 - AMR
Ample Bass A - ABA
Ample Bass U - AMU
Ample Bass Y - ABY
Mac:
macOS 10.9 or higher
64 bit
Intel Core i5 or higher
Windows:
Windows 8 or higher
64 bit
Intel Core i5 or higher
Product activation:
An internet connection is required to authorize / activate the product.