The Charm of British Chime and Jangly Sound
Amplifikation Lancaster is the fourth product of Kuassa's range of Guitar Amp Simulator products which utilizes their 3rd generation of circuit modeling technology, claimed to give a satisfying dynamic response from the amp tone generated.
This time, Kuassa take one step further in translating the inspirations of Vox Amplifiers to recreate its original tone and feel throughout the decades, making distinct sounds from the 70's, 90's and late 2000's accessible for guitarists. In addition, a parallel signal path from the normal and top boost channel similar with the jumpered mod gives the amp more mojo from the tone sought after by many guitarists. A treble booster pedal FX is also included giving the plugin a total modern incarnation of the original hardware setup.
Vox AC30 were built as the demand for louder amps increased in the late 50s where the rock and roll culture began to shine. Known for its bell-like chime and bright jangly sound, undoubtedly the Vox AC30 is very influential in defining the sound of the British movement with the faces of The Beatles, Queen, The Who, The Clash, Ritchie Blackmore, Oasis, U2, and Radiohead.
Consistently in production for more than 50 years, the Vox AC30 went through many incarnations and models throughout its history of different holders. Kuassa took three of their most distinguishable tones and compiled them into one amp to rule them all: Amplifikation Lancaster.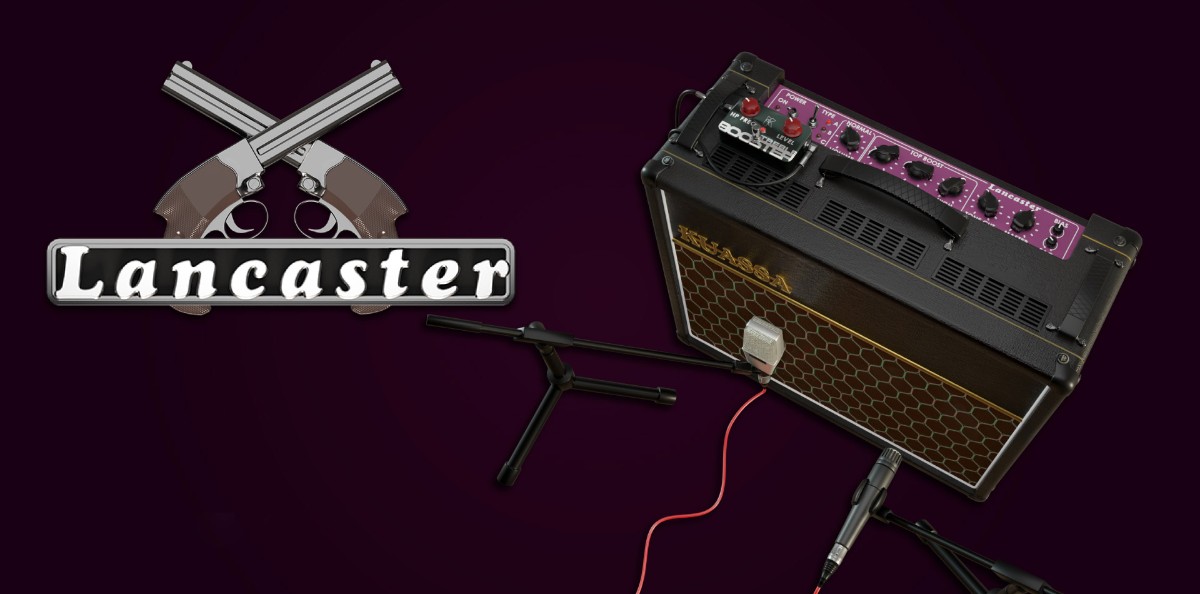 Key Features
Range Master Style Treble Booster: Inseparable with the AC30's tone. Modified to fully match the Lancaster's tone.

Parallel signal path for the Normal Channel and Top Boost Channel. Use both channels simultaneously, similar to 'jumpered' Vox AC30.

3 amp types, taken from different eras of Vox AC30s

Sag and Bias feature on the power amp section

Low pass and high pass filters

Five types of cabinets with impulse responses taken from genuine Vox combo amps

Seven types of workhorse mics: Shure SM57, Sennheiser MD421, Sennheiser MD441, C&T Naked Eye, Royer 121, AKG C414, Neumann TLM103

Freely adjustable dual-miking configurations with mono or stereo configuration, just like a real-life guitar recording session with mix option.

Built-in Noise Gate and Limiter

New top view interface for lifelike guitar playing experience

Straightforward and easy to use interface

Supports up to 8x Oversampling
Mac:
macOS 10.7 or higher
64 bit
Intel Core2 Duo or higher (Intel i3 recommended)
RAM: 4GB
Windows:
Windows 7 or higher
64 bit
Intel Core2 Duo/AMD Phenom II X4 or higher (Intel i3 or AMD A4 recommended)
RAM: 4GB
Product activation:
An internet connection is required to authorize / activate the product.