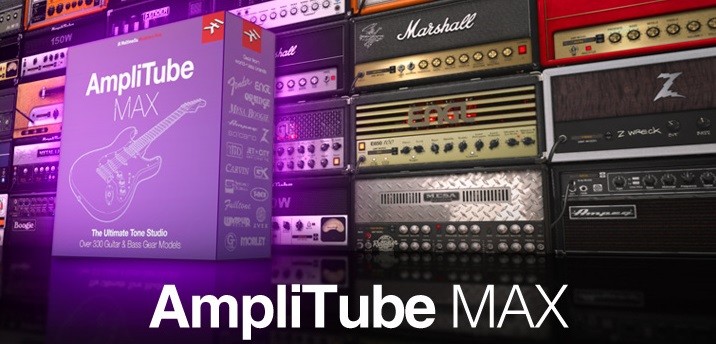 Maximize your tone with AmpliTube MAX
AmpliTube MAX gives you your very own fully stocked tone studio complete with over 300 pieces of gear. It includes a virtual collection of meticulously rendered models of some of the most coveted gear on the planet. With it you get 80 amplifiers, 92 cabinets, 88 stompbox effects, 24 rack effects, 19 mics and 2 tuners that you can use to build your very own custom guitar and bass rigs.
***Crossgrade - From any previously registered IKM product of a value of $/€99.99 or more.
Features:
5 section "Cab Room" with selection, speaker selection, mic placement, room selection and cabinet audio mixer
Industry-standard sound with DSM™ (Dynamic Saturation Modeling) and VRM™ (Volumetric Response Modeling) technologies for Hyper-Realistic emulation of real world gear and the best sounding models
Dynamic Response Modeling provides real amp response and feel — models dynamic relationship and interaction between power amp and speakers, plus physical and harmonic interaction between individual speakers, cabinet and room construction and mics
Perfect as a plug-in for studio recording and mixing in any Mac/Win DAW, native compatibility with 64-bit applications and operating systems
Also perfect for live performance thanks to the standalone version with instant preset switching via MIDI control
Highest supported Sampling Rate: 96 kHz
DAW automation and BPM synchronization
6 separate modules: Tuner, PedalBoards, Amplifier, Effects Loop, Speaker Cabinet, Post Rack effects
Rig of up to 12 stomps, 2 Amp heads 4x dual effects loop slots + 2 Cabs + 2x double cab mics + 2x double room mics, and 8 rack effects can be configured in up to 8 serial/parallel configurations
Two movable microphones allow you to mic the cabinet exactly like in real world studio and live environment
Replace individual speakers in cabinets (12" speaker models)
29 individual speaker models available with more added to Custom Shop
Stereo signal path makes it suitable for any type of instrument including drums, keyboards, vocals and more
Massive database of presets with multiple guitar and bass oriented tags and keywords, advanced search function, rig visualization and more
Perfect integration with IK's range of audio interfaces and controllers such as iRig HD, iRig Pro, iRig 2, StealthPlug and SteathPedal allows for instant recording and performing in the studio or on stage with full programming at the software level
8-track built-in multitrack recorder and DAW enables you to quickly capture ideas or even record a full 8-track composition in the standalone application without the need to open a DAW and with the convenience of AmpliTube superior quality audio processing
4-Track Looper for capturing and layering ideas quickly and easily
Export loops to hard drive and import into the DAW section, import audio to track 1 in looper for playing over backing track loop
Imports any Wav, Aiff, sd2, Apple Caf, Flac, MP3 audio file (Standalone version)
SpeedTrainer for speeding up/slowing down imported tracks without affecting the pitch – the perfect tool for practicing and improving your instrument skills or learning your favorite riffs and solos (standalone version)
Expandable via the built-in AmpliTube Custom Shop feature with gear from the world's top manufacturers and artists
Standalone or DAW Plug-in, you've got it all with AmpliTube MAX
AmpliTube MAX works as a standalone guitar and bass tone studio for your Mac/PC, and as a channel strip plug-in for your favorite DAW. In standalone mode, you have two very useful features at your fingertips for developing your musical ideas: the integrated 4-track looper and the built-in 8-track recorder/DAW. With this level of control and flexibility, you'll find the perfect tone no matter what type of project your working on.
AmpliTube MAX is also part of the Total Studio 2 MAX Bundle — the complete collection of IK software MAX titles for the studio.
Mac:
macOS 10.10 or higher
64 bit
Intel Core 2 Duo (Intel Core i5 recommended)
RAM: 4GB (8 GB recommended)
Windows:
Windows 8 or higher
64 bit
Intel Core 2 Duo or AMD Athlon 64 X2 (Intel Core i5 recommended)
RAM: 4 GB (8 GB recommended)
Product activation:
An internet connection is required to authorize / activate the product.