Next Generation Children Choir
Being in developement for more than 3 years the final chapter of Strezov Sampling's Next Generation Choir Series is at hand. Starting with WOTAN, the lowest and probably most powerful men choir ever sampled and FREYJA the first sampled choir to focus on the beauty of the female voice, ÁRVA marks the first ever sampled children choir, which is more than just a bonus to the female and male sections.

Including the revolutionary Syllabuilder Engine first introduced with WOTAN, True Polyphonic Legato as well as the brand new Agile Legato, which allows you to play polyphonic legato with every syllable inside the library, ÁRVA benefits from every little secret discovered in a 4 years long journey of producing the most playable and realistic sounding choir libraries ever made.

But that's not it! What if we told you that ÁRVA consists of two choirs instead of one? You heard right. ÁRVA marks the first ever sampled children choir library to include boys and girls choirs recorded seperately and in divisi sections (sopranos, altos)!
Revolutionary Legato
One of the biggest trademarks of Árva is its unique legato scripting, combining polyphonic true legato sampling with our very own Syllabuilding approach. The Syllabuilder Agile Legato not only allows the user to play legato with every syllable availabe in the library, but also features intelligent voice leading enabling polyphonic writing within just one patch. In other words: Hold down a chord in the left, play a melody with your right hand and have it all connected with legato transitions. This powerful feature is controllable by the most common of all midi cc controllers, the sustain pedal.
In addition to the Agile Legato Árva again also features polyphonic true legato patches (Ah, Mm, Ooh, Mm-Ah, Mm-Ooh, Mm-Ooh-Ah ) for every divisi section in the library, which gives you tons of flexibility when it comes to writing legato lines.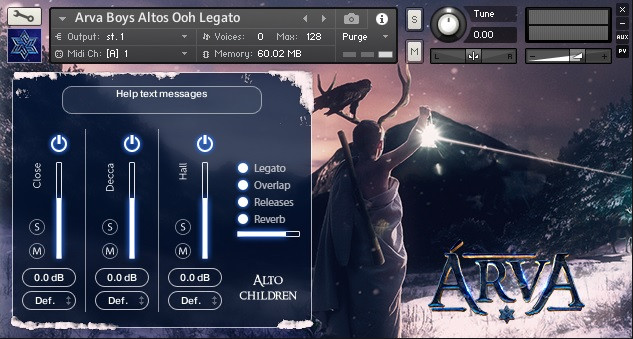 Syllabuilder Engine 3
When it comes to virtual choirs there are basically two approaches: Phrasebuilding (StormChoir series) and Wordbuilding (Rhodope series). Árva combines the simplicity and sample recording of phrasebuilding with the advanced editing functions of wordbuilding. This allows you to have amazing sounding results within seconds, but also to build and create new sample content with only few mouse-clicks. Create complete choral patterns inside the GUI or connect different syllables and morph them to add motion to your choir arrangements. Save and Load complete lyric presets to quickly get yourself into the actual composition or enhance your setup with predefined quick words.
All samples have their natural attacks included. However if you want to tighten them up the Syllabuilder Engine allows you to set custom attack, release, volume and offset values for each field independently. Something first introduced by WOTAN Male Choir and before that greatly missed in all phrasebuilding choir libraries.
Version 3 now features compatibility among all of our choirs included in the Next Generation Choir Series meaning you can exchange lyrics and presets, thus saving an incredible amount of time.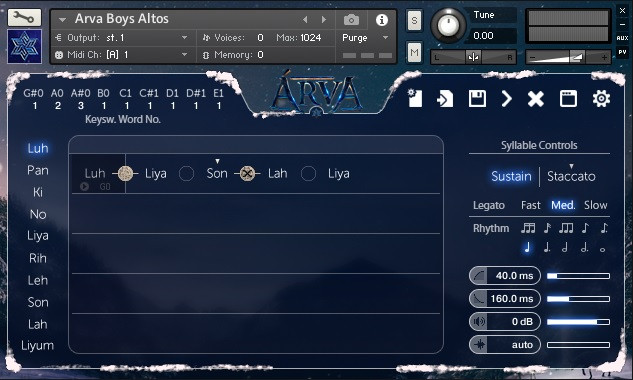 Overview:
Separately recorded boys and girls choir ensembles
True Divisi recordings for boys and girls sections
Boys and Girls Soloists (available as a free update Q1 2017)
Polyphonic True Legato (Ah, Mm, Ooh, Mm-Ah, Mm-Ooh, Mm-Ooh-Ah) and Agile Legato (10 Syllables) for every divisi section of both ensembles
10 powerful syllables recorded within 2 dynamic layers + 1 "faux" dynamic layer to smooth out crossfading
Sustain (1xRR) and Staccato (2xRR) samples
3 mic positions - Close, Decca, Hall + custom convolution reverb
The powerful Syllabuilder engine 3.0 with CONNECT and MORPH modes that allow you to create your own sample content within Kontakt
Ability to Load and Save your lyrics, built-in preset manager
Fully compatible with Wotan and Freyja
Integrated manual
Native Instruments Kontakt 5+ FULL version - FREE Player NOT SUPPORTED
samplespotlight.com 12/2016

"I have been a huge fan of both Wotan and Freyja and now I have ÁRVA to fill out my choral palette. Not only is the tone of this library gorgeous but I love the playable functionality of their Syllabuilder Engine and Legato scripting. This library certainly raises the bar!!"
Full review at samplespotlight.com
Ask.Audio 02/2017

"Like all the Strezov choir libraries, this is a terrific library and well worth your consideration."
Full review at ask.audio
recording.de 01/2017

"Nach Wotan und Freyja waren meine Erwartungen sehr hoch und wurden voll erfüllt. Der Chor inspiriert und lädt zum Spielen ein. Die Legato-Patches sind einfach und gleichzeitig sehr effizient. Die Silben wurden noch mal erweitert und ermöglichen das Bauen komplexer Worte. Die Oberfläche ist sehr intuitiv. Der Klang überzeugt sofort. Und dass Jungs und Mädchen jeweils in Sopran und Alt aufgeteilt wurden, ist bisher einmalig und bietet viele Möglichkeiten."
Kompletter Testbericht bei recording.de
Using this library requires a full version of Native Instruments' "Kontakt"!
Please notice: This library can not be played with the free "Kontakt Player"! To use this "Open Kontakt" format, you need a full version of "Kontakt", which is included in products such as Komplete or Komplete Ultimate.
Please check the product description for the required Kontakt version.
The following list shows, whether the respective Kontakt version is compatible with your operating system:
Mac
Kontakt 4:
OS X 10.6 & 10.7 = until 4.2.4
OS X 10.8 and higher = no longer supported
Kontakt 5:
OS X 10.6 = until 5.0.3
OS X 10.7 = until 5.3.1
OS X 10.8 = 5.0.3 - 5.5.1
OS X 10.9 = 5.3.0 - 5.6.6
OS X 10.10 = 5.3.0 - 5.7.3
OS X 10.11 = 5.5.1 - latest
Mac OS 10.12 = 5.6.1 - latest
Mac OS 10.13 = latest
Mac OS 10.14 = latest
Mac OS 10.15 = latest
Kontakt 6:
Mac OS 10.12 - 10.15 (latest update)
Windows
Kontakt 4:
XP = until 4.2.4
Vista = until 4.2.4
Windows 7 = until 4.2.4
Windows 8 & 10 = no longer supported
Kontakt 5:
XP = until 5.2.0
Vista = until 5.2.0
Windows 7 = latest
Windows 8 & 10 = latest
Kontakt 6:
Windows 7, Windows 8, or Windows 10 (latest Service Pack)
FOR ALL SYSTEMS:
1GB free disk space

Additional hard drive space according to the library's size
SUPPORTED INTERFACES
Stand-Alone | VST | Audio Units | ASIO | CoreAudio | WASAPI | AAX Native (Pro Tools 10 or higher)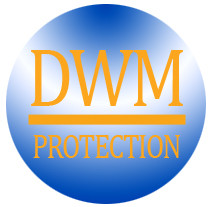 For your own protection this library is provided as individual personalized files including a
Digital Water Mark - DWM!