A space ambiance sound synthesizer
AudioSpace is a synthesizer dedicated to the emulation of space ambiance sounds.
This synthesizer is based on AudioGaming's dynamic modeling technology and uses no sampling. It produces sounds by solving, on the fly, mathematical equations modeling multiple aspects of a what could be the rumble made by different kinds of large ships. This complex synthesis engine responds dynamically to the control signals it receives and exposes high level controls carefully mapped to the low level synthesis model.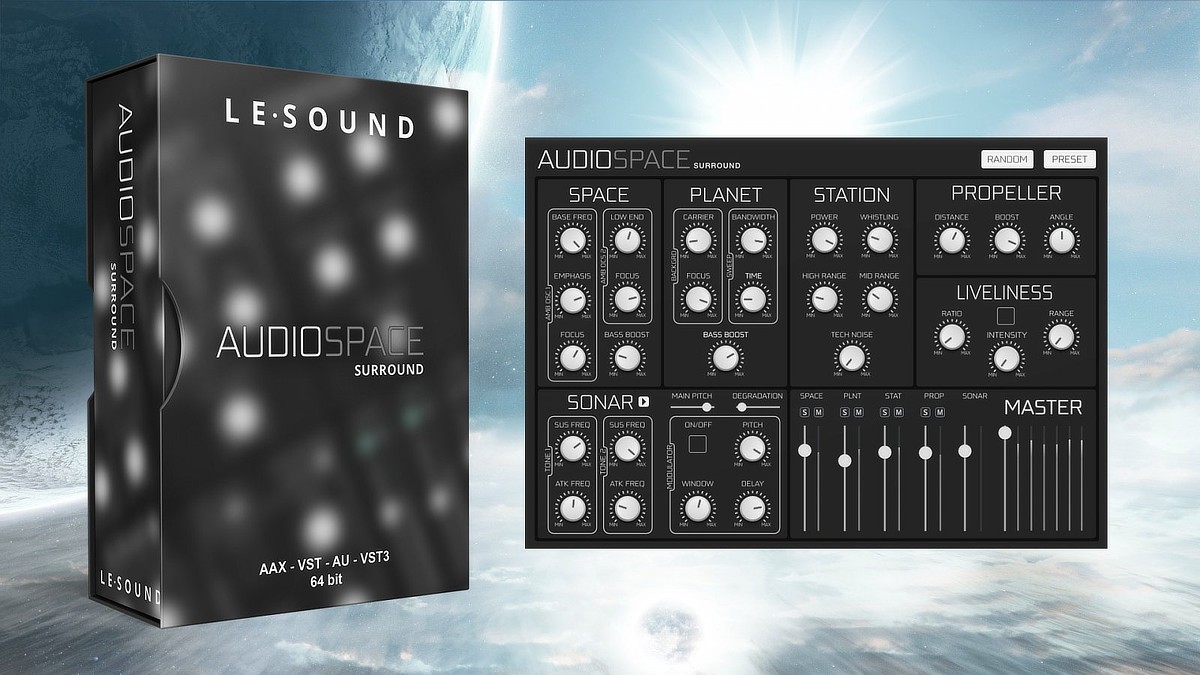 Product Features
Space Module: Combining multiple low pass filters and band pass filters, the Space module combines multiple oscillators to create rumble sounds that could come out of a spaceship. It can be used for any of your sci-fi space ambiance needs as well as any other production where you might need a deep rumble sound.

Planet Module: The Planet module signature effect is the sweep that will give it a more "alien" and strange planet feel. The controls will allow you to change the background sound as well as the sweep properties.

Station Module: The Station module combines multiple oscillators and uses a similar technology to the Space module. Instead of giving you space sounds, this module simulate more "technological" sounds allowing you to simulate a massive sci-fi space station or spaceship.

Propeller Module: The Propeller module combines multiple oscillators and uses bandpass filters to recreate the sound of a propeller. Using a combination of the parameters available will allow you to sculpt the sound to fit every needs you might have for this kind of sound.

Sonar Module: The Sonar module combines multiple filters and effects allowing you to recreate any "beeps" from a regular sonar sound to extremely distorted sounds. to do this you get controls over the two main oscillators.

Liveliness Module: The Liveliness module affects every module in the plug-in allowing you to have more variety to the sounds by shifting the frequency of the multiple oscillators according to a range and a step.
Host application compatible with:
AAX Native plugins
VST plugins
VST3 plugins
Windows OS / Mac OS
64 bit AAX/VST/VST3 compatible host



This product requires an activation!
You can either "soft" activate on your computer without addditional hardware or transfer the license to an iLok USB dongle which has to be purchased separately. The iLok dongle can be used to run the protected software on different computers. Your licenses can be easily manged using the iLok Licence Manager. To protect your investment against theft or loss we recommend the iLok Zero Downtime protection with TLC.
An internet connection on any computer and a free user-accout at www.ilok.com is required to authorize the product.
Please check with the software manufacturer which iLok version is required at least if you want to use a hardware iLok!