The fast & simple way to get Location Mics in Phase
AUTO-ALIGN POST is an AAX AudioSuite plug-in for Avid Pro Tools, designed to automatically correct the delay and comb-filter phase issues occurring when mixing a recording of multiple moving microphones, such as in the case of a shoot set-up using a boom microphone in addition to an actor's lavalier microphone or multiple on-set microphones.
Until now, phase/time aligning multiple moving microphones was a tedious, time-consuming job that often required several ear-twisting days to complete.Not anymore.
Building on the proprietary technology of the groundbreaking Auto-Align™ plug-in, SoundRadix developed a next-generation algorithm that makes phase/time correction of a moving multi-microphone recording of an entire film a matter of a few clicks and a short coffee break.
Features
Corrects for distances of up to ~112 feet / ~34 meters or a delay of ±100ms
Dynamic mode enables continuous phase/time correction for moving actors or cameras
Static mode enables fixed phase/time correction for stationary microphones
Transparent, filter-free design
Multi-channel support
Highly optimized for CPU efficiency and operation speed
Easy to operate - no manual adjustments required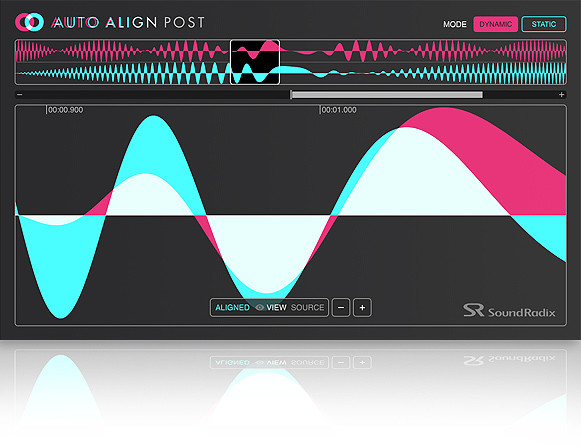 System Requirements
Mac: Intel Core 2 Duo CPU, 4GB RAM, OS X 10.7 or higher
Windows: Intel Core 2 Duo CPU, 4GB RAM, Windows 7 or higher
Plug-in formats: AudioSuite on Pro Tools 10 or higher. (Media Composer is not supported)
Free iLok account and iLok License Manager (iLok USB key is not required)
The system requirements can be found in the product description or on the manufacturer's website.



This product requires an activation!
You can either "soft" activate on your computer without addditional hardware or transfer the license to an iLok USB dongle which has to be purchased separately. The iLok dongle can be used to run the protected software on different computers. Your licenses can be easily manged using the iLok Licence Manager. To protect your investment against theft or loss we recommend the iLok Zero Downtime protection with TLC.
An internet connection on any computer and a free user-accout at www.ilok.com is required to authorize the product.
Please check with the software manufacturer which iLok version is required at least if you want to use a hardware iLok!