The divine tone of the Indian Bansuri
The bansuri is an ancient flute indigenous to India, known as the nadi or tunava in some texts. It has a special role in North Indian and Hindustani classical music and is often known as the "divine instrument", carrying with it the appropriate religious significance. Unlike many ancient flutes, the bansuri is tranverse (side-blown).
The Library includes 14 playing techniques, nearly 350 pre-recorded phrases, and bonus drones – 4,500+ samples in total! An ornament system allows for unique, authentic performances and TACT (Total Articulation Control Technology) provides the ultimate solution for fully customizable mapping.
Key Features
Over 4,500 24-bit samples recorded through warm ribbon & room mics
7 types of sustain articulations
True legato and portamento, tweakable settings
3 different release ornaments
Staccato, bends, vibrato
Nearly 350 phrases. multiple lengths & styles
Phrases also provided as WAV
Bonus tambura and sitar drones patch
Beautiful unified VENTUS interface
Dozens of under-the-hood tweaking controls
Ornament system for effortless authentic performances
Phrase playback editor
Easy FX rack with analog-modeled EQ, compressor, delay & reverb
TACT - Total Articulation Control Technology for easy customization of all playing techniques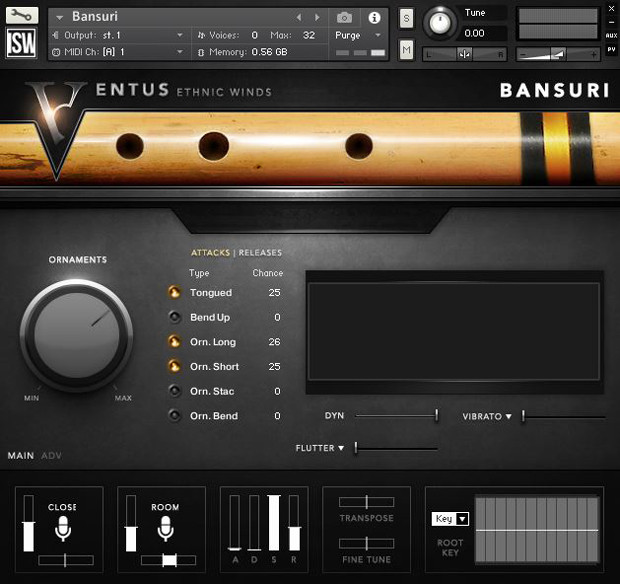 Ventus Series Concept
ISW started the Ventus Ethnic Winds series to take you on a journey all over the world, capturing the tones of beautifully performed solo woodwinds outside the Western repertoire. Along with that goal, ISW wants you to be able to create authentic performances without technology getting in the way.
Each Ventus instrument shares several key features, along with a common user interface:
Traditional playable articulations alongside a large pool of pre-recorded phrases that you can quickly drop into a composition for instant color.

An innovative ornaments system designed to automagically createdecorative techniques in real time with no extra sequencing or tweaking needed.

The unique Total Articulation Control Technology (TACT) to unify and simplify the process of creating your own personal mapping setup for every instrument.
With these three features, combined with our hallmark depth of sampling and attention to detail, we know that our Ventus Ethnic Winds will become a source of endless inspiration.
Using this library requires a full version of Native Instruments' "Kontakt"!
Please notice: This library can not be played with the free "Kontakt Player"! To use this "Open Kontakt" format, you need a full version of "Kontakt", which is included in products such as Komplete or Komplete Ultimate.
Please check the product description for the required Kontakt version.
The following list shows, whether the respective Kontakt version is compatible with your operating system:
Mac
Kontakt 4:
OS X 10.6 & 10.7 = until 4.2.4
OS X 10.8 and higher = no longer supported
Kontakt 5:
OS X 10.6 = until 5.0.3
OS X 10.7 = until 5.3.1
OS X 10.8 = 5.0.3 - 5.5.1
OS X 10.9 = 5.3.0 - 5.6.6
OS X 10.10 = 5.3.0 - 5.7.3
OS X 10.11 = 5.5.1 - latest
Mac OS 10.12 = 5.6.1 - latest
Mac OS 10.13 = latest
Mac OS 10.14 = latest
Mac OS 10.15 = latest
Kontakt 6:
Mac OS 10.12 - 10.15 (latest update)
Windows
Kontakt 4:
XP = until 4.2.4
Vista = until 4.2.4
Windows 7 = until 4.2.4
Windows 8 & 10 = no longer supported
Kontakt 5:
XP = until 5.2.0
Vista = until 5.2.0
Windows 7 = latest
Windows 8 & 10 = latest
Kontakt 6:
Windows 7, Windows 8, or Windows 10 (latest Service Pack)
FOR ALL SYSTEMS:
1GB free disk space

Additional hard drive space according to the library's size
SUPPORTED INTERFACES
Stand-Alone | VST | Audio Units | ASIO | CoreAudio | WASAPI | AAX Native (Pro Tools 10 or higher)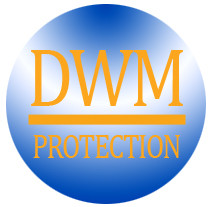 For your own protection this library is provided as individual personalized files including a
Digital Water Mark - DWM!