Big Bang Orchestra: Solaris - FX Woodwinds
This all-new collection of woodwind tones and phrases offers two main categories: Low Winds and High Winds.
Ensemble of low woodwinds (8 musicians)

Ensemble of high woodwinds (10 musicians)

Unison and octave notes with a wide variety of articulations

Clusters, runs, arpeggios

Change tempo using the time-stretch feature or sync to host

Recorded with multiple microphones at Synchron Stage Vienna
The Low Winds section consists of an ensemble of three contrabassoons, two bassoons, one contrabass clarinet and two bass clarinets. Together, they perform the fundamental lows, with articulations such as short notes (both bold and agile), long notes, espressivo, short and long swells, sforzatos, sforzatissimos, and flutter tongues. All of these playing techniques are available as notes playing in unison and octaves, as well as in clusters. A crossfade patch allows you to blend seamlessly from unison to clusters and back.
The High Winds section consists of one piccolo, three flutes, two oboes and four clarinets. Apart from long notes in unison and octaves, these top musicians from the Synchron Stage Orchestra, who have developed into a cohesive ensemble over the years, show off their synergistic virtuosity by performing runs and arpeggios in a wide variety of scales and chords. Runs are available in major and minor keys, as well as in diatonic modes, chromatic and whole tone scales. As a variant, the "Perform Octave" patch lets you play a starting note of any length and trigger the run as soon as you press the target note an octave above or below.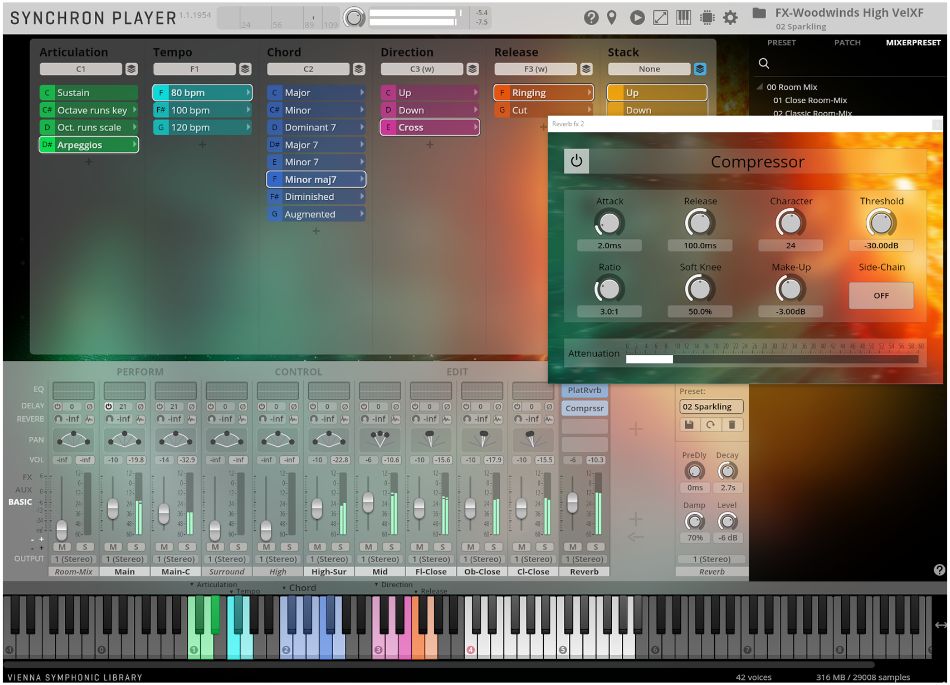 Arpeggios are performed in various chords, including major, minor, sevenths, diminished and augmented. You can choose to start the loops on the highest or the lowest notes, and you can define the exit notes as note cut off, highest, or lowest. In addition, instead of choosing to start upwards or downwards, you can create beautiful woodwind textures by letting the ensemble play upwards and downwards simultaneously. Never before was it so simple to have an entire woodwind section play vivid and shimmering, rhythmically perfect arpeggios, just by holding a single key. Played in 16th triplets, they are available in three tempos – 80, 100 and 120 bpm – and you can easily sync them to your host tempo using the Synchron Player's time stretching feature, or even change the tempos in real-time using a controller.
System Requirements
PC Windows 7/8/10 (latest update, 64-bit), Intel Core 2 Duo or AMD Athlon 64 X2
macOS 10.10 (latest update) or higher, Intel Core 2 Duo
SSD (M2, Sata 6 or USB3/3.1 UASP Support) for sample content
8 GB RAM (16 GB or more recommended)
AU/VST/AAX Native compatible host (AAX version requires Pro Tools 10.3.5 or higher)
VIENNA KEY (Vienna Symphonic Library USB protection device) or other USB eLicenser (e.g., from Steinberg or Arturia)
Other configurations may work but are not actively supported.
Recommended
Windows 7/8/10 (latest update, 64-bit), Intel i5/i7/Xeon
macOS 10.12 (or higher), Intel i5/i7/Xeon
16 GB RAM or more, depending on your registered products
88 key master keyboard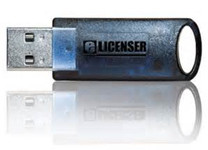 Product activation:
Vienna Instruments require the ViennaKey!
This USB protection device by eLicenser (by Steinberg, formerly Syncrosoft) is not included in any collection, it is a separate item you have to get additionally. So you'll have to order at least one ViennaKey with your first purchase. It will be put inside the shopping basket automatically but can be deleted if not required. Customers who order the complete SYMPHONIC CUBE will get one ViennaKey for free (not shown in the basket). If you already own another eLicenser USB protection device (e.g., from Steinberg or Arturia), you can use it for the VIENNA INSTRUMENTS, too. Each dongle can store up to 100 product licenses.
Additionally an internet connection on any computer is required to authorize a VSL product.