Dynamic software for creating and performing your musical ideas
Bitwig Studio is a modern, innovative software for music production and performance supporting all relevant PC operating systems (Windows, OS X, Linux). Bitwig Studio seamlessly combines the classic arrangement view with a performance-oriented clip launcher for free improvisation based on audio and instrument clips. The sophisticated user interface adapts intuitively to your workflows and requirements at any time.

What's new in version 3?
The Grid, a modular sound design environment sporting 154 modules and lightning-fast workflows

Poly Grid device: for creating synthesizers, sequenced patches, and more

FX Grid device: for creating audio FX with optional voice stacking

Automatic Project Backups, each time you re-save a project

Realtime Ruler, showing timelines in minutes and seconds

Ableton LINK version 3, supporting start/stop synchronization

Global GUI Contrast settings, making the interface pop on any monitor

Redesigned Instrument Inspector, offering polyphony, two mono voice modes, and more

VU Meters in Routing Choosers, showing the signal you are looking for

Reworked audio backends, sporting timing improvements on all platforms
The Grid is an open modular environment that powers a family of new devices in Bitwig Studio 3: Poly Grid and FX Grid. With a vast library of modules and a supersonic workflow, you'll be creating your own unique sounds immediately, and in high-fidelity. Simply add a Grid device to your project and start patching. It's fun!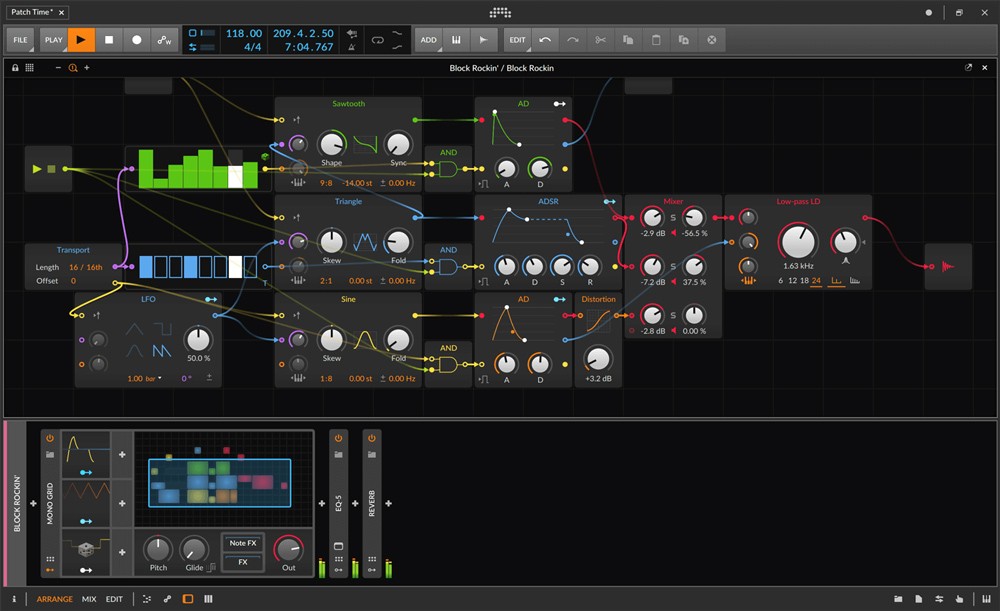 The Grid includes
Fully-modular sound design

Fantastic sound quality

150+ modules

Any signal, anywhere

Lighting-fast workflow

4x-oversampled, stereo signal path
Construct a polyphonic synthesizer from scratch in one session. Create an adaptive audio effect with your signature sound. Experiment with generative drones until you find a new way to perform. Or simply create the undefinable. Patching is effortless, giving full reign to your creativity.

Overview
Professional digital audio workstation for Windows, MacOS and Linux
Super-fast workflow for sound design, recording, live performance and more
A complete package with over 80 instruments and effects
More than 10 GB of premium sound content from Bitwig and selected partners
Out-of-the-box support for standard audio interfaces and controllers
Unique and highly flexible modulation system for unlimited creativity
Fast switching between different projects
Versatile functionality with hybrid tracks, arranger and mixer clip launcher
Clip automation, Dynamic Inspector and much more
Sandbox operation for plug-ins to protect your entire application from crashes
Support for multitouch surfaces and up to 3 screens
Open Controller API for own controller scripts
Unlimited number of audio, MIDI and effect tracks
Excellent hardware integration
Multi-track recording and mixing

Specifications
Win7 (64-Bit) or higher | Mac OSX 10.7 or higher | Ubuntu Linux 12 or higher

Dual Core CPU, 4 GB RAM, 9 GB HD, Internet connection

Supported Audio Formats: WAV, AIFF, MP3, AAC, WMA, FLAC & OGG Vorbis

Supported Plugin-Formatds: VST2 / VST3
The system requirements can be found in the product description or on the manufacturer's website.
Product activation:
An internet connection is required to authorize / activate the product.