Blue was first released in 2005 after Rob Papen formed the RPCX (Rob Papen ConcreteFX) partnership with music software developer Jon Ayers to create a powerful dream synth. As such, it remains a bona fide software synthesizer classic to this day, much loved by synth players and producers worldwide.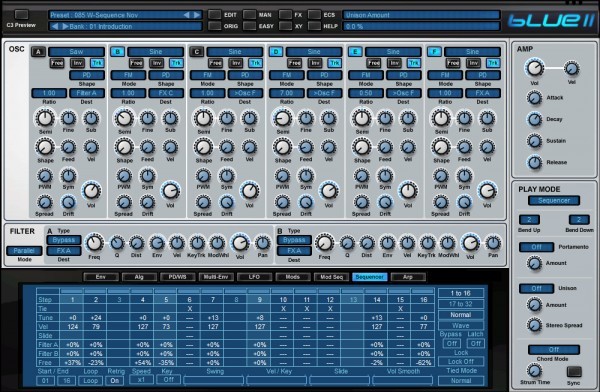 Blue reflected Rob Papen's cutting-edge, creative, and musical approach towards developing virtual instruments by first delivering FM and subtractive synthesis, then duly adding Phase Distortion and wave shaping synthesis into the highly creative mix to create one seriously creative combination. Rob Papen himself called it 'Crossfusion synthesis' since it covered so much musical ground so effectively.
Blue II remains true to that ethos with even more sound dimensions and features to its extended name, starting with six oscillators beating at its musically creative heart. These can be connected in various ways, together with two analogue-style modelled stereo filters with 27 different filter types, an enormous range of processing and modulation options, sequencer, and an incredibly powerful arpeggiator.
A new range of specially selected waveforms based on samples have been meticulously fashioned for creating new and fresh-sounding synth sounds, so don´t go expecting acoustic pianos galore here. However, since choirs and strings are an excellent basis for so many synth sounds Blue II has them in abundance, with much more besides!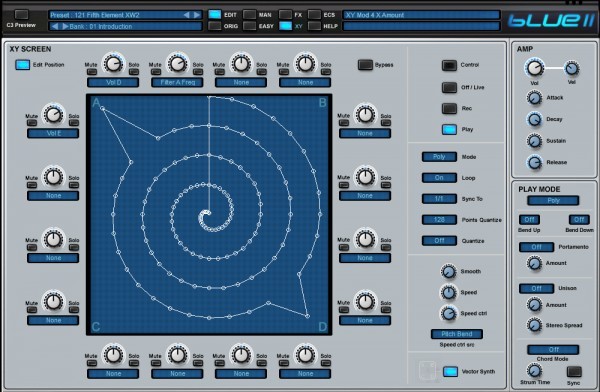 Moreover, Blue II takes the useful XY pad features from its popular virtual instrument sibling Blade, a cutting-edge additive synthesis powerhouse with a human touch, and transplants them into its own equally extraordinary workflow perfect for time-based sound movements and vector pad-type sounds. Complemented by four top-quality FX processors, each offering 35 FX types, Blue II is a phenomenally powerful virtual instrument to behold.
But Blue II is also easy to use, thanks to its user-friendly user interface and an innovative Easy Edit page for speedy sound changes, while the Bank Manager allows whistle-stop navigation through over 3000 inspirational Rob Papen presets and artist sound banks covering a wide range of musical styles.
Including New Presets:
The Raven's by Stawczyk
Rauschwerk Signature BLUE-II Soundbank
Save big: Upgrade for registered user of BLUE available!
BEAT, 05/2014

Fazit
Mit einem glasklaren, kraftvollen Klang und einem immensen Kreativ- und Suchtpotenzial ist Blue II der Traum jedes Sounddesigners. Gestandene Klangschrauber werden sich dank der durchdachten Bedienoberfläche schnell zurechtfinden. Die pfiffige Easy-Edit-Seite sowie über 300 Presets mit hohem musikalischem Nutzwert erleichtern weniger erfahrenen Anwendern den Einstieg. Klasse!
Pro Tools Expert 03/2014

Excerpt:
Blue II is enormous without being overly complicated; it has excellent sounds and is a lot of fun. It is for this reason that Blue II gets our Editors Choice Award it is well worth checking out.
Rob Papen is one of those people who seems to plough his own furrow, if that expression doesn't translate for none Brits let me be clearer, he doesn't swim with the crowd, instead choosing to make original virtual instruments and effects. I'm glad he does and you should be too, we need more companies like Rob Papen.


StudioTech Magazine, Choice 9/10


Pro Tools Expert, Editros Choice Award


BEAT, Empfehlung der Redaktion

Mac:
Windows:
Windows 7-10
32 bit & 64 bit
Product activation:
An internet connection is required to authorize / activate the product.