FUTURE BEAT MACHINE
Get BreakTweaker plus four diverse Expansions: Cinematic Textures, Vintage Machines, Kicks & Snares by Beatport Sounds and Modern Grooves by Black Octopus. Learn more about BreakTweaker here!
Included Expansions:
KICKS & SNARES BY BEATPORT SOUNDS

If anyone knows what makes a track pulse, it's Beatport, the world's largest DJ and electronic music community. Exclusively created for iZotope's BreakTweaker, this impressive-sounding drum sample collection from Beatport Sounds is perfectly suited for modern drum production. With solid kicks, snares, and a little percussion thrown in for good measure, Kicks & Snares will augment your already-stellar Factory Library with fresh flavors from the labs at Beatport. Simply load up the samples within BreakTweaker´s Generator to start crafting your perfect kit.
100+ SAMPLES
Kick Thumpin Trap, Kick Housey, Snare Dubstep Hit, Perc Hat, Perc Crash...

Browse through a treasure trove of heavy, dusty vintage beats and revisit hip hop, trap, upbeat techno, two step, dilla-style off-kilter beats and much more. With samples by world-renowned Goldbaby, Vintage Machines delivers an eclectic range of over 200 samples from the greatest drum machines out there, assembled into a unique collection of throwback fun. With 50 kits to choose from and 12 patterns each, you can mix and match your favorite lo-fi goodness and drop some vintage style into your track. Crunchy beats, head-bobbing sub and just a hint of old-school vibes take you back to the era of the greats.
200+ SAMPLES
Kick Crispy Fried, Snare of the Month, Hat Dirty Dirt, Ride Clear, Kick Chop Chop...
A PEEK AT THE PRESETS
Forest Thumper, White Wine, Millenial Rap, House Bliss, Two Step, Boom Bap...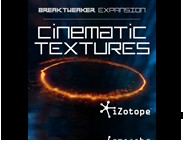 The Cinematic Textures Expansion is a collection of rhythmic gestures ranging from esoteric patterns to dense pulses and beats. Designed to enhance film and television scores, and to intensify the texture of electronic and electro-acoustic music, this expansion is geared towards composers, producers and sound designers alike. With 71 presets and over 700 samples, Cinematic Textures was made with sonic exploration in mind. Delve into both percussive and tonal elements to inspire new ideas for your future musical works.
700+ SAMPLES
Dark Pulse, Broken Autoharp, Bass Harmonic, Orch Slap Stab, Rolling Synth...
A PEEK AT THE PRESETS
Abstract Scratchmosphere, Tension Espionage, Action Hallucinations...
MODERN GROOVES by Black Octopus
New!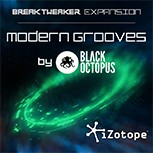 Designed by boutique sample creator Black Octopus, Modern Grooves is a high-end collection of samples and presets for producers and songwriters of all types. Modern but retro, crisp yet slick, Modern Grooves serves up full-fledged starting points for jamming out new track ideas. Prefer to start from scratch? We have you covered there, too. With 300 new audio samples and 40 Generator presets, there's plenty of rich material for customizing your own productions. Take a tour through Electro, Breaks, Deep House, House and more, then spice up any track that needs a lift. Get fresh beats for any genre with Modern Grooves.
Supported operating systems:
Windows: XP (32-bit Service Pack 3) 7, 8, 10
Mac: OS X 10.6.8 - 10.15
Plug-in Formats:
AAX (64-bit, Pro Tools 11)
RTAS (32 bit, Pro Tools 7.4-10)
VST and VST 3
Audio Unit
Host compatibility:
BreakTweaker works as a virtual instrument in popular hosts like Pro Tools, Cubase, Nuendo, SONAR, ACID, Ableton Live, and many more.
Please note:
The Discover feature requires an internet connection.
Product activation:
An internet connection is required to authorize / activate the product.