Taut. Melodic. Funky.
Few instruments get fans of funk grooves drooling like the Hohner D6 clavinet. Originally intended for classical harpsichord-esque duties, but really sonically closer to an electric guitar than a piano, its twangy, spanking timbres add a melodic tension to a groove like nothing else. To achieve the iconic funk sound it is paired with a wah-wah pedal - one of the earliest examples of this was on Up On Cripple Creek by The Band in 1969.
The D6 contained 60 strings that are amplified by two active pickups, one above the strings close to the bridge (Upper Pickup), and one below the strings (Lower Pickup). The instrument is played from a keyboard, which launches little hammers that strike and hold the strings in place. When the hammer is released, the dampers at the end of the string stop the sound. The D6 also has a Mute slider, which brings a felt damper over the resonant part of the strings to create a different timbre and shorter decay time.
Specially Modified For Sampling
Hohner D6s are getting quite rare, because of their delicate, high-maintenance mechanical nature. Over a 12 month period Soniccouture extensively restored and then modified their D6, which was a nice example in decent working order before they even started. But to get these instruments functioning absolutely perfectly is a real labour of love. As well as wanting to get it sounding perfect, it was also needed to make a few custom modifications. To model the internal setup of the instrument, Soniccouture added a direct XLR output to record each pickup separately, and an input to the D6 preamp in order to capture the EQ response.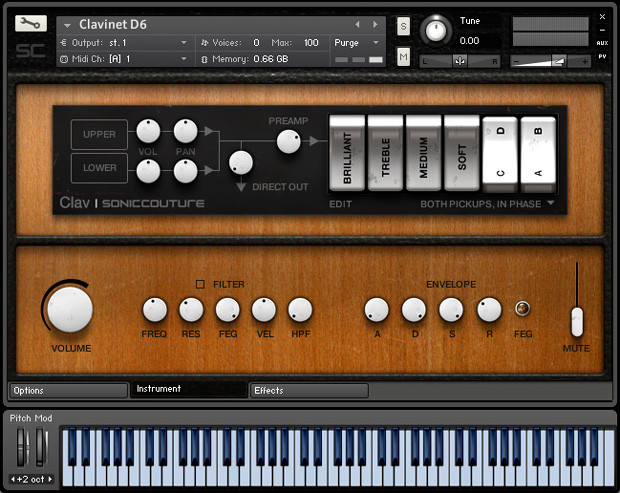 Super-Clav Controls
Sampling each pickup separately and bypassing the preamp means that the architecture of the Soniccouture Clav is very creatively flexible. As well as routing both pickups into the preamp as on the traditional instrument, it is also possible to have a clean, direct output, and to vary the level and panning of each pickup independently. The traditional Clav rocker switches then control the phase of the pickups.
Natural, Detailed Performance
Featuring 31 velocity layers (14,880 samples - 9GB), Soniccoutures' new intelligent round-robin system, release samples and a fully modelled pickup / preamp section, Soniccouture Clav brings the Hohner D6 Clavinet to your DAW like never before.
Authentic Wah-wah Performance
Clav's Auto-Wah effect can be synced to your DAW's tempo, or for a truly natural playing experience, you can assign it via MIDI to any hardware or software controller or - yes - a foot pedal.

Library Specifications
9.6 GB library (just under 5 GB with Kontakt NCW compression)
14, 800 samples , 24 bit 48 khz sampling
5 octaves: 60 notes, from F1 to E5
31 velocities on all articulations; straight, mute, release, and mute release
Intelligent round robin, switchable.
Modeled impulse responses of Hohner Clavinet D6 preamp / filters.
Control over individual pickup gain and pan, with direct out
Sound design presets included
Demo MIDI files included
Custom effects panel with MIDI controlable wah-wah effect & Soniccouture impulse response reverb library
Compatible with free Kontakt Player 5 - VST AU RTAS
The latest NI Kontakt Player is included in this product!
Please check the product description for the required Kontakt version.
You want more?
This library qualifies for the reduced Crossgrade of full KONTAKT at Native Instruments.
The following list shows, whether the respective Kontakt version is compatible with your operating system:
Mac
Kontakt 4:
OS X 10.6 & 10.7 = until 4.2.4
OS X 10.8 and higher = no longer supported
Kontakt 5:
OS X 10.6 = until 5.0.3
OS X 10.7 = until 5.3.1
OS X 10.8 = 5.0.3 - 5.5.1
OS X 10.9 = 5.3.0 - 5.6.6
OS X 10.10 = 5.3.0 - 5.7.3
OS X 10.11 = 5.5.1 - latest
Mac OS 10.12 = 5.6.1 - latest
Mac OS 10.13 = latest
Mac OS 10.14 = latest
Mac OS 10.15 = latest
Kontakt 6:
Mac OS 10.12 -10.15 (latest update)
Windows
Kontakt 4:
XP = until 4.2.4
Vista = until 4.2.4
Windows 7 = until 4.2.4
Windows 8 & 10 = no longer supported
Kontakt 5:
XP = until 5.2.0
Vista = until 5.2.0
Windows 7 = latest
Windows 8 & 10 = latest
Kontakt 6:
Windows 7, Windows 8, or Windows 10 (latest Service Pack)
FOR ALL SYSTEMS:
1GB free disk space

Additional hard drive space according to the library's size
SUPPORTED INTERFACES
Stand-Alone | VST | Audio Units | ASIO | CoreAudio | WASAPI | AAX Native (Pro Tools 10 or higher)
Product activation:
An internet connection is required to authorize / activate the product.