A delay worth waiting for
Of all the essential mix tools, the delay may be the most creatively satisfying. So Baby Audio asked themselves: Could we take one of our favorite effects and give it an upgrade?
They set out to develop their vision for a warmer sounding, more inspiring delay plugin: One that lets you design your own delay sounds through a versatile selection of onboard flavoring tools. Easily and intuitively.
Comeback Kid includes everything you'd expect from a new go-to delay - plus some unexpected extras.
Features.
Setup Your Delay:
BPM-synced modes: Straight, dotted, triplet. Free mode: 0.01 ms - 2500 ms. Ping-Pong option.
Add Some Character:
Lo-Cut + Hi-Cut: Tame your delays with analog modeled filters.
Attack + Sustain: Sculpt your delays with flexible transient designers.
Cheap: Degrade your delays with a custom 11-bit signal path — modeled after vintage digital units.
Tape: Warm-up your delays with analog-style tape saturation.
Swirl: Add movement to your delays with an analog modeled phasing effect.
Sauce: Add space to your delays with a touch of algorithmic reverb.
Wider: Widen your delays through L/R time variations.
Richer: Add dimension to your delays through L/R pitch variations.
Pan: Place your delays in the stereo image.
Mono: Turn your delays into mono.
Ducker: Lower your delays when the dry signal is playing — for a cleaner, more modern mix.
Destiny: Leave your delays to destiny — for a less robotic, more human and unpredictable vibe.
As with other Baby Audio effects, each knob is the tip of the iceberg — with plenty of good stuff going on under the hood. This gives you flexible sound sculpting options, while your workflow can remain fast and creative.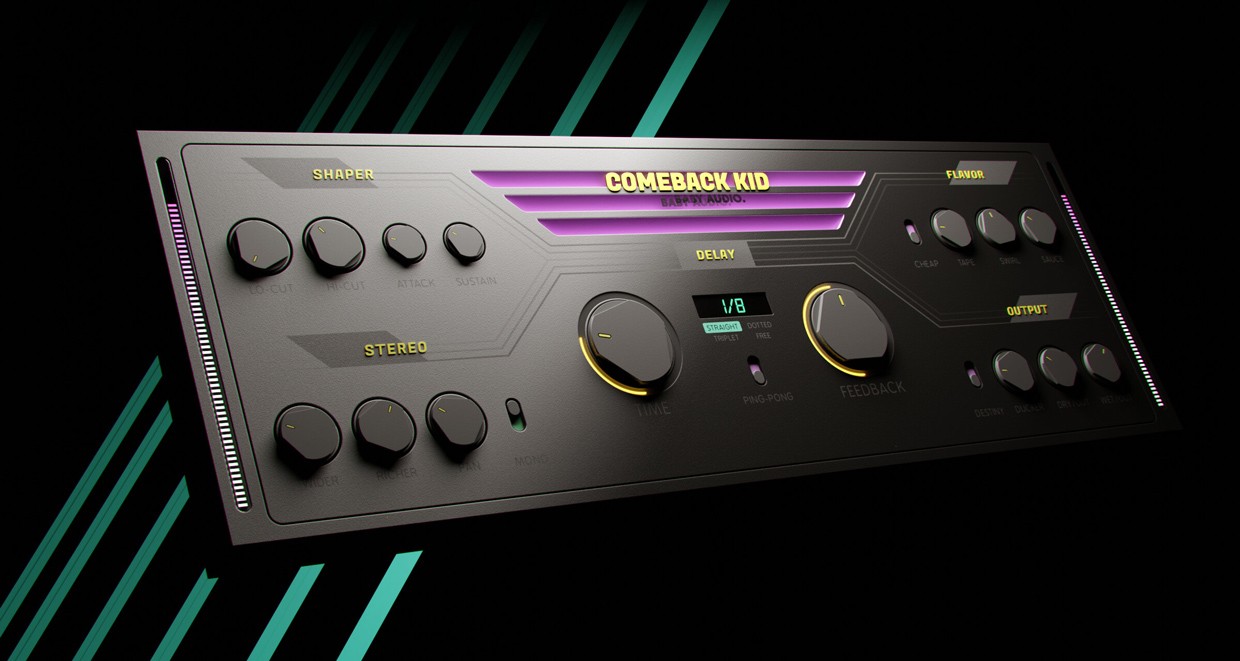 Delays that work in your flavor.
Want a tape delay vibe for your lead synth, a modern slap on your vocals and a crunchy lofi echo on your guitars? Not a problem. Want to mix and match all of the above to create something new? Also not a problem! Comeback Kid is designed to adapt to your sound — not the other way around. And with no sub-menus or hidden features, everything you need is right in front of you. Even some inspiration:
Comeback Kid comes loaded with 61 presets* created by friends of BABY Audio - including:
Mick Schultz: Grammy Nominated, Multi-Platinum, producer for Rihanna, Kelly Clarkson, Jeremih etc.
Anthony Saffery: Billboard #1 producer / engineer for Portugal. The Man, Dirty Vegas, Cornershop etc.
*For best results with the presets, gain stage the incoming signal to around -18db.
Mac:
macOS 10.7 or higher (including Catalina and Big Sur)
Windows:
Product activation:
An internet connection is required to authorize / activate the product.