Console 1 Fader - Time to Mix a Masterpiece
Building on the success of Console 1 was never going to be easy. But like you, Softube believes in ambitious dreams. To further improve the epic workflow advantages Console 1 brings, they had to ask theirselves, "where can we go next?" The answer was clear, and the result is here.

Improving feel and workflow, and making the best of hardware and software available in one place, Console 1 Fader allows you to raise the sound quality bar to new heights. Mixing a masterpiece isn't easy, but with Console 1 Fader there's no limit to what you can do. Now's the time.
Overview
Premium feel and feedback - Ten touch-sensitive 100 mm Alps motorized faders give premium professional feel and feedback, while the weighty powder-coated steel chassis means durability and substance in a sleek Scandinavian design.

Analog sound - Fader includes two console emulations (Tube and Discrete). Way more than a simple controller, Fader enriches the sound of your tracks in the same ways as a true analog console.

New levels of control - Riding faders is muscle memory for many mix engineers. For those of us who play the desk like an instrument, Console 1 Fader gives quick and intuitive control over volume, saturation, filtering, and much more.
A modern mixing system
The Console 1 mixing ecosystem is so much more than a simple DAW/plug-in controller. It's an efficient, elegant, and amazing-sounding modern mixing solution, combining hardware and software to give you the best of both worlds: the versatility, affordability, and usability of in-the-box mixing, alongside the workflow, feel, and focus dedicated hardware can bring.
Console 1 Fader can be used alone, or in combination with the original Console 1 channel strip controller for a tight 'complete desk' experience. You can even use multiple Console 1 Fader units to build the ideal workflow for your specific studio.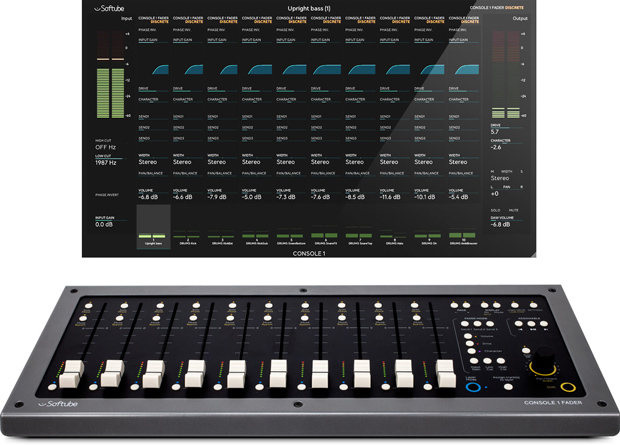 Console 1 fully compatible with Ableton Live
You can now not only take control of the Console 1 plug-in, but the DAW itself, streamlining your workflow further than ever before. Track selections, pan, sends, and more can be handled hands-on from your Console 1 hardware.
Many ways to mix a masterpiece
There are many ways to mix a masterpiece, but riding faders is a matter of muscle memory for a lot of us. And for good reason – reaching out and grabbing five or ten different sounds or groups at once, and quickly adjusting, listening, adjusting, listening, balancing… it's a full-body discipline, and software alone can't come close.
Tapping into the same purpose-designed software environment as the original Console 1 channel strip controller, Fader brings new levels of control over the wider world of your mix. You can ride up to ten channels at once, working volume, high-and-low-cut filter values, drive and drive character (modeled desk saturation), and more. Then page up for ten more channels. And ten more, until you have easy access to your whole mix, even when tracks number into the hundreds.
Expandable with world-class sounds
Because all the audio signal processing happens in our award-winning component-modeled software, you can switch out the 'circuitry' of your console instantaneously for a different desk sound across your whole project, or even channel by channel. In addition to the two analog console sounds Fader ships with, you can purchase any of our Console 1 channel strips and use those classic desk sounds with Fader.
Selected Features
Fader modes - Fader allows you to quickly and intuitively control track volume, drive level, drive character, input gain, low cut, high cut, and up to three send levels, all from the same high quality motorized faders.

Transport controls - The three assignable buttons work by default as basic transport controls for the major DAWs, but each can be assigned to a keycommand of your choice (e.g. CTRL+Z), for whatever use you can imagine.

Encoder - Mounted on a high-grade all-metal potentiometer, Console 1 Fader's single encoder offers control of pan per track, but also unlocks a powerful stereo spatialization tool, to widen or consolidate your individual tracks, situating each sound perfectly in your mix.

Layer mode - With our innovative new 'Layer Mode' you can create layers of tracks, putting many levels of mixing at your fingertips. Low cut all your guitars at once, or saturate your groups early on for a top-down effect in seconds.
In short
A 10-fader approach to Console 1, the hybrid hardware/software mixing ecosystem
High quality hardware, designed and built for both feel and function
Take fast and intuitive control of volume, saturation, filtering, and more
Two awesome-sounding component-modeled console emulations included
Expand your sonic options with Console 1 expansion channel strips (sold separately)
'Layer Mode' allows you to organise and affect your mix in powerful new ways
Spatializer tool offers fast per-channel control of stereo width
Works with all major DAWs straight out of the box – no MIDI-mapping required
Use alone, or in combination with the original Console 1 channel strip controller
Mac
Windows
Windows 8 or 10, 64 Bit (except Windows 10 Anniversary Edition)
Intel Core Duo, AMD Athlon 64 X2 or newer
all systems
Screen resolution 1280x800 or larger
Any VST, VST3, AU, or AAX (Pro Tools 10.3.7, 11.2.1 or higher) compatible host application
1 powered USB 2.0 compatible port
iLok License Manager (iLok USB key is NOT required)
Broadband internet access for downloading software.
Console 1 is not available for AAX DSP.
The Console 1 plug-in supports the following sample rates: 44.1, 48, 88.2, 96, 176.4 and 192 kHz.



This product requires an activation!
You can either "soft" activate on your computer without addditional hardware or transfer the license to an iLok USB dongle which has to be purchased separately. The iLok dongle can be used to run the protected software on different computers. Your licenses can be easily manged using the iLok Licence Manager. To protect your investment against theft or loss we recommend the iLok Zero Downtime protection with TLC.
An internet connection on any computer and a free user-accout at www.ilok.com is required to authorize the product.
Please check with the software manufacturer which iLok version is required at least if you want to use a hardware iLok!