Software PlugIn & Hardware Controller
Softube Console 1 MK II is the next generation audio mixer. Used together with any major DAW, Console 1 will not only give you the analog sound that Softube´s plug-ins are world famous for, but also the analog workflow of using physical knobs and buttons when you mix. Console 1 MK II is all about great sound and intuitive, hands-on control.
The Software:
Included in the Console 1 MK II package is Softube´s model of Solid State Logic SL 4000 E—one of the most classic and widely used analog consoles in the world. The channel strip includes the coveted black knob E 242 equalizer, the classic channel compressor, the musical expander/gate and the sweet high and low cut filters from that channel. Also included is a model of the harmonics, distortion and non-linearities obtained from overdriving the SL 4000 E console, which can be used to add analog distortion across the entire mix for that coherent "glue" sound. Adding to that is Softube´s own Transient Shaper, which is not a part of the SL 4000 E console or any other analog unit for that matter.
Now compatible with a huge selection of UAD Plugins!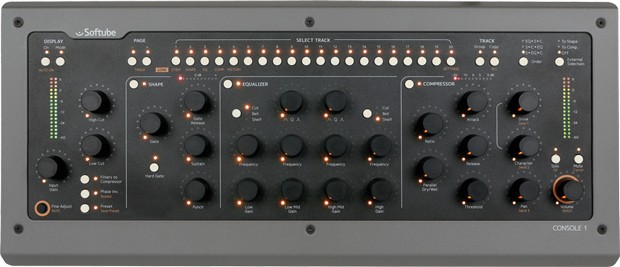 The Hardware:
For the perfect control of the sound and dynamics processing, a hardware controller, connected via USB to the computer is provided. It allows an analog operation of the mixer software without the user having to resort to cumbersome mouse control. From loading the plug-ins to the precise control - the mixture is considerably simplified by the intuitive user interface.
Features:
Next generation mixer
Tightly integrated hardware/software system
Solid State Logic SL 4000 E model included
Hands-on control and intuitive workflow
Use with any major DAW on OSX and Windows
Parametric equalizer, compressor, gate, transient shaper, high/low cut filters and harmonics/distortion
automatic transfer of track name working in Pro Tools, Logic Pro and Ableton Live (on Mac)
Customize the channel by adding any Softube equalizer or dynamics plug-in
The system will run and the settings can be adjusted without having the hardware connected
Console 1 fully compatible with Ableton Live
You can now not only take control of the Console 1 plug-in, but the DAW itself, streamlining your workflow further than ever before. Track selections, pan, sends, and more can be handled hands-on from your Console 1 hardware.
Full integration with Cubase and Console One
In Cubase, it's now possible to control DAW track selection, solo/mute, volume, pan, send levels and more, directly by hand from the Console 1 hardware. The new integration is a free upgrade with Cubase Pro 9.5.10 and the latest version of the Console 1 software.
Mac:
macOS 10.13 or higher
64 bit
Intel Core i3 (M1 support pending)
RAM: 8GB
1280x800 or higher display resolution
Windows:
Windows 10
64 bit
Intel Core i3 or AMD Quad-Core
RAM: 8GB
1280x800 or higher display resolution
All systems
powered USB 2.0 compatible port



This product requires an activation!
You can either "soft" activate on your computer without addditional hardware or transfer the license to an iLok USB dongle which has to be purchased separately. The iLok dongle can be used to run the protected software on different computers. Your licenses can be easily manged using the iLok Licence Manager. To protect your investment against theft or loss we recommend the iLok Zero Downtime protection with TLC.
An internet connection on any computer and a free user-accout at www.ilok.com is required to authorize the product.
Please check with the software manufacturer which iLok version is required at least if you want to use a hardware iLok!