Lush, intimate and larger than life
Handpicked Chamber String Ensemble playing essential articulations with focus on a unique vintage sound. Version 2 adds brandnew True Polyphonic Legato Ensembles as well as a more accessible User Interface.
About Cornucopia Strings 2
Cornucopia is the "horn of plenty" (from Latin – cornu copiae) - a symbol of abundance and nourishment. For Cornucopia Strings 2 a chamber string ensemble (6-5-4-3-2) was recorded and sampled comprising the best string players in Bulgaria - all leading players in the Sofia Session Orchestra.

The very special characteristic that makes Cornucopia stand out to other string libraries on the market is its sound. At its first release in 2013 Cornucopia quickly gained a huge amount of fans due to its unique, almost vintage, tone. The strings were recorded in their real orchestral seating position (violins to the left, celli and basses to the right) in Druzhba hall – the same hall "Storm Choir" was recorded in. The subtle natural ambience of the space brought the samples to life without compromising the tonal clarity.

With a fully sampled dynamic range from piano to forte, Cornucopia can be used very well in different contexts. According to the philosophy of Strezov Sampling Cornucopia didn't receive a lot of post processing. However after some careful investigations single notes were tuned for the 2.0 update to ensure better playability and consistency.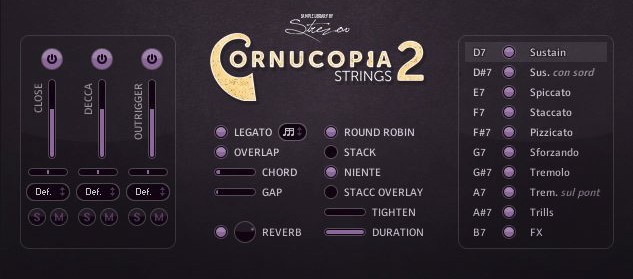 New True Polyphonic Legato Content

The old Cornucopia had only full Tutti and seperate Basses articulations. Listening to the requests of users two brandnew true polyphonic legato patches were added with special focus on the concept of the library. The first one consists of 1st, 2nd Violins and Violas playing in Octaves with muted strings (con sordino). The second patch ensembles the Celli and Basses in Octaves also playing con sordino. Although all strings were recorded con sordino and the ensemble size is relatively small the captured sound turned out to be pretty massive and therefore is also perfect for Hybrid Score Productions.

As with Rhodope Ethnic Bulgarian Choir Exp A our new true polyphonic legato script not only allows you to hold down chords and continue playing, but also does intelligent voice leading when you play chords. For a detailed demonstration of this please make sure to watch the walkthrough video covering this feature in more detail.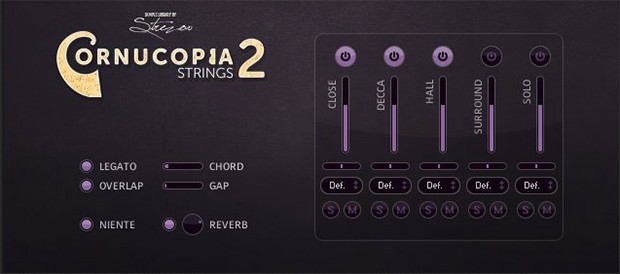 Overview:
Chamber String Ensembles (6-5-4-3-2)
Leading String Players of the Sofia Session Orchestra
Unique vintage string sound
Tutti and seperate Bass articulations
New True Polyphonic Legato Articulations
Up to 5 Microphone Positions
Optimized patches with direct access to all articulations
Niente feature for seamless fade outs
No compression
Full Kontakt version 4 or later required
TUTTI (1st, 2nd Violins, Violas and Celli)
Tutti Trills – whole tone / half tone trills
Tutti Tremolo – ordinary tremolo, two dynamics
Tutti Tremolo Sul Ponticello – tremolo, played near the 'bridge' of the instrument
Tutti Sus – ordinary sustained notes, two dynamics
Tutti Sordino Sus – sustained 'con sordino' – warm and gentle tone, two dynamics
Tutti Spicc – short articulation, played in the middle of the bow, without efford
Tutti Stacc – short articulation, sounds bigger than "Spicc", two dynamics
Tutti Sfz – sforzando, playing with a sudden, strong emphasis; option of stacc. overlay
Tutti Pizz – pizzicato, short articulation, two dynamics
Tutti FX – clusters, atonal textures, avant-garde effects
BASS
Bass Tremolo – ordinary tremolo, two dynamics
Bass Tremolo Sul Ponticello – tremolo, played near the 'bridge' of the instrument, two dynamics
Bass Sus – ordinary sustained notes, two dynamics
Bass Sord Sus – sustained notes, 'con sordino' – warm and gentle tone, two dynamics
Bass Stacc – short articulation, two dynamics
Bass Sfz – sforzando, played with a strong emphasis; option of stacc. overlay
Bass Pizz – pizzacato, short articulation, two dynamics
Bass FX – clusters, atonal textures, avant-garde effects
TRUE POLYPHONIC LEGATO
High Strings True Polyphonic Legato - con sordino, in full Octaves
Low Strings True Polyphonic Legato - con sordino, in full Octaves
BONUS
4 Vln FFF Divisi Marc – first chair violins (a total of 4 players) playing with a very exaggerated vibrato
---


David Buckley
Batman: Arkham Knight, Call of Duty: Ghosts, Parker
"StormChoir has a mighty sound that adds a real extra layer of intensity to proceedings. Not only that but it is extremely easy to use right out of the box. Job done!"
---


Alexandar Dimitrijevic
After Earth, The Dark Knight Rises, Expendables 2, Iron Man 3
"Because of your libraries I can write like I'm writing for a live session."
---


Penka Kouneva
Prince of Persia: Forgotten Sands Videogame, Transformers Videogame
"I love the approach of the Strezov Sampling team - they not only try to preserve the rawness of the live recording, but make inspiring and experimental products like the Aleatoric Modular Series or the Rhodope Ethnic Bulgarian Choir! I highly recommend their sample libraries!"
---


Paul Haslinger
Fear the Walking Dead, Underworld, Crank, Shoot 'Em Up, Halt and Catch Fire
"Being a lifelong fan of the Eastern European music tradition, I am so grateful to Strezov Sampling for making parts of that rich vocabulary available as sampling libraries and instrument designs. They are made with the 'working composer' in mind, and have a unique, direct sound character."
---


Jeff Rona
Phantom, God of War III, Exit Wounds, Traffic
"Strezov is a brilliant sampling artist. There is a level of musicality and detail that is incredibly impressive."
---


Sam Hulick
Mass Effect, Baldur's Gate Enhanced, Fates Forever
"Storm Choir 2 and Thunder 2 played such an important role in my most recent fantasy RPG project. It's been difficult for me to find a choir library that's not only huge-sounding, but also well-programmed, and Storm Choir 2 really fits the bill. It's become my go-to library when I need a power choir!"
---


Alex Pfeffer
Pacific Rim, Gotham, Sherlock Holmes, Crysis 2
"The Strezov Sampling Team has definitely filled a gap in the sampling world! What really blew me away was Storm Choir II which easily has become my go to choir sample library when it comes to epic choral arrangements ... and it never get's replaced!"

Please notice: This library can not be used with the free Kontakt Player! To use this "Open Kontakt" format, you need a full version of Kontakt, which is included in products such as Komplete or Komplete Ultimate.
The minimum required Kontakt version number for this product is stated in the product description or can be found on the developer's website.
System Requirements:
Mac:
macOS 10.13-11 (newest update)
64 bit
Intel Core i5
RAM: 4GB (6GB recommended)
Windows:
Windows 7-10
64 bit
Intel Core i5 or similar CPU
RAM: 4GB (6GB recommended)
Supported Interfaces:
Mac (64-bit only): Stand-alone, VST, AU, AAX
Windows (32/64-bit): Stand-alone, VST, AAX
Legacy Versions:
If you require legacy installers of Kontakt Player please refer to this Knowledge Base Article.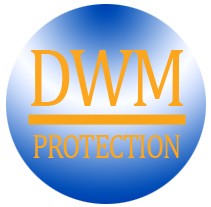 For your own protection this library is provided as individual personalized files including a
Digital Water Mark - DWM!