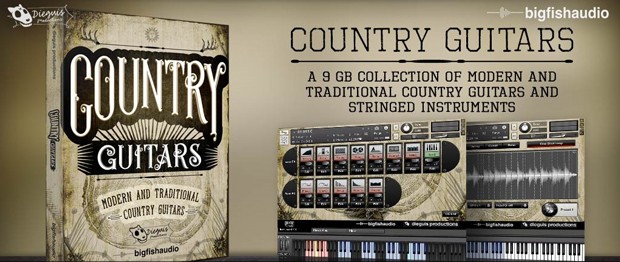 Modern and Traditional Country Guitars
Country Guitars is a massive 9 GB collection of modern and traditional country guitars and stringed instruments. Country Guitars contains 20 massive kits packed full of 100% authentic country guitar goodness. Country Guitars also contains an enormous collection of extras including one-shots, licks and melodies. So whether you're needing some bonafide chicken picken for your TV tracks or simply need some good ol' country banjo to give your commercials that authentic country vibe; Country Guitars has got you covered son.
Country Guitars contains: Banjos, Mandolins, Electric Picking, Acoustic Picking, Baritone Guitars, Acoustic Strumming, Electric Steel, Acoustic Hi-Strung, Electric Rhythm, Electric Slide, Electric Effected, Electric Lead and so many more. We've also included an enormous collection of One-Shots, Licks and Melodies which include Acoustic Guitar, Acoustic Resonator, Banjo, Modern Electric Guitars, Traditional Electric Guitars, Mandolin and Resonator.
MULTI-FORMAT VERSION
8.7 GB of Total Content (3.56 GB of 24-bit WAV files)
3141 Total files: (WAV, REX and Apple Loops)
Acidized WAV: 3.56 GB (1017 Files)
Apple Loops: 3.56 GB (1017 Files)
REX 1.57 GB (1107 Files)
20 Massive Construction Kits
KLI SERIES VERSION
3.56 GB of content
1092 Total Kontakt Patches
20 Kit Combos
20 Kit Combos Masters
16 Single Instruments
610 Sliced Loops
Each of the kits in Country Guitars contains multiple parts and song sections for each of the various instruments. This freedom allows you to simply use one layer of the instrument by itself or increase the depth, complexity and beauty by adding additional complimentary instrument parts. By giving you the ability to add the amount of depth and texture needed, along with multiple variations and rhythmic figures, Country Guitars gives you total creative freedom to create any country style desired!
Country Guitars also contains 20 DAW Sessions in multiple formats which are fully loaded, pre-mixed and ready to roll; giving you the freedom to create quickly and easily. Country Guitars comes in the following formats: Mult-Format (Apple Loops, REX, WAV, RMX, Acid and DAW Sessions) and KLI (Kontakt 4 and 5 Instrument).
The Full version of Kontakt 4.2 or higher is required to use the KLI version of this product. This product does not work with the free kontakt player.
$$Awards$$


SOS 5 stars
$$
This Multi Format Library (included formats listed on top) does not include any playback software for your computer. A compatible software is required to load and play the sounds of this product.
Important: "Full Kontakt" - Format can NOT be used by the free Kontakt Player!
You need to own a registered full version of Kontakt (e.g. included in Komplete or Komplete Ultimate packs!)
Product activation:
An internet connection is required to authorize / activate the product.