Granular Synthesizer and Effect Plug-in
Granular synthesis revolutionized Sound Design, Electronic and Experimental Music. crusher-X does advanced granular synthesis on your live input in real-time! It's more than sound... it's more than music ... it's the crusher!
Its powerful algorithm creates very complex sounds, drones and outstanding surround effects. The crusher-X trademark is known since 1999 as "the" granular effect standard. crusher-X is used by famous sound-designers, composers, musicians and film-makers all over the world. The professional, open-minded and curious "crusher-X community" creates outstanding, unique, multi dimensional sonic pieces.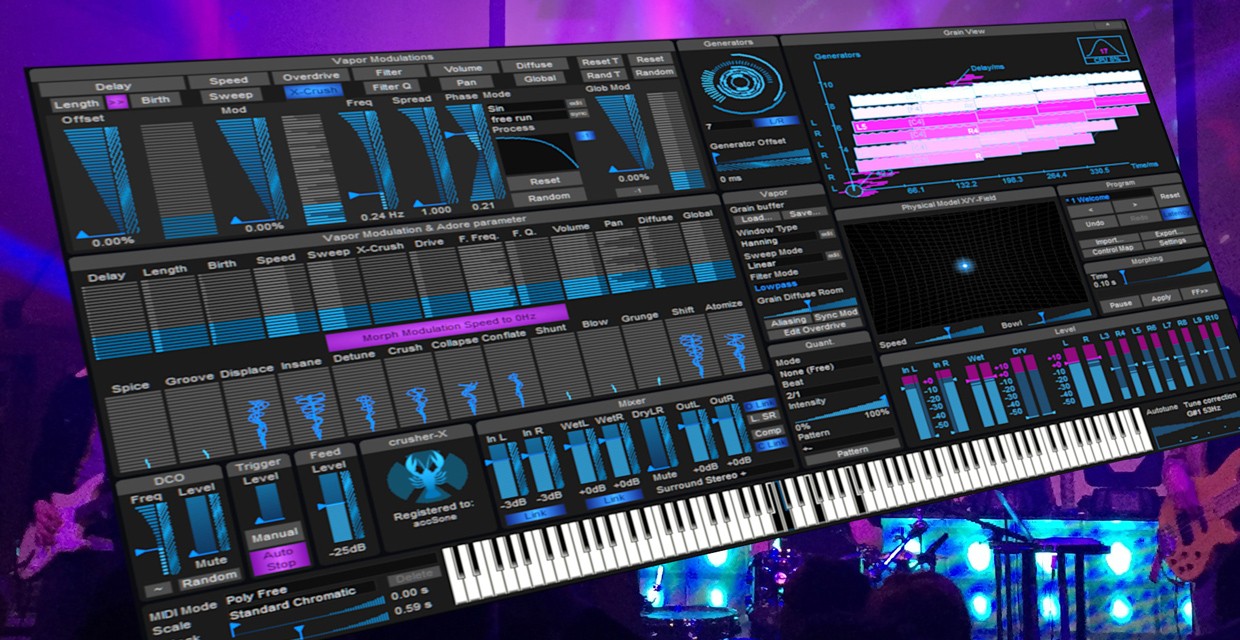 crusher-X features:
Real-time live granular synthesis engine that creates grains from live input signals

Real-time modulation of all Grain parameters: Delay, Length, Birth, Speed, Sweep, Overdrive, Filter, X-Crush, Diffuse, Volume and Pan

MIDI Polyphonic Expression (MPE) support

Autotune and Pitch tracking system

10 channel surround outputs (e.g. 5.1, 6.1, 7.1, 8.2, 9.1)

Microtonal tuning. Comes with hundreds of different tuning scales and MIDI keyboard control

Up to 199 individual grain streams that are processed multi-threaded (Multi-Core CPU support)

Physical modeling faders and an unique physical modeling X/Y controller.

3D grain visualization

Around 150 preset patches

Around 270 free assignable real-time plug-in parameters, real-time MIDI control

Morph system for parameters and patches

Unlimited undo/redo and randomize functionalities

Parameter phase and frequency spread modulations (spreading modulations over several grain stream generators)

Grain quantization to host

Grain lengths up to 60 seconds

Shadow programs

Meta parameter modifications with 13 adore parameters

Several granulation live buffer and freeze modes: Switch continious from live processing to file processing

Offline rendering

Automatic triggered grain buffer filling modes

Free editable multi-channel Compressor/Expander/Limiter stabilizes feedback and output level behavior

Smart latency compensation system
System Requirements
Windows: VST 2.4 32bit / 64bitWindows7 or higher 32bit / 64bitRequires a 32bit / 64bit VST host to run the plug-in

macOS: Audio Unit (AU) / 64bit and VST 2.4 / 64bitIntel CPU, 1 GB, 2 GHz CPUMac OS X / macOS 10.6. or higherRequires a 64bit AU or VST host to run the plug-in
The system requirements can be found in the product description or on the manufacturer's website.
Product activation:
An internet connection is required to authorize / activate the product.