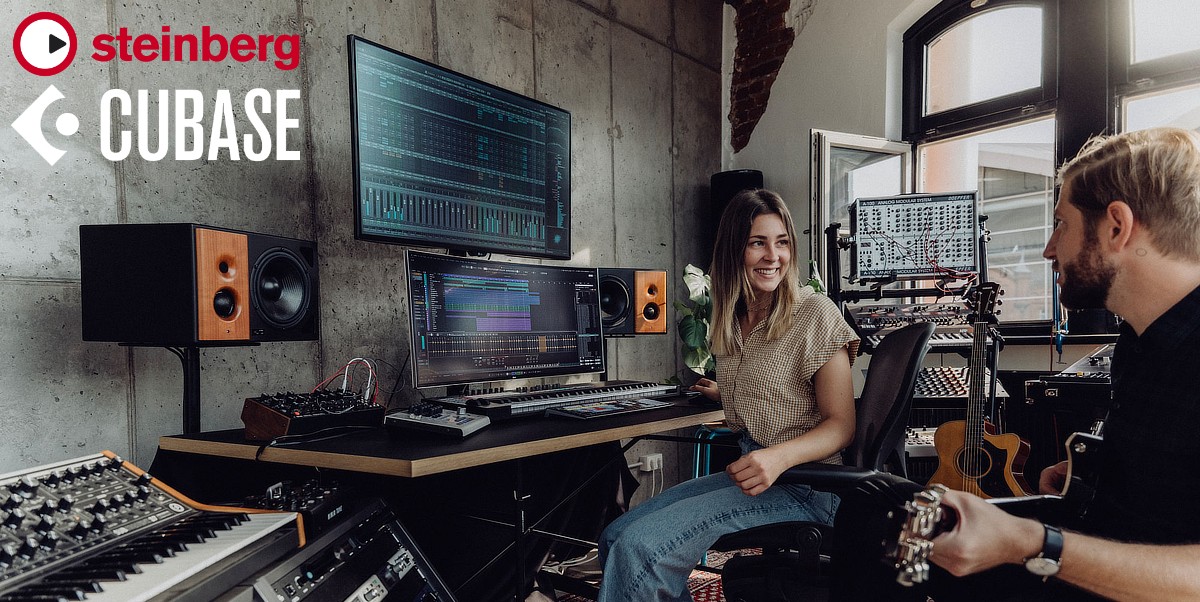 Cubase Pro 11 - Steinberg's masterpiece in top form
This Cubase generation stands for technical innovation and musical inspiration in an incredibly powerful yet easy-to-use production environment.
Featuring the latest audio technology, inspiring music features and several workflow enhancements, Cubase Pro 11 makes your studio life easier, more efficient and more creative.
With Steinberg products, you always receive the most current program version available at the time of registration!
Features of Steinberg's Cubase Pro 11
Audio Warp Quantize: Warp-quantize multiple audio tracks at once using the convenient Quantize panel.

Channel Strip (Advanced): The channel strip modules are the very heart of our exceptional sound.

Chord Pads: This inspiring tool helps you compose music quickly and creatively.

Comping: Create the perfect version of a recording from multiple takes.

MixConsole: Cubase's MixConsole excels not only in terms of usability, look and feel, but also sounds like a high end analog mixing console.

Groove Agent SE: Possibly the most comprehensive drum production software instrument ever produced, Groove Agent features a huge library of stunning samples, grooves and patterns, as well as a full virtual mixer and FX suite for even more creative options.

Spectral Comparison EQ: Clean up overlapping frequencies with the comparison mode in the Channel EQ.

VariAudio 3: Ultimate control of your audio, with more creative tools and Smart Controls to speed up workflow.

Control Room: Control Room is a unique recording and monitoring environment, which seamlessly integrates performer mixes and monitoring setups into your recording and mixing workflow.
Evolving into Cubase Pro
Adding "Pro" to the name signifies Steinberg's commitment to the producers and many other professionals around the world who work with Cubase day by day. It also emphasizes the evolution of an outstanding feature set that incorporates more serious tools and innovative technologies than ever before to accomplish your creative, musical ambitions, and that makes it Cubase Pro.
Cubase — The Producer´s Choice
With more musical features than ever, Cubase delivers a truly unrivaled creative production experience. Sparkling with its entirely overhauled mixing console, a new Chord track alongside the innovative Chord Assistance, advanced VariAudio, more instrument content and an array of enhancements make Cubase smarter and faster in every way.
More features of Cubase:
The Cubase Channel Strip... The brand-new channel strip in Cubase Pro offers that epic pro-console sound that lets you turn your songs into a hard-hitting, radio-ready production.
Redesigned Channel Settings gives you lightning quick access to all channel parameters, including input metering, routing assignments, the new channel strip with premier equalization and dynamics modules and essential aux as well as cue sends to create individual cue mixes. There´s no need for scrolling — the display follows you automatically wherever you are and updates each time you adjust controls on a different channel.
Monitor your audio's loudness: To align loudness levels easily and maintain dynamics without further increasing the peak level and compression rate, Cubase Pro comes with an integrated loudness meter that is fully compatible with the EBU R128 loudness standard. Precise measuring of integrated, momentary and short-term loudness enables you to keep track of your audio's loudness and deliver in true EBU-compliant formats.
Remote control this: Supporting many hardware remote controllers right out of the box, the all-new Remote Control Editor lets you visually customize the parameter layout of individual effects and instruments on your control surface. It's as simple as it sounds — just select a hardware knob or button and chose which parameter to control and there you go! Various modes for rotaries and knobs plus the Learn mode make it even easier to assign parameters. Simply reassign the cutoff parameter of your favorite filter effect or synth to whatever rotary you want.
Match that sound : Cubase Pro includes the full version of Voxengo's CurveEQ, an extremely versatile 64-band spline EQ with linear and minimum-phase modes. Its built-in professional-grade spectrum analyzer allows displaying, saving and loading static spectrum plots for comparison and matching purposes. With its spectrum matching technology you can exactly transfer the sound of any audio track to another, whether it's your die-for guitar intro or your favorite kick drum sound!
Downmixing just got better: The latest version of MixConvert offers unmatched downmixing quality and gives you detail control over LFE, Center and surround levels. Select different output speaker arrangements and solo/mute specific channels for an individual downmix — and it's all fully integrated in Cubase's Control Room.
Know your harmonies: The new global Chord Track allows for easy working with chords within your Project window and provides transform and harmonize functions throughout the application. Cubase detects the harmony structure of your song and feeds back all chord and scale information to both MIDI and audio tracks processed with VariAudio. All tracks engaged to follow will automatically reflect any harmonic adjustments made with the Chord Track! Advanced voicing options are used to transform existing parts in a harmonically correct and ear-pleasing way.
Intelligent composing assistance: The powerful new Chord Assistant helps you to generate everything from simple pop to complex jazz chord sequences that just sound fabulous.
Pure tuning for that extra punch: Thanks to the Hermode tuning technology, the intonation of your synthesized notes are changed dynamically on the fly for utmost compatibility with well-tempered scales, while retaining a high degree of purity for third and fifth intervals. Especially when combining non-fixed-intonation instruments, like brass and woodwind, and fixed-intonation instruments, such as guitars and piano, entire orchestral arrangements sound immediately clearer and more brilliant than before.
Create your harmonies with VariAudio 3.0: Since its introduction in Cubase 5, we´ve been waiting to push VariAudio a milestone further. For Cubase Pro we were back in the code yard and are now proud to present you with a lot more powerful VariAudio 3.0! The seamless integration with the newly introduced Chord Track ensures correct pitch to your harmonies at all times. This interaction also lets you harmonize your lead vocals in beautifully composed choral arrangements: the brilliant new spread function adds soprano, alt, tenor and bass voices on new tracks with by-the-book harmonic lead voicing. And yes, the popular autotuning effect is no big deal for VariAudio!
Global collaboration with VST Connect SE: Steinberg VST Connect SE allows musicians to connect directly to Cubase Pro users, giving you the freedom to collaborate and produce together, even when you're not in the same studio, town or country. Talkback and chat functions as well as video and audio stream in real time give you limitless possibilities.
The entire user interface is provided in these languages:

A comparison table of the three versions can be found here.
The download version requires an eLicenser USB key for activation (not included)
Cubase Pro boxed version does not include data DVDs any more, but a registration/download code and an USB eLicenser!
Windows 7 / 8 / 10 (64-bit)
macOS Mojave / macOS Catalina
8 GB RAM (minimum: 4 GB)
30 GB free HD space
USB port for USB-eLicenser (license management)
ASIO compatible audio hardware recommended
Internet connection required for activation, account setup and personal / product registration.
You always get the latest software version (or a free update) available at purchase/registration date
Product activation
This Instrument requires an eLicenser compatible Key for activation of the software (by Steinberg, formerly Syncrosoft)!
This USB protection device is included in the boxed/shipping version only, but not in the download version!
Each eLicenser dongle can store many product licenses - so it has to be purchased only once.
Additionally an internet connection on any computer is required to authorize the product.