Bass & Guitar Mixing Tool
A lot of sound cards claim to have a Hi-Z instrument input. But in reality, the input impedance is not high enough to make your pick-ups work properly. And that has a displeasing effect on your instrument's signal. If you use one of the kind you definitely need DIFIX to make your directly recorded guitar or bass sound right.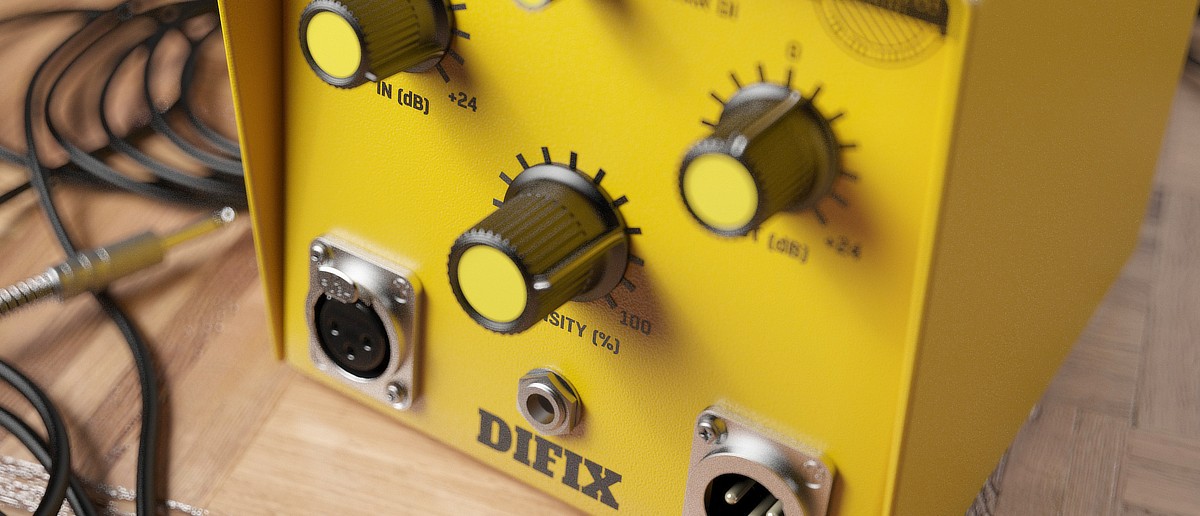 Features
What it does: Soundcard's instrument input is not the same as a proper DI-box. When plugging your guitar or bass directly in it your recording may lose brilliance and sound really dull. DIFIX uses multi-band dynamic processor to level the sound and adds a little bit of analogue saturation as if you used a real DI-box.

(Not only) for home studios: Mostly, you will need DIFIX when recording in a home studio with a cheap sound card. But United Plugins dare to say even with a hundreds-dollars hardware DIs you may still need a little fix. The question is not IF but HOW MUCH.

First step fix: The first step wrong, all track bad. DIFIX should be inserted as the first plugin on the guitar track. After you fix the input imperfection use all your favourite guitar effects and amp simulations.

Easy operation: All the science is inside this easy looking plugin and so controlling it is no science at all. Simply choose if you are recording guitar or bass and decide how much should DIFIX improve your input signal.

Guitarists, prepare for more: DIFIX is United Plugins' first electric guitar/bass dedicated effect. But it is definitely not the last. Expect something bigger to use in combination with DIFIX...

Save your old records: To play it fair, DIFIX can fix a lot. It can save and help to remix your old records. But if you are serious with direct recording buy a propper DI-box and use DIFIX in a combination with it.

Realistic 3D yet flexible GUI: Photorealistic graphic user interface of the plugin gives you the feeling you are touching the real hardware. But it easily adapts to your needs. You can always drag the arrow in the bottom right corner to change its size - make it smaller to save the valuable screen space, or enlarge it to make it easier to use.

64-bit audio quality at ANY sampling rate: The plugin provides the maximum audio quality you can get. It uses internal 64-bit audio processing and can handle any sampling rate. 192 kHz or even higher.

Smart bypass: The intelligent way the plugins manage bypassing ensures that you don't get any click or harmful noises when automating the parameter. It also compensates for latency ensuring that the bypass states are perfectly in sync with each other.

Intelligent Automatic Bypass: To save your CPU, this plugin is equipped with intelligent Disable on silence function. The plugin works only if a relevant signal is coming through its input and output. It turns on with the first sample entering it and turns off after the last sample leaves the output (including any reflections etc.).
Windows
Intel/AMD processor with SSE2 support
Microsoft Windows 8/10
VST / VST3 / AAX compatible host software (32 or 64 bit)
Mac OSX
Intel/AMD processor with SSE2 support
macOS 10.10 or newer
VST / VST3 / AU / AAX compatible host software (64 bit)
Product activation:
An internet connection is required to authorize / activate the product.