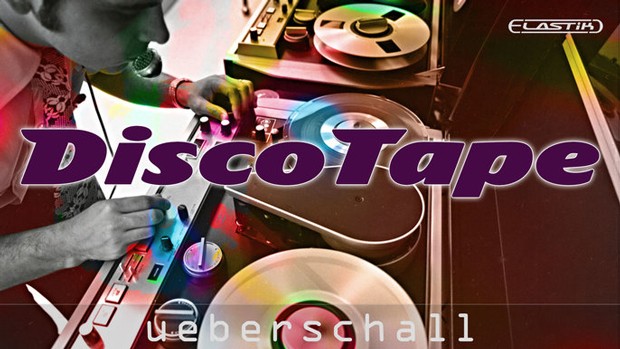 A Night At The Discotheque
DiscoTape delivers the classic vibe of pure disco but with the sonic clarity of cutting-edge production and recording standards; this is disco music for the modern dance floor. With infectious drum grooves, smooth bass lines, rich synth sounds and funky guitar rhythms, DiscoTape delivers nothing but good times. And while the music is 100% disco, and the sounds are perfect for the genre, the sound choices and production are right up-to-date.
Ideal For A Discotheque Party Mood
DiscoTape contains 10 huge constructions kits all recorded at original dance-friendly tempos between 112 and 128 BPM. The library totals 3.2GB of sample data and contains over 600 loops and samples. Each kit includes 3 separate music parts with individual part lengths of up to 30+ seconds. Instruments include pianos, synths, electric guitars, electric bass, bass synths, Rhodes pianos and both electronic and acoustic drums. Within each musical part, individual loops are provided for each instrument allowing you to build your individual mix with precision within Elastik.
Alongside the pre-mixed drum loops are individual drum loops for kick, snare, hi-hat, cymbals and various percussion instruments that include cowbell, congas, tambourine and shakers so you can also craft the perfect drum mix for your project. Single-shot samples are also provided for each drum and percussion sound if you want to add further rhythmic variations.
Perfect Blend Of Disco Vibe And Modern Production
Whether you are a songwriter, music producer, or looking for a funky, good-time disco mood for advertising, TV, film or live performance applications, DiscoTape is a perfect fit for those mirrorball moments.
Elastik Features
Thanks to its clear structure the Elastik player is the ideal tool for fast and modern music production. Each loop in DiscoTape contains information on tempo and key, so you can quickly find the right sample for your production. The "élastique pro"-algorithm by zplane offers time stretching and pitch shifting in high quality, which makes it possible to adjust each loop even more to your own projects.

Free ELASTIK 3.5 Loop-Player is included in this product.
With its intuitive Loopeye editing environment, the high-quality pitch, key, scale and tempo manipulation algorithms and the huge collection of Elastik-ready sample libraries, spanning almost every conceivable musical genre, Elastik is a powerful workstation for loop-based musicproduction. It can be used either as a standalone application or as plugin within almost any DAW on both Windows and macOS platforms.
Mac:
macOS 10.12 or higher
64 bit
Windows:
Product activation:
An internet connection is required to authorize / activate the product.