Discovery Pro - virtual analog synthesizer
Additional Features in Version 7.3:
Default Nordic Dawn skin by Ilkka Rosma

Additional edit menu skins selector

Gate and Mod 0.5x / 1.0x / 2x speed switch under Edit drop down

Added Gate and Mod cell position highlight

Gate and Mod GUI fixes after reopening window

Fixed Shift + left click behavior in Gate and Mod cell editing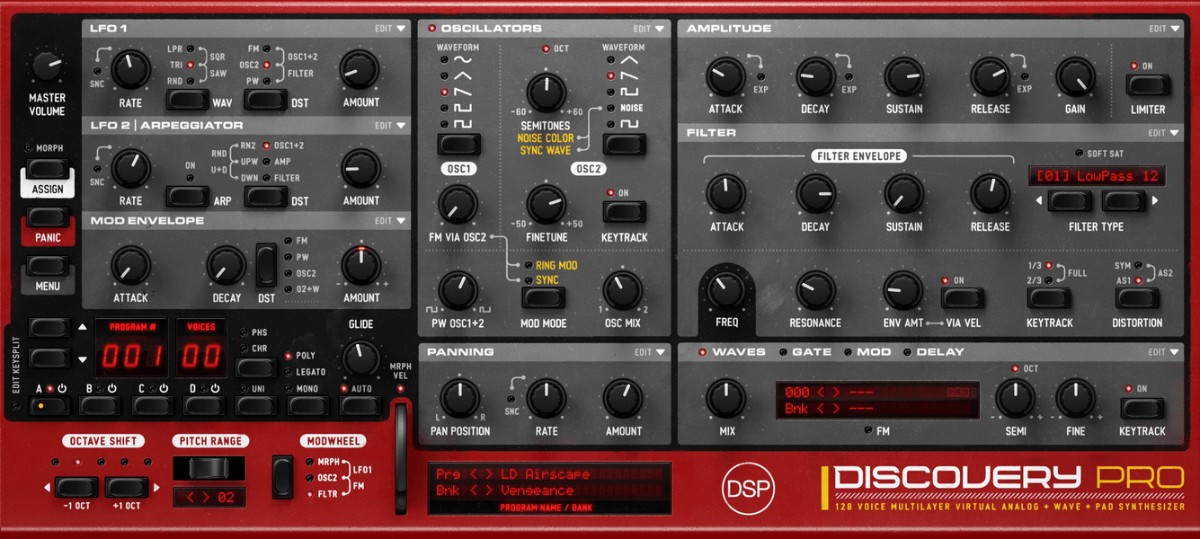 Features Overview
Discovery Pro at a glance - Discovery Pro archives even higher quality and features than his small cousin Discovery, retaining all previous functionalities. Disco DSP spent countless hours of hard coding, design and engineering, bringing the best discoDSP team work in the form of a new instrument.

Standalone app - Discovery Pro offers a Mac standalone app for those who don't really need a full DAW to run the plug-in.

VST3 support - Disco DSP included Steinberg's VST3 plug-in architecture for Mac and Windows, supporting multi-channel and better management of multi-processing in 32 and 64-bit platforms.

The best stock sounds - You will find more than 60 banks and 5000+ presets.

Unison - A Nord Lead 2 modeled unison is now introduced after more than a year on the making. Disco DSP have carefully measured Polyphonic and Legato/Mono to bring a sound as perfect as possible based on the original hardware.

Multi-size GUI - Discovery Pro graphics engine and is configurable in three window sizes: 1x (400p), 1.5x (600p) and 2x (800p). No more squinting when trying to look at some parameter or search for a led anymore! Of course CPU has been dramatically optimised at any configuration.

Linux support - DAW software like Bitwig or Renoise has been getting better and better at a very fast rate lately. Discovery Pro is committed to support the progressively popular OS amongst musicians in 32 and 64-bit flavours.

PADsynth re-synthesis - Generating incredibly beautiful sounds from WAVE waveforms and imported waves. Perfectly looped wavetable samples rendered as SFZ. PADsynth generates ensembles, choirs, bells and many other sounds easily.

2 new oscillators - Even broader sonic palette. A new parabolic waveform will be bliss for beautiful pads, soft sounds and new FM tones. Pink noise brings that warm and lovely sound from classic synthesizers.

WAVE oscillator - Add new waveforms and wavetables in DWB banks, WAV (16 / 24-bit) or SoundFont 2.04 (SF2) formats easily. Since it's not virtual analog synthesis we took extreme care of it by adding one of the best interpolation algorithms, resulting in very little aliasing and extraordinary resampling quality.

Zero Delay Nord Lead 2 and 12dB / 24dB Moog® filters - Discovery Pro 6 includes brand new Nord Lead 2 modeled Zero Delay Feedback filters. They sound amazingly great. Moog filters are called X and Y, bringing a more sophisticated tone in addition to the 8 previous Discovery filters.

Graphic Modulation envelopes - Take your sound palette to high degree sound shaping. Just click and hold your mouse to draw time-synced mod destinations and get fresh textures.

TouchOSC Template - Program Discovery Pro using your iPad or Android tablet and TouchOSC app with the template provided after purchasing.

Discovery Pro vs Discovery - There are tons of other minor differences. For more information take a look at the comparison chart under "more info"
Mac:
macOS 10.9. or higher
RAM: 4GB
Windows:
Windows 8 or higher
RAM: 4GB
Product activation:
An internet connection is required to authorize / activate the product.