Lets you dive into the details - Analog-style
More control, more versatility, more definition—the Drawmer 1973 plug-in lets you micro-manage the dynamics of your sound with ultimate precision. And you can do it with the unmistakable analog feel of a modern Drawmer classic. Make your mixes wider and louder, shoehorn a piano into a dense mix, or curb the temper of an unruly bass guitar. The Drawmer 1973 Multi-Band Compressor lets you dive into the details — analog-style.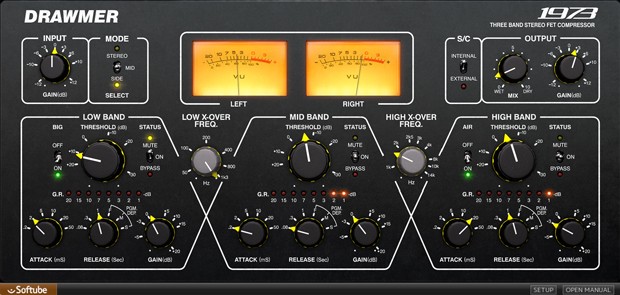 The Drawmer Sound and Softube Science Solution - Carefully modelled on the original Drawmer 1973 hardware in collaboration with the Drawmer research and development team, and approved by Ivor Drawmer himself, the Drawmer 1973 plug-in brings the award-winning three-band compressor bang up to date.

Micro-Manage Your Dynamics - Mastering with the Drawmer 1973 gives you independent control over three frequency bands, often a miracle-cure for problem mixes. Pull out individual instruments, brighten the mix, or tighten the lows — or of course do it all! But the Drawmer 1973 is equally useful on single sound sources in a mix. Take away the boomy character of an acoustic guitar in a perfectly natural sounding manner. Control the low frequency dynamics of a bass but leave its top end alive and kicking. Or remove sharp consonant sounds from a vocal track without eliminating detail and clarity.

The Original Drawmer Hardware and Then Some! - Staying faithful to the look and sound of the original Drawmer 1973, we've added some extra up-to-date features to the plug-in, including Mid-Side processing and sidechain, giving even more versatile compression and dynamic control. So the Drawmer 1973 plug-in lets you play with the mid portion of a sound without affecting the rest of that frequency, or link the gain reduction to an external sound source.
The Drawmer 1973 has a great looking GUI echoing the look of the hardware original, is CPU friendly, and comes with useful presets to kick-start the creativity, but with enough control to add your own unique touches to any mix.
Ultra-versatile, sleek-looking, and with the sound quality of an analog classic. Designed by experts for experts: an indispensable tool for the modern studio.
** Upgrade
For registered users of a Drawmer S73
Please read the following information published by Softube carefully before you make the decision to upgrade and exchange, as there are also some drawbacks to doing so:
Purchasing this upgrade means that you are giving up your Drawmer S73 license and exchanging it for a Drawmer 1973 license. If you would like to have them both, you will need to buy the full Drawmer 1973 license in our web shop or from an authorized dealer.
Giving up your Drawmer S73 license means that the plug-in will no longer be active in DAW projects where you have used it. So opening such projects will give you an error message saying your S73 license is not available, and the projects will no longer sound the same as when you had the S73 license.
While the S73 is based on the 1973, there are settings and processes you can do with the S73 which you can not do with the 1973. Most importantly, the Air feature in S73 has been tailored for the intelligent mastering process. So please be aware that if you choose to purchase the upgrade, you may have used settings for the S73 which are not possible to replicate 100% with the 1973.
If you have already bought both the S73 and 1973, and would have preferred to use this upgrade offer had it been available from the beginning, please contact us at support@softube.com and we will sort it out for you.
A short comment on why this upgrade was not offered from the beginning. We quite honestly assumed the S73 and 1973 plug-ins would appeal to vastly different customer groups, and we therefore did not anticipate that there would be an interest to upgrade. Now that it turns out that there is such an interest, we're happy to be able to offer this upgrade.
Mac:
macOS 10.13 or higher
64 bit
Intel Core i3 (M1 support pending)
RAM: 8GB
1280x800 or higher display resolution
Windows:
Windows 10
64 bit
Intel Core i3 or AMD Quad-Core
RAM: 8GB
1280x800 or higher display resolution



This product requires an activation!
You can either "soft" activate on your computer without addditional hardware or transfer the license to an iLok USB dongle which has to be purchased separately. The iLok dongle can be used to run the protected software on different computers. Your licenses can be easily manged using the iLok Licence Manager. To protect your investment against theft or loss we recommend the iLok Zero Downtime protection with TLC.
An internet connection on any computer and a free user-accout at www.ilok.com is required to authorize the product.
Please check with the software manufacturer which iLok version is required at least if you want to use a hardware iLok!