Guitar-based pad, soundscapes and atmosphere creator
DRONAR is a deep, expressive and innovative atmospheric sound creator with each module exploring a different area of sound and music. Guitarscapes is the second module in the series providing a quick, easy and expressive tool for creating a massive range of guitar-based textures.
From shimmering ethereal pads that exude heavenly enchantment to dark and chaotic tension-packed atmospheres, Guitarscapes is perfect for cinematic soundtrack projects, yet its ability to produce natural strummy accompaniments also make it a versatile tool for a variety of genres including Rock, Pop, Indie, Hip Hop and Ambient music.
And, thanks to the power of DRONAR, all it takes is the press of a few notes...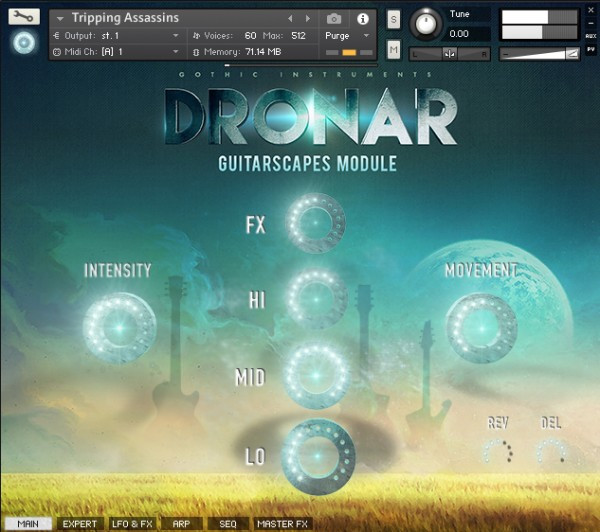 DRONAR automatically spreads out the chord in the mid-range, adds a root bass note, a high note and then adds evolving sound effects. 8 simultaneous different sounds are then animated with LFOs, a rhythm sequencer and arpeggiators to bring them to life.
Such simple actions free up your spare hand to expressively control the dials and record the changes as a performance in your DAW. DRONAR instantly adds low, mid-range and high sounds plus sound effects, so you barely need any other sounds to quickly create a complete piece of atmospheric, expressive music.
Features Overview:
Includes over 320 inspiring presets
5.89GB of sounds
Developed for the full (paid for) version of Kontakt.
Sounds derived from recordings of mandolin, electric, acoustic and steel guitars
Create huge shimmery pads, complex atmospheres and otherworldly soundscapes
From organic and dreamy to incredibly dark and chaotic
Simple controls deliver massive control
Great for soundtrack projects as well as Indie, Rock, Pop and Ambient music
Beginner and expert friendly
Create your own rhythm patterns in amongst the pad magic with new Rhythm Editor.
Dive deeper with DRONAR´s unique independent arpeggiators
Onboard FX provide further sound design options
Intstrument List:
Acoustic guitars:
LAG Tramontane steel string guitar with StudioLAG preamp.
Takamine Nylon Acoustic guitar
Electric guitars and bass:
Fender FMT HH Tele (Flame Maple Top, 2 humbuckers)
Schecter Jeff Loomis 7 string with single coil and Humbucker
Fender Jazz bass
Mandolin and pedal steel:
Rains D-10 Pedal Steel
Hilton Volume Pedal
Little Walter 50 Watt Amplifier and 1x12 speaker cabinet
Wampler Pedals
Colin Kendall Mandolin into a Neumann TLM103 mic
Create a massive range of guitar-inflected textures from natural strummy accompaniments to wildly complex and awe-inspiring soundscapes with this second module for Gothic Instruments´ critically acclaimed DRONAR.
Using this library requires a full version of Native Instruments' "Kontakt"!
Please notice: This library can not be played with the free "Kontakt Player"! To use this "Open Kontakt" format, you need a full version of "Kontakt", which is included in products such as Komplete or Komplete Ultimate.
Please check the product description for the required Kontakt version.
The following list shows, whether the respective Kontakt version is compatible with your operating system:
Mac
Kontakt 4:
OS X 10.6 & 10.7 = until 4.2.4
OS X 10.8 and higher = no longer supported
Kontakt 5:
OS X 10.6 = until 5.0.3
OS X 10.7 = until 5.3.1
OS X 10.8 = 5.0.3 - 5.5.1
OS X 10.9 = 5.3.0 - 5.6.6
OS X 10.10 = 5.3.0 - 5.7.3
OS X 10.11 = 5.5.1 - latest
Mac OS 10.12 = 5.6.1 - latest
Mac OS 10.13 = latest
Mac OS 10.14 = latest
Mac OS 10.15 = latest
Kontakt 6:
Mac OS 10.12 - 10.15 (latest update)
Windows
Kontakt 4:
XP = until 4.2.4
Vista = until 4.2.4
Windows 7 = until 4.2.4
Windows 8 & 10 = no longer supported
Kontakt 5:
XP = until 5.2.0
Vista = until 5.2.0
Windows 7 = latest
Windows 8 & 10 = latest
Kontakt 6:
Windows 7, Windows 8, or Windows 10 (latest Service Pack)
FOR ALL SYSTEMS:
1GB free disk space

Additional hard drive space according to the library's size
SUPPORTED INTERFACES
Stand-Alone | VST | Audio Units | ASIO | CoreAudio | WASAPI | AAX Native (Pro Tools 10 or higher)
Product activation:
An internet connection is required to authorize / activate the product.