Transient Shaper for Drums
XLN Audio has 10 years of experience in software development and drum recording. All of this expertise has been distilled down into the powerful and simple DS-10 Drum Shaper. DS-10 is the first plugin in the new Addictive FX line and lets you easily dial in just the right amount of punch in your drum mixes.
3 Modes - All optimized for Drum mixing
DS-10 Drum Shaper has three mode of operation: Kick, Snare, and Bus. These modes are tuned under-the-hood to help you get outstanding drum mixes with a fast and clutter-free interface. XLN Audio has taken care of the technical details so you can create sublime drum mixes with controlled, punchy transients.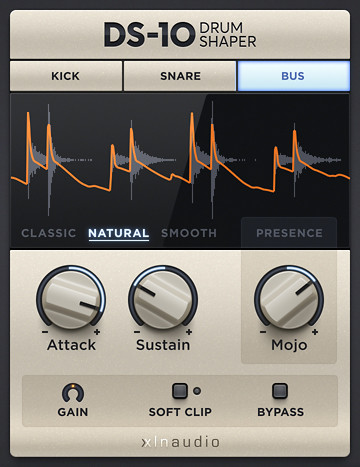 All new "Natural" Algorithm
Say goodbye to grainy and unnatural sounding transients. The newly developed "Natural" algorithm provides artifact-free shaping, even when pushing your sound into more extreme territories. To give you more options, XLN Audio also included the beloved "Classic" algorithm from their flagship Addictive Drums 2 and also a "Smooth" algorithm with an extra-long release time for parallel compression-like results. With three fantastic algorithms at your fingertips, you will have everything you need to make your drums shine.
MOJO™ - The secret Weapon for adding Flavor and Color to your Drums
This unique technology uses tuned transient shaping to achieve EQ and compression-like results in situations where traditional EQs and compressors would have limited benefit. This opens up a world of exciting sound design possibilities ranging from minimal polishing to extreme mangling.
How does MOJO work? Whereas a typical EQ affects all sounds equally on a track, MOJO lets you shape transients only in specific frequency bands of your track while leaving other frequencies bands and non-transients unaffected. This lets you do things like increase or decrease high-frequency "snap" on a drum mix, add or remove midrange "body" from your snare drum, or control the low-end "tightness" of a kick drum.
The transient shaping and MOJO components of the DS-10 are independent of each other. This means MOJO can be used along with DS-10's transient processor or all on its own.
Features:
Drum-focused transient shaping for polished and punchy sound
3 modes all specially tuned to improve kick, snare, and overall drum mix
All new "Natural" algorithm for artifact-free transient shaping
MOJO processor opens up exciting sound design possibilities
The system requirements can be found in the product description or on the manufacturer's website.
Product activation:
An internet connection is required to authorize / activate the product.