The nostalgic sound of an early 70's synth
The Panda 61 Piano is a vintage 61-key synthesizer built by the Italian electronics company Eko back in the 1960s and early 70s. The Panda was marketed ostensibly as an electric piano, but the internal workings and warm tone are that of a classic early monophonic synthesizer, with basic waveforms designed to very roughly approximate the sound of an e-piano, harpsichord, horns, strings and winds. Soundiron captured 7 core voices, with both infinite sustains and tight staccatos. They also created 20 custom FX presets and 40 unique sound-designed synth patches, pads, drones and atmospheres from the raw source to give you a full range of creative options while preserving the essential soul of this humble sonic pioneer.
Soundiron packed the GUI with lots of great sound-shaping controls that give you the flexibility to warp the sound in many ways. You have control over Volume, Attack, Release, Transient Offset, Vibrato and Octave layering. The "Glide" control slider allows you to play legato and portamento leads. You'll also find an adaptable LFO system, with selectable LFO shape, modulation target parameter, speed, intensity, tempo-syncing and fade-in time.
You can also apply your choice of 13 lowpass, high-pass and FX filter, with assignable modulation con-trol options, including velocity, modwheel, expression, after-touch, key position and step-sequencer table control. You can also use our customizable arpeggiator, with a built-in velocity sequencer table and control over arp direction, note timing, swing, randomization and duration.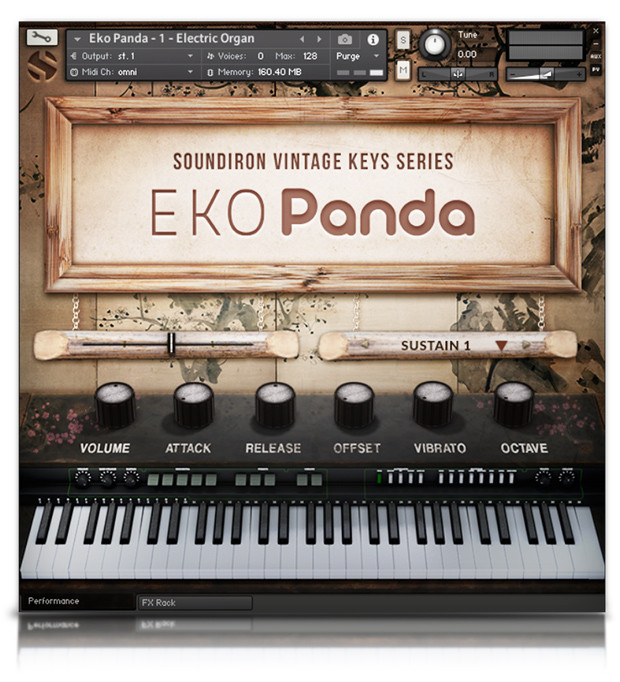 Contents
Eko Panda was recorded in a dry studio using a pair of Neumann TLM 103 large diaphragm microphones. We recorded its stock presets with sustains and staccato samples for each key. The included octave, vibrato and FX rack give you an easy-to-use interface to completely customize and shape its fat analog sound to fit a variety of creative styles.
The library comes equipped with flexible control features, like Swell, pitch Glide, Attack, Release, Vibrato, and Octave. There's also a complete DSP effects rack, including convolution reverb with dozens of unique spaces, such as cathedrals, churches, halls, bunkers, garages, tunnels, chambers, rooms and plenty of otherworldly FX impulses to fully explore and endless variety of strange and unexpected sonic manipulations.
2 Main Instrument Presets with advanced performance controls, vibrato, glide speed, LFO, Filter, Arp and full FX rack.
20 Custom Sound-Designed FX and Ambient presets.
Sustains, staccatos and sound-designed samples.
Turn the Glide slider up for monophonic legato functionality, or turn it down to 0 for standard polyphonic mode.
The Octave knob gradually adds a lower and higher octave doubling effect for more body and power.
Convolution Reverb with 119 different cathedrals, churches, chambers, rooms, halls and special effect impulses.
A full multi-effects rack, with EQ, filter, phaser, flanger, delay, distortion, amp & speaker simulation and more.
Artist - John Valasis
Eko Panda was recorded by John Valasis. John is a Greek-born composer, producer and sound designer. From his Athens based studio, he delivers scoring, foley and sound design services for many local and international clients. John's clientele includes prestigious brands like Native Instruments, Ableton, Soundiron, Virgin, Amazon Prime Video, Vice Magazine and BBC. John is also roster of Ninja Tune's imprint Just Isn't Music, alongside artists like Amon Tobin, Bonobo, Flying Lotus and The Cinematic Orchestra.
John's professional experience began in the 90s as a composer and producer for popular music and gradually expanded his skill-set across a large variety of genres. With the abilities he acquired through his 20-year professional career, as well as his genuine love for soulful music, he has crafted a strong, personal and diverse musical identity. When not working on tight deadlines, John uses Poordream as a vehicle to freely express his emotions and influences, to explore sound and composition beyond the boundaries of conventional electronic music.
This library is designed for the full retail version of Native Instruments Kontakt 5.5 or later.
Using this library requires a full version of Native Instruments' "Kontakt"!
Please notice: This library can not be played with the free "Kontakt Player"! To use this "Open Kontakt" format, you need a full version of "Kontakt", which is included in products such as Komplete or Komplete Ultimate.
Please check the product description for the required Kontakt version.
The following list shows, whether the respective Kontakt version is compatible with your operating system:
Mac
Kontakt 4:
OS X 10.6 & 10.7 = until 4.2.4
OS X 10.8 and higher = no longer supported
Kontakt 5:
OS X 10.6 = until 5.0.3
OS X 10.7 = until 5.3.1
OS X 10.8 = 5.0.3 - 5.5.1
OS X 10.9 = 5.3.0 - 5.6.6
OS X 10.10 = 5.3.0 - 5.7.3
OS X 10.11 = 5.5.1 - latest
Mac OS 10.12 = 5.6.1 - latest
Mac OS 10.13 = latest
Mac OS 10.14 = latest
Mac OS 10.15 = latest
Kontakt 6:
Mac OS 10.12 - 10.15 (latest update)
Windows
Kontakt 4:
XP = until 4.2.4
Vista = until 4.2.4
Windows 7 = until 4.2.4
Windows 8 & 10 = no longer supported
Kontakt 5:
XP = until 5.2.0
Vista = until 5.2.0
Windows 7 = latest
Windows 8 & 10 = latest
Kontakt 6:
Windows 7, Windows 8, or Windows 10 (latest Service Pack)
FOR ALL SYSTEMS:
1GB free disk space

Additional hard drive space according to the library's size
SUPPORTED INTERFACES
Stand-Alone | VST | Audio Units | ASIO | CoreAudio | WASAPI | AAX Native (Pro Tools 10 or higher)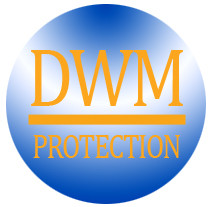 For your own protection this library is provided as individual personalized files including a
Digital Water Mark - DWM!