Vocoder and Vintage MultiEffect
The X201 Vocoder was designed after an extremely scarce, extremely expensive (even at the time of its debut), and comprehensible Vocoder machine.
It is the Vocoder that provided the magical sound for artists like Kraftwerk, Herbie Hancock, Frank Farian (Boney M, Milli Vanilli etc.), Cylon Robots or the unmistakeable sounds of the Droids in Battlestar Galactica droids in Star Wars and… Daft Punk (RAM).
Each of X201 Vocoder's two Filter Banks offers 20 frequency bands. Each Filter Bank can process the incoming signal (Usually voice, but any other signal, including drums, can be processed), or use the internal CARRIER signal. Other vocorders such as the Roland VP-330 only had 10 frequency bands, it had a very musical sound, but because of the reduced number of frequency bands, it had much less clarity.
You can use the internal analog Synthesizer as a carrier to input into the vocoder, which immediately gives the X201 its characteristic and recognisable sound. Any other incoming signal at hand can also be used, like an external Synthesizer or another voice etc to drive the vocoder.
The X201 has an exclusive feature called Silence Bridging: It is a Multiband frequency dependent Envelope Follower engine, which will shapes the signal gain according to it's harmonic content. It's very useful for processing percussive or rhythmic sonic material, the Envelope Follower will add contour to the sound.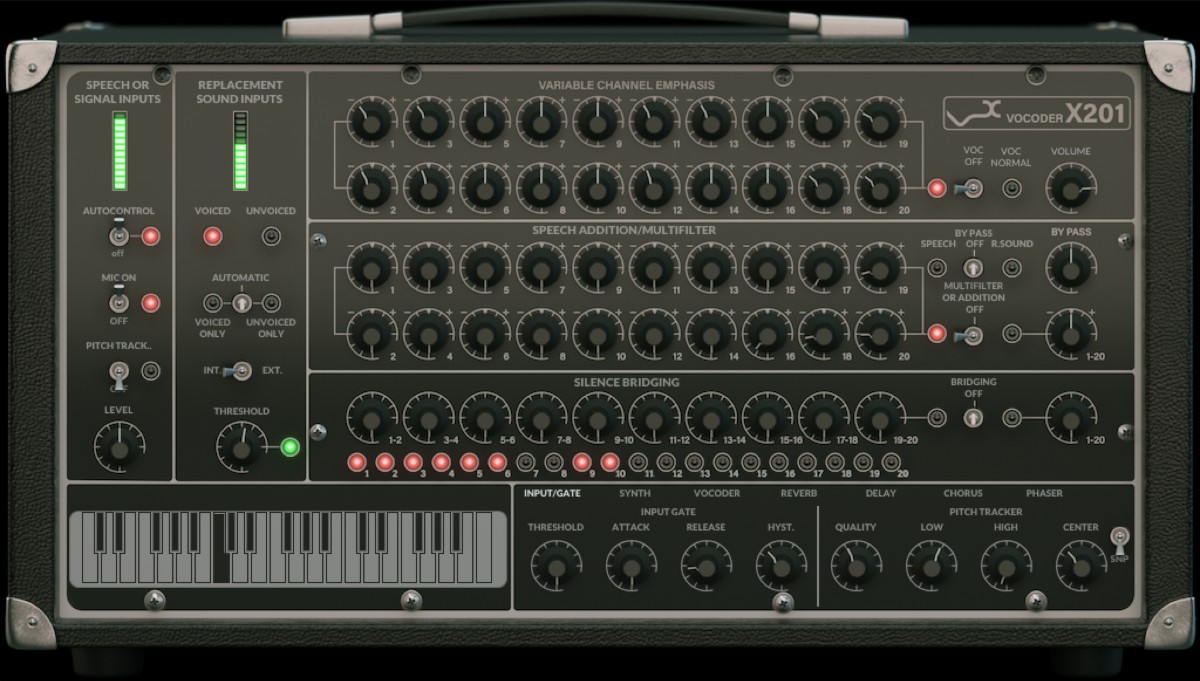 Product Features
A carefully tweaked and faithfully emulated 20-band filter vocoder

Single band bypass, multiple addition and bridging filtering possibilities

Each sound carrier has its oscillator and noise generator

Four effects: Reverb, Delay, Chorus, Phaser, each with their own complete input routing

Automatic input Gain Control

Analog like pitch tracker

External carrier input for feeding the vocoder with your own sounds or synthesizer

Access to many more parameters, all in addition to those already present in the hardware version

All parameters are MIDI controllable
Mac:
macOS 10.9 or higher
Intel & Silicon Support (M Series Chips)
64 bit
Windows:
Windows 7 or higher
32 & 64 bit
Required Registration:
XILS-lab products require you to register with the manufacturer at www.xils-lab.com as well as with www.ilok.com and my.plugivery.com/redeem to activate your license.
This product requires an activation!
You can either "soft" activate on your computer without addditional hardware or transfer the license to an iLok USB dongle which has to be purchased separately. The iLok dongle can be used to run the protected software on different computers. Your licenses can be easily manged using the iLok Licence Manager. To protect your investment against theft or loss we recommend the iLok Zero Downtime protection with TLC.
An internet connection on any computer and a free user-accout at www.ilok.com is required to authorize the product.
Please check with the software manufacturer which iLok version is required at least if you want to use a hardware iLok!