Abbey Road Studio 3 - The Perfect Control Room
The Waves Abbey Road Studio 3 plugin is based on precision 360° impulse response measurements of the Studio 3 control room, combined with Waves' pioneering Nx technology for immersive spatial audio.
The plugin recreates—in glorious three-dimensional sound over any set of headphones—the same stellar audio qualities that make Studio 3 the perfect acoustic environment for music mixing and production:
The same supreme clarity of stereo and surround image

The same acoustic response unveiling every detail in your sessions

The same well-balanced sustain across the full frequency spectrum

The same accurate low-end sustain—a hallmark of the world's best studio control rooms

The same combination of impeccable room acoustics and state-of-the-art near-field, mid-field and far-field speakers
Stellar Acoustics Recreated on Headphones
The Abbey Road Studio 3 control room is Abbey Road Studios' flagship mix room, designed by the world's greatest acousticians to provide the ultimate music production and mixing environment.
Contemporary mixes and remixes of the Beatles and Pink Floyd. Modern classics by Radiohead, Amy Winehouse and Kanye West. #1 chart toppers by Frank Ocean, Lady Gaga, and Florence + the Machine. All were made and perfected at Abbey Road Studio 3.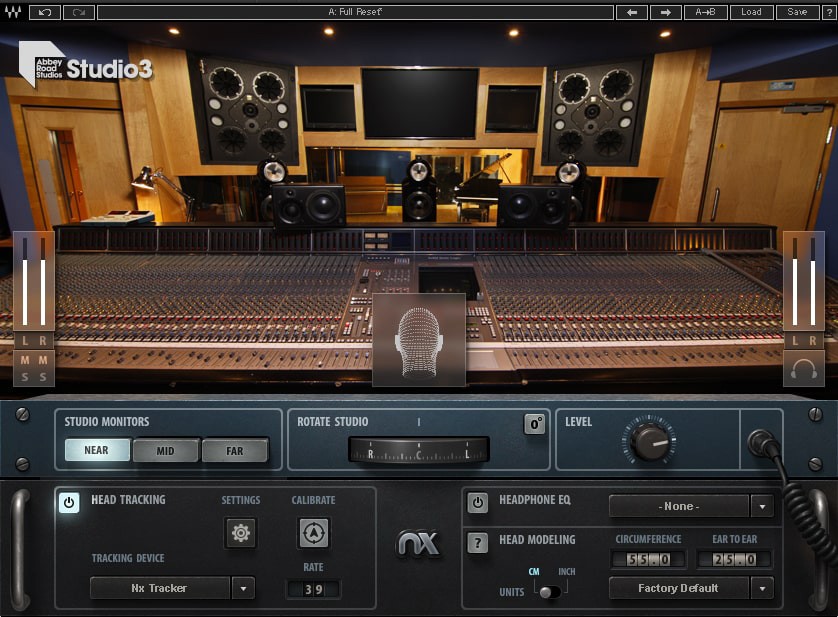 Produce and Mix with Greater Confidence
With the Abbey Road Studio 3 plugin:
You have the ultimate reference environment on headphones

You can better judge mix depth, panning, reverb, low end response and more, over any pair of headphones

You can better predict how your headphone sessions will translate to speaker systems of all types
The Abbey Road Studio 3 plugin also delivers full 7.1 and 5.1 surround sound, modeled after the studio's original surround setup. You can work professionally on surround mixes—using any stereo headphones.
Perfect Reference—Anywhere, Anytime
Abbey Road Studio 3 is useful in a wide range of scenarios:
If you don't have a perfectly treated mix room—now you do.

If you do have a great room—now you have the world's best control room for extra reference.

If you're on the go—you can take Abbey Road Studio 3 with you.

If you collaborate with others—now you all have the same acoustic environment to refer to when sending sessions back and forth.

If you need to create a 5.1 or 7.1 mix without access to a full set of surround speakers—now you can do so on headphones, before going into a surround studio for final tweaks.
No matter how good or bad your current mixing and music production environment is, Abbey Road Studio 3 will give you an impeccable environment to reference your sessions—on headphones
Mac:
macOS 10.15.7, 11.6.5, 12.3.1
64 bit
Intel Core i7 / i9 / Xeon-W / Apple M1
RAM: 8GB
1024x768 or higher display resolution
Windows:
Windows 10 / 11
64 bit
Intel Core i5 / i7 / i9 / Xeon or AMD Quad Core
RAM: 8GB
1024x768 or higher display resolution
Please check for details and latest information HERE!
Demo-version
7 days demo licenses are available HERE (registration and activation required!)
Bundle- / Product-Content
All Plug-Ins, Collections and Bundles include the identical content/version as described on www.waves.com. As the content/version might be extended by the supplier from time to time, our descriptions might not be up to date in rare cases.
To always get the latest WAVES version, you need a valid WavesUpdatePlan "WUP". With a new purchase of PlugIns and Bundles 12 month of Free Update Plan are included!
Required Registration:
Waves products require you to register with the manufacturer at www.waves.com to activate your license.
This product requires an activation!
An internet connection is required to authorize / activate the product.