Add authentic vintage Vinyl Sound to your Tracks
Designed with Abbey Road Studios, this plugin faithfully captures every stage of the vinyl production and playback process: you can choose between the sound of a pure acetate (lacquer) cut or the print master vinyl pressing from the factory; play the records on two distinct turntable types with a choice of three classic cartridges; and even add the EMI TG12410 mastering console on the path into the vinyl lathe.
For added authenticity and creativity, Abbey Road Vinyl even lets you move the location of the tone arm across the record, changing the frequency response and distortion like in the real world. You can also add vinyl noise and crackle, apply a gradual slow-down/stop turntable effect, and add wow and flutter effects for extra analog warmth.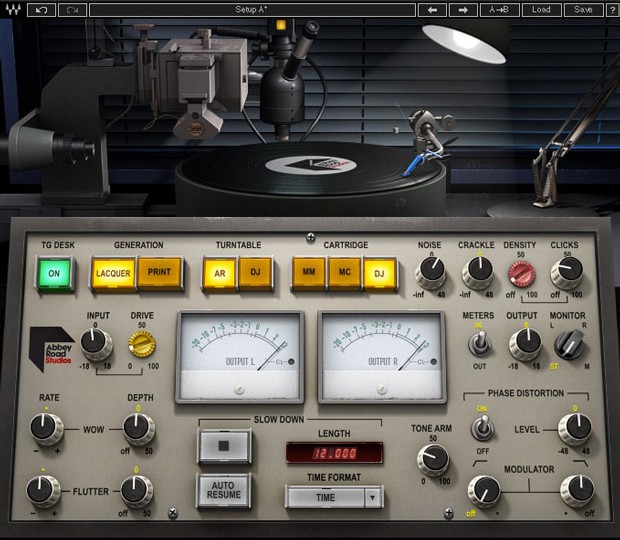 Abbey Road Vinyl is the long-awaited tool for diverse audio users: from mixing engineers craving a distinct smooth sound, to electronic and hip hop artists who cherish that "needle" touch, to sound designers reaching for authentic vinyl qualities and producers seeking a true-to-vinyl dimension on their tracks.
Overview:
Add authentic vintage vinyl sound to your tracks
Precise model of the original vinyl cutting and playback gear at Abbey Road Studios
Choose between acetate master and printed vinyl pressing
2 turntables, 3 cartridges
Slow-down/stop turntable mechanism
Control tone arm position for variable frequency response/distortion
Add phase distortion; noise, pops and crackles; wow and flutter; modulation
Run the sound through Abbey Road's EMI TG12410 mastering desk
Mac:
macOS 10.15.7, 11.6.5, 12.3.1
64 bit
Intel Core i7 / i9 / Xeon-W / Apple M1
RAM: 8GB
1024x768 or higher display resolution
Windows:
Windows 10 / 11
64 bit
Intel Core i5 / i7 / i9 / Xeon or AMD Quad Core
RAM: 8GB
1024x768 or higher display resolution
Please check for details and latest information HERE!
Demo-version
7 days demo licenses are available HERE (registration and activation required!)
Bundle- / Product-Content
All Plug-Ins, Collections and Bundles include the identical content/version as described on www.waves.com. As the content/version might be extended by the supplier from time to time, our descriptions might not be up to date in rare cases.
To always get the latest WAVES version, you need a valid WavesUpdatePlan "WUP". With a new purchase of PlugIns and Bundles 12 month of Free Update Plan are included!
Required Registration:
Waves products require you to register with the manufacturer at www.waves.com to activate your license.
This product requires an activation!
An internet connection is required to authorize / activate the product.