Intelligent "All in One" Drum Replacer
Addictive Trigger is the world's first intelligent drum replacer. How is it intelligent? To start, XLN created the powerful Audio Fingerprint™ detection algorithm. This system uses FFT analysis to accurately identify drum hits even if there is a lot of mic bleed or background noise in the source material.
Another intelligent feature is SuperStart™. SuperStart eliminates tedious fine-tuning by listening to your source material and automatically providing suitable detection settings. This means you can have accurate drum detection on your tracks in seconds and can spend your time on creative things like dialing in perfect drum sounds.
World-Class Sounds right out of the Box
In addition to the intelligent detection and workflow features, Addictive Trigger ships with tons of fantastic and easily-tweakable presets that are selected from our award winning Addictive Drums library and tailored specifically for drum replacement. These sounds are recorded at world-class, impossible-to-book studios like Fairfax Recording (formerly known as Sound City) and United Recording (formerly Ocean Way Hollywood) and utilize some of the finest gear and most experienced ears in the business.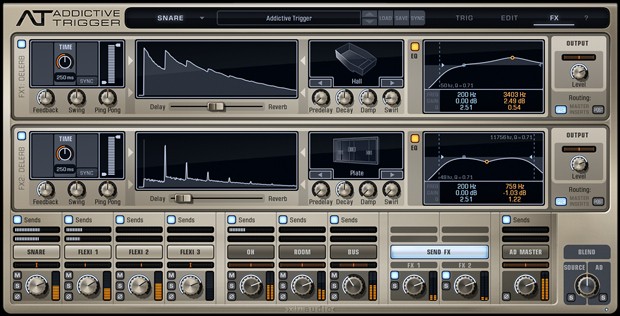 A complete triggering Solution
Addictive Trigger works on its own and does not require any additional drum software to provide world-class results. Accurate detection and outstanding sounds are included in the package.
Plays nice with other Drum Software
If you own our flagship Addictive Drums 2 software, you're in luck! You can use all of your favorite presets and ADpak expansion sounds immediately in Addictive Trigger. Addictive Trigger also supports most popular 3rd party drum instruments. You can easily drag-and-drop properly formatted MIDI data out of Addictive Trigger to your favorite instrument and begin working right away.
Features:
Audio Fingerprint™ intelligently detects drum hits with incredible accuracy
SuperStart™ eliminates tedious fine-tuning of detection settings
Outstanding drum sounds recorded at world-class studios
A complete solution that works on its own or in conjunction with your favorite drum software.
Mac:
macOS 10.9 or higher
32 bit & 64 bit
RAM: 2GB (4GB recommended)
Windows:
Windows 7-10
32 bit & 64 bit
RAM: 2GB (4GB recommended)
Required Registration:
XLN Audio products require you to register with the manufacturer at www.xlnaudio.com to activate your license.
This product requires an activation!
An internet connection is required to authorize / activate the product.