Ample China Erhu - A traditional Chinese instrument
Ample China Erhu (ACEH) is sampled on 3 Erhus in the key of D, C and low G, with 7.6 GB samples, including head, body and legato group articulations, FX sounds, as well as a select collection of improvised licks.
The Artist: Ying Wang (Ph.D. Erhu major, Central Conservatory of Music)

The Instrument: The ACEH is sampled on 3 Erhus in the key of D C and low G
Main notes (D3 - G5) are sampled on the Erhu in the standard key of D.
Lower notes (G2~C#3) are sampled on Erhus in the key of C and low G.
Sampling:
Portamentos with customizable pitch and timing, within one octave. Aided with Virtual Portamento technology that supports customizable slide process.

There are 4 articulation groups (Head, Body, Legato and Special Effects), consisting of 30 articulations in total in the ACEH.

Bowed Articulations: Sustain, Staccato, Ricochet, Grace Tremolo, Expressive Tremolo and Portato.

Expressions: Whispering, Sighing, Crying and Hoarse.

Fingered Articulations: Pizzicato, Diminuendo, Sforzando, Expressive, Vibrato, Uniform Trill, Variable Trill, Mordent, Inverted Mordent, Double Mordent, Full Slide Up, Full Slide Down, Slide in Below, Slide in Above, Slide Out Downward, Slide Out Upward, Portamento and Virtual Portamento.

Special Effects: Lick, Mirroring.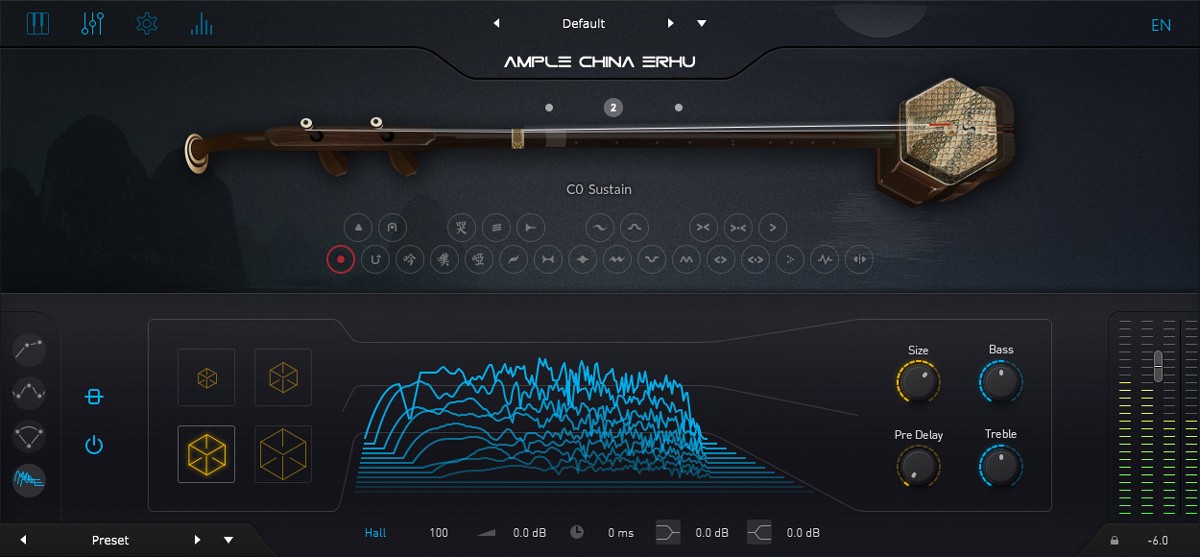 Sustained articulations have 5 velocity layers. Legato articulations have 4 velocity layers including Mordent, Straight Legato, Expressive Legato and Soft Legato. ACEH can produce sound from mildly soft to bright and aggressive.

Bowed string instruments have the feature that with higher velocity, the tone is brighter and cleaner and the duration is shorter; with lower velocity, the tone is darker and the duration is longer. If longer notes are needed, users can switch on the Loop function, which will keep the note sustained instead of reaching a natural release (only for a number of articulations). Polyphonic chords can be played using the Polyphonic mode.

Recorded with 5 mics (Mid low, Mid High, Front, Back and Far Position). Each mic volume is adjustable and equipped with channel EQ. Providing 4 Mic modes: AB, Wide AB, MS and Bright MS, capable of colorful sound designs.

Features
3 fingering modes: A string mode, D string mode and Position mode, capturing the realistic fingering of the Erhu performance.

Intelligent Legato system that fine tunes to the timing of notes.

Endless legato between articulations.

Creative Mirroring feature.

Voice independent SAHDS Modulation System.

FX:
High order 8-band EQ, intuitive control of frequency response, real-time visualization of input and output spectrum, support of soloing single band..

2-Line Compressor, real-time visualization of input and output signal, two detection modes RMS & Peak, support of soft knee, auto release and auto makeup.

6-Tap Echo, real-time visualization of the processing of stereo signal, can tweak the parameters of 6 echo points individually: feedback, pan, volume etc.

IR Reverb, providing four types of IR: Room, Studio, Hall, and Larger Hall. 3D visualization of IR spectrum.
Mac:
macOS 10.9 or higher
64 bit
Intel Core i5 or higher
Windows:
Windows 8 or higher
64 bit
Intel Core i5 or higher
Required Registration:
Ample Sound products require you to register with the manufacturer at www.amplesound.net and with www.ilok.com to activate your license.
This product requires an activation!
You can either "soft" activate on your computer without addditional hardware or transfer the license to an iLok USB dongle which has to be purchased separately. The iLok dongle can be used to run the protected software on different computers. Your licenses can be easily manged using the iLok Licence Manager. To protect your investment against theft or loss we recommend the iLok Zero Downtime protection with TLC.
An internet connection on any computer and a free user-accout at www.ilok.com is required to authorize the product.
Please check with the software manufacturer which iLok version is required at least if you want to use a hardware iLok!