Amp Simulation and Guitar/Bass Gear Modeling Software
AmpliTube 5 MAX v2 includes 18 brand/artist collections for over 430 gear models.
IK Multimedia's leading amp and effects modelling software takes a giant leap forward with the unveiling of AmpliTube 5 MAX v2. The AmpliTube series accurately captures the sound, feel and vibes of the world's most-sought after guitar and bass gear in a perfect format for practising, recording and performing anywhere. AmpliTube 5 MAX v2 offers a massive increase in gear, features and flexibility for an even more seamless and satisfying user experience, raising massively the bar of what can be expected from an amp simulator today.
If you're new to using computers to get fabulous guitar tone, then you're in for a treat. If you're a veteran computer tone-master, well, you're still in for a treat. AmpliTube pioneered - and leads the way in - guitar amp and effects modeling, and AmpliTube 5 MAX v2 takes it to the outer edges of extreme hyper realism with intuitive familiar tools.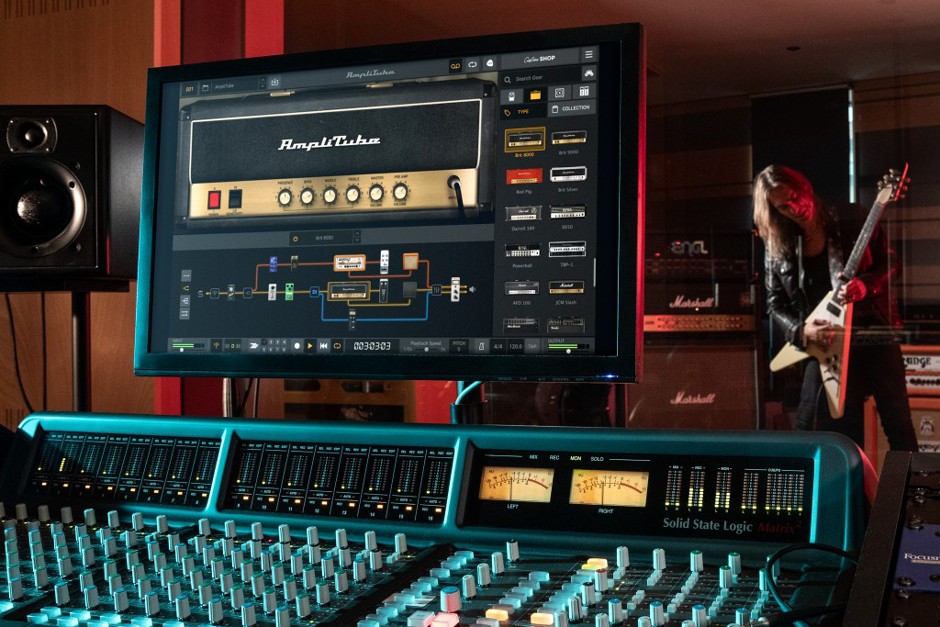 Legendary guitar/bass gear - Captures the sound, feel and vibe of over 430 of the most sought-after guitar & bass gear ever.

Developed with top brands & artists - Official gear from icons like Fender®, Mesa/Boogie®, Orange®, Slash, Brian May, Joe Satriani and many more.

Covers the entire signal chain - Stomps, amps, cabs, speakers, mics, rooms and rack FX all in one interface, all routed the way you want.

All-in-one recording & performance studio - With an 8-track recorder + DAW, looper, tuner, practice tools and live features all in one.

Free preset sharing community - Find new sounds or upload your own with direct access to ToneNET from within any version of AmpliTube 5.

The most realistic tones ever - IK's DIM™ and VIR™ technology ensures AmpliTube nails the tone and feel of every piece of gear like never before.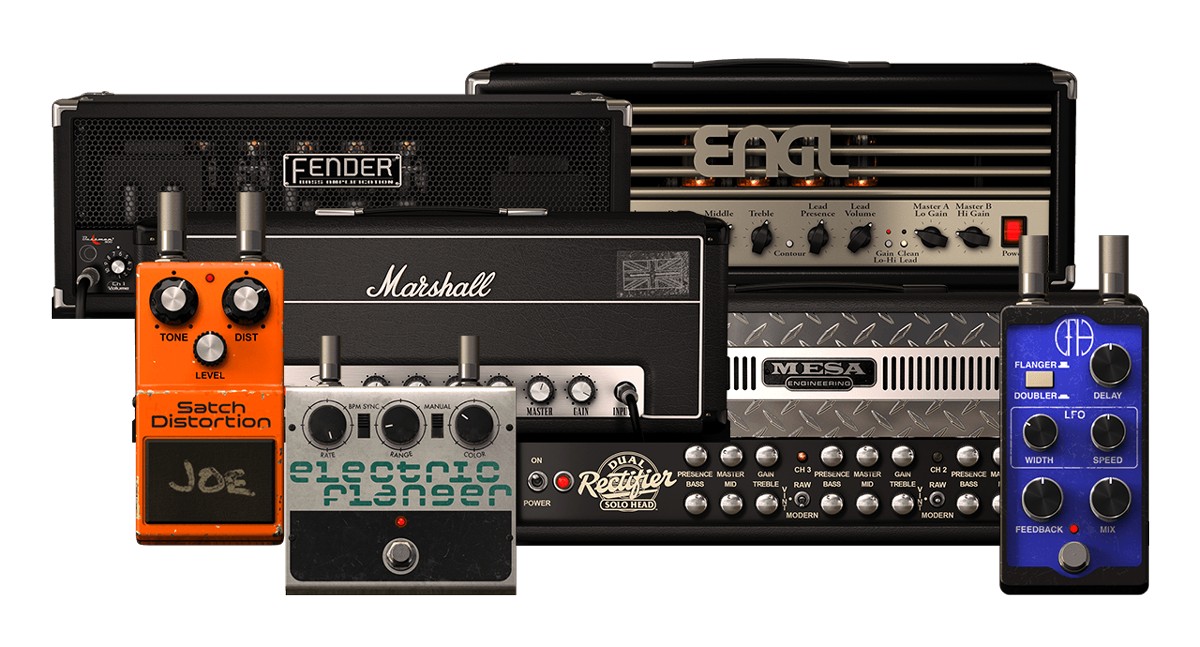 The highest standard of accuracy and realism
Forged by 20 years of research and collaboration with the industry's top brands and artists, IK's Dynamic Interaction Modeling™ captures every nuance of each gear model. And AmpliTube 5 premieres our Volumetric Impulse Response™ engine, leveraging over 600 distinct impulse responses per speaker to set a new standard in cabinet sampling.
Over 430 gear models, right at your fingertips - AmpliTube 5 offers the industry's widest selection of stomps, amps, cabs, speakers, mics, and rack FX. Mix and match to your heart's content to duplicate any tone with stunning authenticity or forge your own unique sonic combinations.

Play, practice and record with powerful tools - AmpliTube 5 offers powerful tools whatever your goals. With an 8-track recorder with integrated DAW and mixer, it's the ideal musical scratch pad; an advanced looper for songwriting or jamming, high-precision UltraTuner, stage-ready Live Mode and much more, AmpliTube 5 offers a powerful collection of tools.
Mac:
macOS 10.10 or higher
64 bit
Intel Core 2 Duo (Intel Core i5 recommended)
RAM: 4GB (8 GB recommended)
Windows:
Windows 8 or higher
64 bit
Intel Core 2 Duo or AMD Athlon 64 X2 (Intel Core i5 recommended)
RAM: 4 GB (8 GB recommended)
Required Registration:
IK-Multimedia products require you to register with the manufacturer at www.ikmultimedia.com to activate your license.
This product requires an activation!
An internet connection is required to authorize / activate the product.