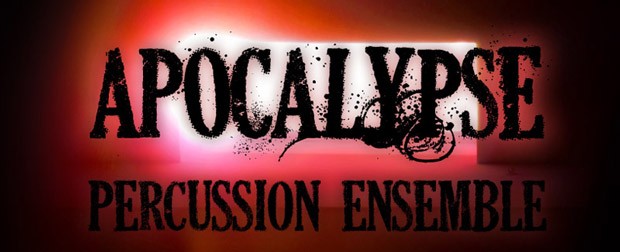 Apocalypse Percussion Ensemble v2.0 is our industry leading scoring percussion masterpiece. And now with the launch of the brand new v2.0, we're pushing it to a whole new level. This isn't just an update – it's a complete rebirth. This massive drum & cymbal collection is truly unmatched in the sampling world. Now weighing in at nearly 25 GB with over 25,000 samples, APE delivers astounding depth, detail, fidelity, and user freedom. It features more than 40 different drums and close to 200 articulations. You'll find thunderous ensemble sections and solo instruments of all shapes and sizes, including bass drums, a whole array of toms, dhols, riqs, frame drums, bongos, cajons, doumbeks, clicks, clacks, a massive snare ensemble and 6 solo snare drum types. You'll also find fully expressive pedal-articulated hi-hats, stick and mallet rides, crashes, splashes, hybrid and FX cymbals, a 38″ gong, heavy Tibetan ting shag finger cymbals, all deeply multisampled along with tons of rolls, crescendos and effects.
We here at Soundiron are no strangers to epic percussion. Those who know our work are familiar with the passion, exacting precision and attention to detail we deliver. Apocalypse Percussion Ensemble is the culmination of all of our years of experience, distilled into the most comprehensive and earth-shaking hall percussion package available anywhere on the market. We set out to build a monster that punched harder, rumbled deeper, cut through the mix cleaner and got the job done like no other could. We wanted a massive sound and responsive playability, without compromising user flexibility and choice. APE has a sound that just works right out of the box, with all of the beef and none of the noise. This beast gets it done.
What's New in v2.0
Added the Far mic position to over 60 articulations.
Added Gong articulations.
Added Hi-Hat articulations in a range of pedal positions, including MidiCC controlled Hi-Hat simulation.
Added suspended Ride Cymbal articulations
Added Ting Shag articulations in a range of open and mute positions (Tibetan Finger Cymbals)
Added Ensemble Snare ?am articulations.
Fully re-mixed and re-mastered all Ensemble Snare articulations.
Added a variety of Midi drum loops.
Added ?exible Midi Groove loading and playback system.
Added mic mixing options to all presets (output re-routing feature only in master presets).
Added sub-group release controls to main Ensemble All Preset.
Expanded the features of the Megamixer system, including full Kit saving/loading and intelligent sample memory management.
Expanded the features of the Uberpeggiator / ARP meta-arpeggiator system.
Added full Effects Rack panel
Added various custom keymapping features to all presets.
Redesigned all GUI artwork and instrument layout.
Optimized and streamlined preset types, folder structure, zone mapping, group structure, loading and overall performance.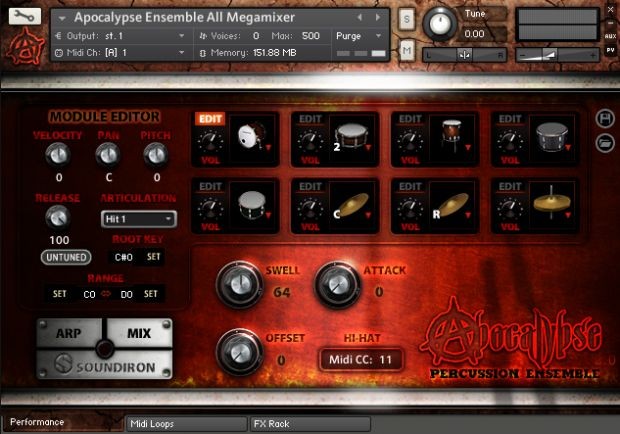 Functionality
Apocalypse Percussion Ensemble was recorded in the same acoustically-balanced hall as our famous Olympus Symphonic Choir (Mars & Venus), Mercury Symphonic Boychoir, Montclarion Hall Piano, Struck Grand Piano, Cymbology, Anklung and Tuned Artillery libraries, so it blends perfectly with a whole host of great libraries. We captured it over an exhaustive two week session, recording late into the night. With trucked in a mountain of drums an cymbals and pounded on them with every kind of stick, mallet and blunt instrument we could find. Once the blood and wood chips had settled, we had captured an average of 12 round-robin per velocity layer with up to 14 velocities each. We then painstakingly programmed each instrument with a galaxy of comprehensive and exclusive control and playability features and a totally smooth workflow. We've expanded the library with a wide range of uniquely powerful tools that let you personalize the library to your own needs and push it far beyond any other percussion library in its class.
Each instrument features 3 independent microphone positions per articulation. The primary close mic position is captured within a foot of the drum heads to capture all of the deep tonality and resonance and every exquisite detail. The Mid position is set back 12 feet to get that all-around perfect live sound and the far position is 50 feet from the stage to deliver a rich, lush distant feel. Microphone channel mixing is easy with our pop-up Mixer panel. You can load just the positions you need to save ram and voices and independently adjust and automate each level. In the main Master presets, you can even assign each mic position to its own Kontakt audio output for surround sound routing, external effects processing and complete mixing freedom.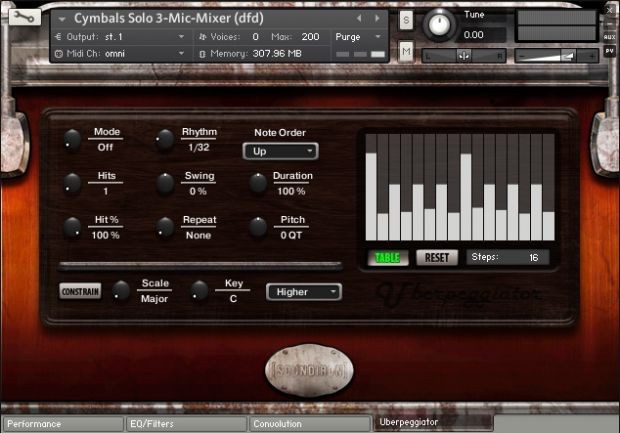 "Standard" presets are included to provide instant access to the full library in a classic percussion array layout. The primary "Ensemble All" preset lets you customize the note mapping for each articulation or load one of several common drum library mapping standards. This comes in handy with our new MIDI loop playback feature, which allows users to load and playback loops from a wide range of popular drum libraries. The improved Megamixer system allows for up to 8 slots, each with independent tuning, velocity attenuation, pitch, panning, key mapping, room release and more, and complete Kit preset saving/loading. "Mixer" presets group a set of articulations into 4 different fully customizable categories. For example, "Cymbals Mixer" splits cymbals into categories of ride, crash, hihat and gong/ting shag; each category has independent volume, pan, room release, velocity and pitch controls. Finally, the Tuned Dual-Layer presets allow you to create multi-layered tuned articulations from any ofthe articulations for each sub-section. These are ideal for sound design, special effects, or simply turning any of the sounds into a unique tuned percussion instrument.
Ensemble Drums
Snares (Remastered)
Bass Drums
Toms
Doumbeks
Dhols
Riqs
Frame Drums
Sticks
Cymbals
Solo Drums
6 Snares
2 Bass Drums
Bongos
Cajon
Ride (Stick and Mallet) – NEW
Splash
Crash
Gong – NEW
Hi-Hat – NEW
Ting Shag – NEW
2 Dhol Drums
4 Frame Drums
2 Floor Toms
2 Low Toms
2 High Toms
4 Rototoms
Rolls and Crescendos for 3 snares
Tom Rolls
Rolls and Crescendos for Gong, Ride, and Ting Shag
Controls and FX
Powerful Custom User Interface with fully automatable access to critical performance controls.
3 Fully Independent Microphone Positions for all instruments.
Integrated Microphone Mixer with Sample Loading/Unloading
Improved Uberpeggiator/Meta-ARP system with Preset Saving/Loading
Improved Megamixer system with Kit Saving/Loading, Intelligent Sample Loading, and Per-Slot Room Release Controls
Drum Category-based (Bass, Snare, Cymbals and Aux) Room Release Controls in many Presets
Midi Loop Playback and Custom Mapping
Our Custom FX Rack with powerful and configurable controls for every effect.
70 integrated custom convolution IR samples
400 Custom Midi Groves By
Blake Ewing
Dirk Ehlert
Ian Dorsch
Johnny Knittle
Marie-Anne Fischer
Sascha Knorr
Si Begg
Simon Russell
Tino Danielzik
Xiaotian Shi
Team Soundiron
INFO:
25,171 Samples (standard pcm wav)
60 .nki files (unlocked Kontakt 5.1 format)
400 Midi Loops
24.8 GB installed (12.9 GB Download)
24 bit / 48kHz stereo PCM wav format
Format: Kontakt 5.1+ .nki and pcm .wav
NKI Program Presets
This library is designed for the full retail version of Kontakt 5.1. There are 60 Kontakt 5.1 presets, all with a powerful custom user interface. Includes standard and low-memory "Lite" versions of each preset, for maximum flexibility and efficiency.


SoundsAndGear, 4,5 subs


Recording.de, Redaktionstipp


SOS, 4 stars

Please notice: This library can not be used with the free Kontakt Player! To use this "Open Kontakt" format, you need a full version of Kontakt, which is included in products such as Komplete or Komplete Ultimate.
The minimum required Kontakt version number for this product is stated in the product description or can be found on the developer's website.
System Requirements:
Mac:
macOS 10.14 or higher
64 bit
Intel Core i5 or Apple M1 (native)
RAM: 4GB (6GB recommended)
Windows:
Windows 10 or higher
64 bit
Intel Core i5 or similar CPU
RAM: 4GB (6GB recommended)
Supported Interfaces:
Mac (64-bit only): Stand-alone, VST, VST3, AU, AAX
Windows (64-bit): Stand-alone, VST, VST3, AAX
Legacy Versions:
If you require legacy installers of Kontakt Player please refer to this Knowledge Base Article.
Required Registration:
Soundiron products require you to register with the manufacturer at www.soundiron.com to activate your license. To use Kontakt Player Libraries you also need to register with www.native-instruments.com.
For your own protection this library is provided as individual personalized files including a Digital Water Mark - DWM!