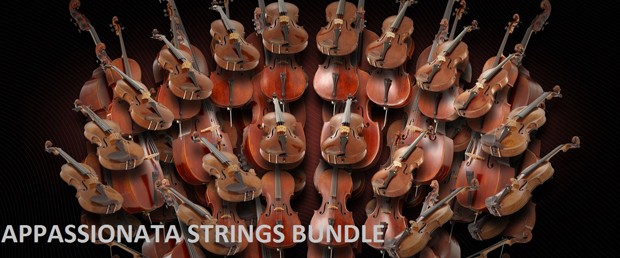 Save up to 30% on this bundle!
The big Vienna Instruments DVD Collections are the most powerful sample-based orchestral virtual instruments ever created. The collections, organized in instrument-categories offer the most complete playing techniques and articulations of all instruments, enabling you to create sonic results of the highest caliber and utmost authenticity.
If you are looking for that larger-than-life Hollywood sound, the APPASSIONATA STRINGS are the perfect answer. In particular the legato and sul-G-performances, with varying intensities of vibrato, provide a passionate, large and epic string sound. These big strings are designed for all kinds of cinematic music, from slow and lush themes to fast action scores. In addition to arco and legato styles, the 20 violins, 14 violas, 12 cellos and 10 double basses (six among them being 5-string double basses) feature accented interval notes, staccatos and spiccatos. While APPASSIONATA STRINGS I covers a wide range of articulations, APPASSIONATA STRINGS II offers almost all of the articulations in the first Collection, but played "con sordino". Some composers even combine the "normal" strings with muted strings, resulting in a particularly thick and luxurious sound.
Included Collections: Appassionata Strings I & Appassionata Strings II
Library Content
Standard Library: Samples 21.975 | Download Files Size 11,3 GB | Installed File Size 19,4 GB

Full Library: Samples 46.020 | Download Files Size 11,3 GB | Installed File Size 19,4 GB
*Upgrades and User Discounts: You already own VSL Products?
After the login you can check in the shopping cart if you are entitled for a VSL User-Discount and apply it. This works for Upgrades, Crossgrades, EDU products and also when you complete Bundles. Simply add the desired products to your shopping cart and then check for the VSL User-Discount.
Please note that all discounted user-specific orders must be processed manually by our sales team and therefore may take up to one business day to be completed.
Your purchase of any VSL library entitles you to download the free Vienna Instruments Pro player software that includes the Vienna Ensemble mixing host.
Mac:
macOS 10.13 or higher
64 bit
Intel Core i3 (Intel Core i5/i7/i9/Xeon recommended)
RAM: min. 8 GB (16GB recommended)
Windows:
Windows 8.1/10 or higher
64 bit
Intel Core i3 / AMD Athlon 64 X2 (Intel Core i5/i7/i9/Xeon recommended)
RAM: min. 8 GB (16GB recommended)
Free hard drive space according to the library size.

This product requires an activation!
You can either "soft" activate the software on your computer without addditional hardware or transfer the license to an iLok USB dongle which has to be purchased separately. The iLok dongle can be used to run the protected software on different computers. Your licenses can be easily manged using the iLok Licence Manager. To protect your investment against theft or loss we recommend the iLok Zero Downtime protection with TLC.
An internet connection on any computer and a free user-accout at www.ilok.com is required to authorize the product. In order to download and install your software products and sample libraries authorized via iLok, please use the Vienna Assistant.
Please check with the software manufacturer which iLok version is required at least if you want to use a hardware iLok!