Sacred Sounds Suite
Mntra's award-winning founder and composer, Brian D'Oliveira, acquired the Atma collection of sacred sound instruments during his numerous pilgrimages to holy places all over the world.
They imaginatively tested these unique instruments, which ranged from tuned Aztec volcanic rocks to ritual healing bells, to examine the potential of their powerful Nonlinear Sound-Design Engine MNDALA 2.
Features
91 Presets
37 Individual Instruments
Up to 30 Round Robins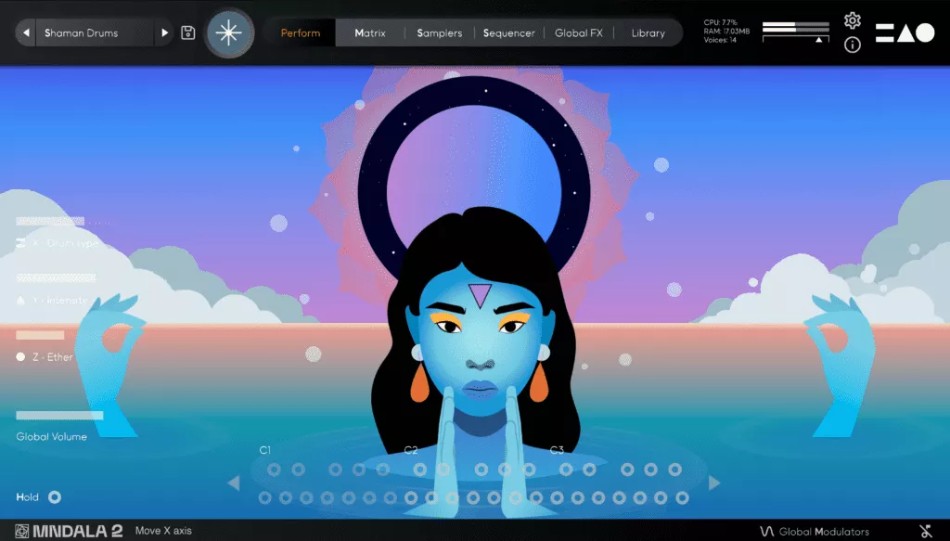 3-Axis Universal Controls - Simply map your favourite controller once for all plugin instances.
Intuitive Performance GUI - Custom animation driven performance interface & mouse hover interactions.
Industry Leading Audio Quality - 384khz/32-bit extended ultrasonic range sample sources
Instruments included:
Percussion: Bass Temple Block, Bass Temple Drum, Bendir, Hand Drum, Hand Pan Finger F, Hand Pan Finger MF, Hand Pan Shaker 1, Hand Pan Shaker 2, Pitched Rocks Hit, Ritual Bowl Bowed Long, Ritual Bowl Bowed Short, Treble Temple Drum, Treble Temple Block, Singing Bowl Hit, Metal Shaker Spin

Pitched Percussion: Gong 1, Gong 2, Handbell Bell Hit, Handbell Stick Hit, Wawa Bell Hit, Wawa Bell Long, Wawa Bell Short. Healing Bell Hit, Tubular Bell 1, Tubular Bell 2, Spirit Bell, Spring Bell, Tibetan Bell, Tibetan Bell Mallet, Mini Temple Bells, One Kalimba Pluck, Two Kalimba Pluck

Wind: Temple Conch

Hybrid: Glass Tube Short, Glass Tube Long, Glass Tube Scrape, Pitched Rocks Scrape
Mac:
macOS 10.11 or higher
Apple Silicon compatibility
64 bit
Windows:
Windows 10 or higher
64 bit
Required Registration:
Mntra Instruments products require you to register with the manufacturer at www.mntra.io to activate your license.
This product requires an activation!
An internet connection is required to authorize / activate the product.