The Easiest Way To Transform Your Vocal Tracks
Auto-Tune EFX+ is a versatile vocal production tool, which combines the core features of Auto-Tune with the powerful ​Auto-EFX​ multi-effects rack, and ​Auto-Motion pitch-shifting melodic pattern generator. It includes professional quality Auto-Tune pitch correction with low latency processing for real-time performance on stage or in the studio. Fully adjustable ​Retune Speed​ and ​Humanize​ parameters let you fine-tune the desired effect for your tracks, from transparent pitch correction to the iconic Auto-Tune Effect.
And compatibility with ​Auto-Key​ (sold separately) means never having to worry about finding the key of your music before tuning. Auto-Key detects the key and scale and sends that information to Auto-Tune EFX+ with a single click.
Please note: With the purchase of Auto-Tune EFX you will receive a free one year subscription of Auto-Tune Unlimited. The subscription will be deposited into your Antares account upon registration.
Pitch Correction
Auto-Tune EFX+ delivers the same industry-standard Auto-Tune technology that professional artists and producers have relied on for years, in an affordable and easy-to-use package.
The variable Retune Speed control lets you fine tune the desired effect for your track, from transparent pitch correction to the full Auto-Tune Effect.
The Humanize function ensures that short notes are effectively corrected while sustained notes preserve their subtle pitch variations for the most natural, realistic pitch correction.
Low Latency
Thanks to its low latency processing you can sing or play through Auto-Tune EFX+ and listen to your tuned performance in real time, without distracting delay.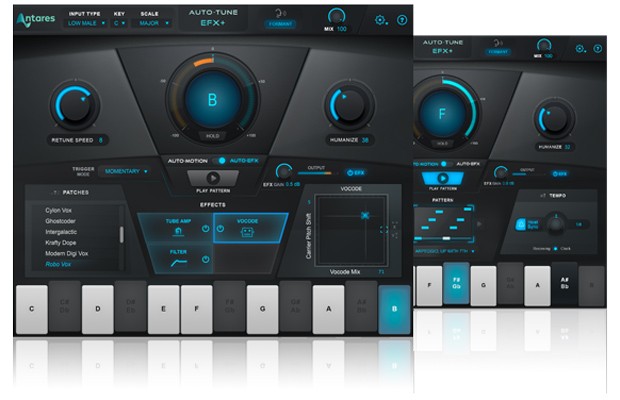 Auto-EFX: Multi-Effects Rack
New to Auto-Tune EFX+ is an extensive multi-effects rack that opens up a world of creative possibilities, from subtle enhancements to extreme vocal mutations and transformations. It includes six different effects modules, an XY Pad for real-time parameter control, and a library of multi-effect patches designed by industry leading producers, composers, and sound designers: Mike Dean, Jeff Rona, and Richard Devine.
Included effects:
Pitch and Throat: for real-time pitch shifting and throat modeling
Duet: for realistic doubling, with adjustable pitch and timing variation
Vocode: for vintage analog vocoder emulations
Tube Amp: for analog tube distortion modeling
Mutate: for ring modulated audio mutation
Filter: a high-pass filter for EQ and special effects
Auto-Motion: Melodic Pattern Generator
The Auto-Motion melodic pattern generator lets you create new melodic patterns and hooks by automatically pitch-shifting your original vocal or instrumental tracks. Included is an extensive library of melodic patterns that intelligently adapt to match the key and tempo of your project.
Auto-Motion has been greatly improved since EFX 3. Patterns can now be automatically triggered in real time when vocal or instrumental input is detected, delivering hands-free operation that makes it easier than ever before to pitch shift and arpeggiate your voice on the fly during live performance.
Auto-Key Compatibility
Choosing the correct key and scale for your music is an essential part of effective pitch correction. Auto-Tune EFX+ works with the Auto-Key plug-in (sold separately) to make this quick and easy. Just place Auto-Key on an instrumental or master track, and it will determine the correct key and scale. Then send that information to Auto-Tune EFX+ with a single click.
Mac:
macOS 11 or higher
64 bit
Windows:
Required Registration:
Antares products require you to register with the manufacturer at www.antarestech.com to activate your license.
This product requires an activation!
An internet connection is required to authorize / activate the product.