Multi-effects processor and amp modeling software
In essence, Axiom v2 caters to a wide range of musical scenarios, from recording and performance to sound design and experimentation. It empowers musicians, producers, and sound enthusiasts to achieve their sonic aspirations by combining realistic amp simulations, a wide array of effects, and the freedom to integrate their preferred plug-ins in any format. Whether you are in the studio crafting a masterpiece or on stage delivering a captivating live performance, Axiom is your go-to solution for pushing the boundaries of guitar and bass sound.
Axiom indeed offers a world of sonic possibilities thanks to its distinctive structure and signal flow:
Two versatile amp simulation channels, each with pre and post effects, blend seamlessly for a lifelike amp experience.

Discover unique amp simulation, offering exceptional tone, an authentic playing feel, and unrivaled tweaking capabilities for full control over your sound.

Customize your tone with hundreds of presets or dive into the amp editor for complete control.

Fine-tune your sound with additional input and master sections, boasting 4 effect slots each, and a built-in high-precision tuner.

Safeguard your output with a brickwall limiter to prevent overshoot.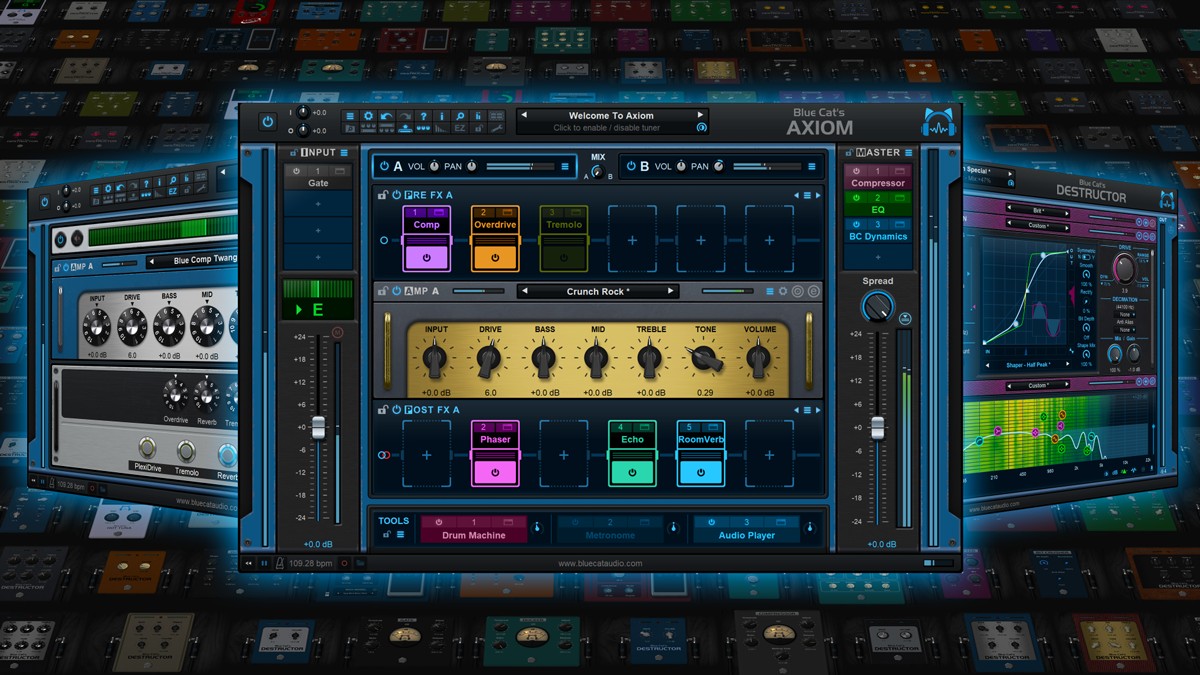 But that's merely the starting point. Axiom extends further, offering boundless potential for effects and creativity:
Over 100 built-in effects, including creative delays, reverbs, distortion & fuzz pedals, modulation fx, wah and more.

Unleash your inner pedal wizard and create your own: dive into creative delays and reverbs with the built-in version of Late Replies, sculpt your signature distortions, filters, and compressors with Destructor, and transform your pickups on the fly or refine acoustic guitar tones effortlessly with Re-Guitar!

Seamless integration with third-party Audio Unit, VST, and VST3 plug-ins, expanding your sonic arsenal indefinitely.

Enhance your performance with virtual instruments in the tools section, like metronomes, drum machines, sequencers, synthesizers, or the built-in audio player.
Axiom v2 stands as your all-in-one solution, featuring an extensive library of hundreds of full-rig presets for both electric and acoustic guitar and bass. When used as an application, you can effortlessly play over backing tracks and record your performance with a single click.
Main Features
Powerful and limitless multi-effects and amp modeling software for guitar and bass.
Authentic, fully customizable amp simulations, powered by Blue Cat's Destructor.
Versatile routing with 2 parallel amp simulation channels and comprehensive input and master sections.
Over 100 high quality built-in effects, spanning from wah, delays, and reverb to EQ, filters, distortion units, compressors, gates, chorus, flanger, phaser, and more.
Includes Blue Cat's Re-Guitar, Destructor and Late Replies as integrated effects.
Tailor the user interface to your preference, from a straightforward EZ mode to in-depth editing.
Seamless recording over backing tracks (Application).
Lightning-fast built-in tuner for precision tuning.
Built-in MIDI controllable looper.
An open and extensible platform, supporting third party VST, VST3, and Audio Unit (AU) plug-ins.
Load and manipulate impulse responses (IR) within the amp simulator or the EQ plug-in.
Delivered with thousands of presets for all sections and built-in effects.
Load third party virtual instruments to play along.
Simplify effect control with configurable macro parameters.
Global stereo spread control.
Lock sections to prevent changes when loading presets.
No latency.
Mac:
macOS 10.9 or higher
Intel processor
standalone: Core Audio-compatible audio interface
Windows:
An SSE2-enabled processor (Pentium 4 or higher).
Windows 8 - 10
standalone: ASIO-, MME- or WASAPI-compatible audio-interface (ASIO recommended)
Required Registration:
Blue Cat Audio products require you to register with the manufacturer at www.bluecataudio.com to activate your license.
This product requires an activation!
An internet connection is required to authorize / activate the product.